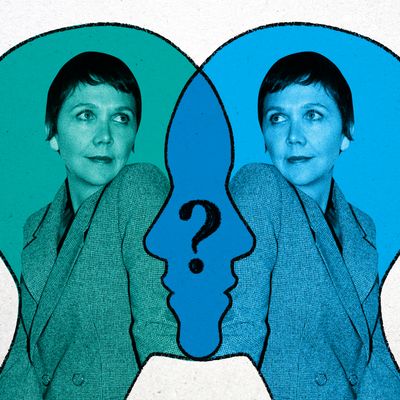 Photo-Illustration: by The Cut; Photo: Lafayette 148
After two decades of depicting troubled heroines, romantic foils, and ambitious sex workers onscreen, Maggie Gyllenhaal decided to break new ground. So, in 2021, she made her debut as a writer-director with the critically gushed-over Elena Ferrante adaptation The Lost Daughter, which earned her an Oscar nomination for Best Director. It's no surprise that Gyllenhaal was able to execute Ferrante's dark depiction of a mother in crisis so sharply — she has always had a knack for knotty, nuanced portraits of womanhood.
Even in her style, Gyllenhaal exudes that same multifaceted femininity. From the day she put a fresh flower behind her ear for the 2002 premiere of Secretary to her 2022 Golden Globes appearance in Schiaparelli haute couture dotted with gilded door knockers, her outfits radiate the quiet grace and effortless sophistication that make TikTok fashion girlies and Instagram nostalgia accounts salivate. Although she wears everything with the confidence of someone who has never had to fuss over a strap or deal with a blister, she swears she learned the hard way to always wear comfortable shoes on the red carpet. In a new campaign for Lafayette 148, she lets a less polished side of her style persona shine — one that's a little more "running errands" than "movie premiere." The one constant? A really, really good lipstick.
You were just in Venice supporting your husband's new movie, Memory. What's your No. 1 rule for red-carpet dressing?
Wear comfortable shoes. If I'm promoting a movie and there's a few months or a few weeks of work, I'll find a pair of shoes that are going to work for everything. There's a few pairs over the years that have worked, and usually I wear them in so much that they end up in my closet by the end of the tour.
What's your best transitional-weather-dressing tip?
Have a good cardigan.
What's your No. 1 rule for being on a movie set?
Eating is definitely important. When we made The Kindergarten Teacher and we were shooting deep in Queens and Brooklyn, there used to be a New York Times blog about secret food places in New York. Like, "Behind this AT&T store, there's someone making Nepali momos." Stuff like that. So we would find them and get really great food for the crew and everyone at lunch. But when I was directing, it was, "What am I eating? Just give it to me and I'll move on."
What's one rule about directing that you learned on the job?
The thing I thought would be the case and turned out to be absolutely true is that a huge part of directing is caring for and actually loving the people you're working with. You can't fake it. You have to hire people that you have both respect for and curiosity about. Then you can go in and actually love them. When people are loved — in life, in work — everything ends up being braver, more vulnerable, and ultimately more interesting.
What's the key to a successful dinner party?
I have not found it. I think it has to do with being human. Trying to throw a dinner party like Martha Stewart is not any fun.
Do you have any parenting hot takes?
I wish it were that easy. Watch The Lost Daughter? No, I'm kidding.
What's your texting style?
My daughter is a senior in high school, and she texts in all caps. If she and her friends text in lowercase, it means they're upset with each other, so she says my texts come off kind of tough. I don't text in all caps. I use punctuation; I think about what it is I'm going to say. I probably text like an old person.
Do you buy off gift registries?
Never. I don't know how to access them. I've seen them on invitations. I'm sure it's really easy — I just don't do it. I want to think of my own gift.
What do you give when you don't know what to give?
Probably a book, like a novel that I really liked. But I try to be a little more daring than that.
What's the last gift you gave?
I found this little clay pot from Marrakech that has a stain of lipstick in it that you just have to get your finger wet and touch it and it stains your lips. I brought it to my friend in Italy while we were in Venice.
You're leaving the house and can wear only one makeup product. What are you putting on?
Lipstick. I have, like, four lipsticks in all my purses, and if someone admires one, I'll give it to them.
Do you have a go-to shade?
A safe one is Charlotte Tilbury. It used to be called Walk of Shame, but it's now been corrected to be called Walk of No Shame. I might even have a vintage Walk of Shame still. But I love that color. It makes you look like you had a great night.