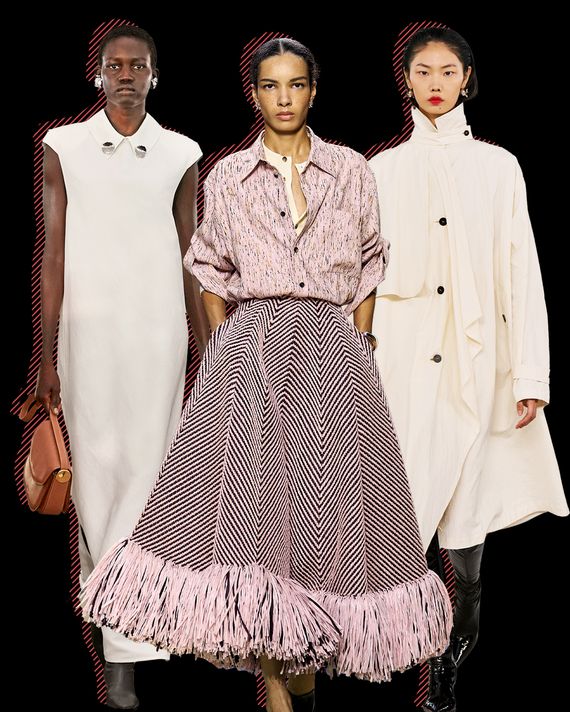 Photo-Illustration: by The Cut; Photos: Jil Sander, Bottega Veneta, Ferragamo
Oh, the places you'll go when you come to Milan. With a leather duffle slung over his shoulder and wearing a black bathing costume from the Jazz Age, a model crossed the ceramic floor of Bottega Veneta's runway on Saturday night. We already knew from the blue tiles painted with sea creatures that the designer, Matthieu Blazy, was taking us somewhere. And the old-fashioned costume, which followed some uptight office suiting, could easily be read in two ways: Blazy was about to strip away the conventions of Western dress, indeed its historical superiority, and he was going to escape the confines of the present by time traveling.
But he actually went farther. He took elements of regional dress from all over the world and blended them together. Only a trace of the original style remained, and even then one couldn't be sure if the thick fringe on the hem of a full herringbone-patterned skirt evoked tango in Argentina or the fringed yoke of a fitted red-leather top with a peplum over a red-leather sarong referenced the Maasai, or a white peacoat with partially undone flap-front trousers was a positively a merchant sailor. So Blazy was both voyager and collector.
I found it funny that he gave some of his characters — and that is what they were — a folded-leather clutch or a crumpled sack resembling a newspaper in texture and printing. Does anybody read a newspaper nowadays when they travel? You can rarely find one in a hotel. In many ways, this complicated collection wasn't about the experience of travel but rather, about the instant access to places that the internet provides. A lot of garments were so bulky and cumbersome looking — dresses with giant barnacles of fringe, heavy leather coats with beefy shoulders or extraneous flaps, a red-leather dress with wide sleeves and an overskirt in leather — that they would need their own large suitcase.
Weirdly, the collection threw down its own obstacles to pleasure. The texture and pattern of some of Blazy's men's pullovers were remarkable; one, in bands of black, gray, and off-white, had red zig-zags disrupting the stripes, like a jumpy S&P 500 chart. But only in certain climate conditions could you possibly wear such a thick sweater. Again, the scale and complexity of the garments imply that they are only for those with the means to wear and transport them comfortably, the ultrarich. Or an influencer on Instagram. Which pretty much deflates the true democrat sentiment offered in Blazy's show notes, of adventure with "a spring in every step," a line borrowed from, of all people, Mark Twain.
Like newspapers, this kind of travel — indeed elaborate clothes — is becoming obsolete.
Of course, craft and creativity have value, and we've seen some outstanding examples of both during the Milan shows, notably at Prada and at Gucci, chiefly with craft. But at Bottega Veneta, it's hard to see how these essential things are helping Blazy develop a clear aesthetic for the brand. With Prada, for example, you see — nearly every season — a universe you know and are intrigued to enter. With Bottega, though, you get disconnected islands and a voyager who naively refuses to turn towards home.
Considering that The Row and other brands have taken up the minimalism of Jil Sander and expanded upon it, it's not surprising that Sander's creative directors, Lucie and Luke Meier, might want to push the form, even escape it altogether. That's a nice way of describing their weirdly distorted proportions — chiefly, very blocky suits and coats that engulfed their models — and generally clothes with a lot of bits and bobs, like metal collar rings, pointless metal-rimmed portholes, rolled leather shorts with expensive-looking firemen's boots, and tunics sporting an image of a cat or dog. You wonder how the company can communicate to customers what Jil Sander is today.
Maximilian Davis made a terrific collection for Ferragamo, his best since he joined the brand last year, and one of the best of the Milan shows. Why? Because he eased up on the posh attitude a bit, an attitude that is off-putting and not convincing anyway in Ferragamo's recent round of ads. His spring clothes feel more relatable, the designs more particular, with the best bets a pair of loose-cut, A-line trench coats, one in off-white cotton (or a blend) and the other in unlined, washed green leather, the green of a poker table top. In shape, color, and natural flair, there's nothing else like that coat this season. Davis's other winning look was a loose-fitting, long-sleeve silk dress, in several different two-tone colors, with an abstract figure on front. Again, it's a style that Ferragamo can own.
More From Milan Fashion Week
See All