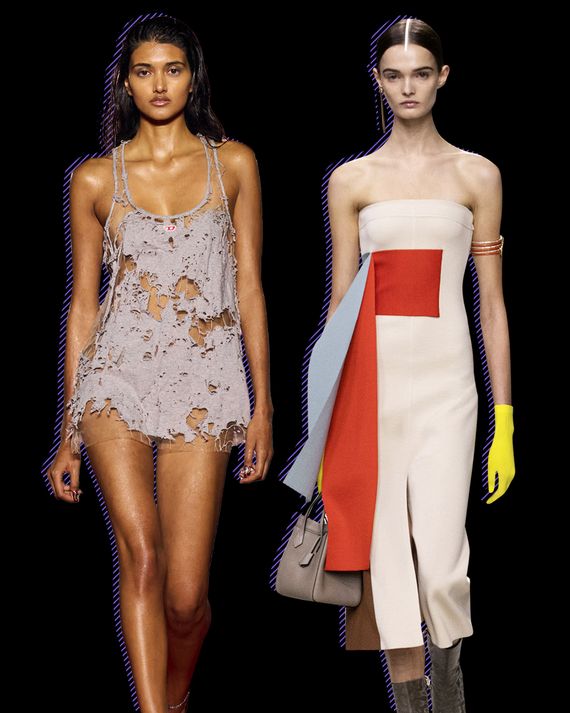 From left: Diesel and Fendi
Photo-Illustration: by The Cut; Photos: Courtesy of Diesel, Fendi
Nothing could be easier than staging a fashion show for 7,000 mostly young people on a rainy night in Milan, not if the brand is Diesel and your front man is Glenn Martens. "It's cheeky, it's sexy, and it's in your face," Martens said, describing what to him is the ideal Gen-Z formula.
The raised runway went straight down the middle of an old railway yard, with a giant movie screen at one end and bleachers at the other, though most kids crammed in along the sides. At that hour — roughly 9:30 p.m. on Wednesday, on the opening day of the Milan spring shows — the atmosphere wasn't that of a rave, but if you stayed for the party, until after midnight, it might have reached that excitement. The alcohol was free.
In the two years since Diesel hired Martens to do runway collections, he has taken the treatment of denim further than just about anyone. He has distressed and wrecked it beyond recognition. Or he's woven other fibers into it, resulting in hard-to-describe materials that resemble lace or even an abstract work of art. He's done similar things to jersey and leather. The filigreed looks that opened his latest show were chemically treated jersey layered on flesh-tone tulle. One off-white leather outfit — slim pants and a chunky blouson jacket — was made from pieces of deadstock leather that were glued together for a mangled effect.
Almost every Diesel show also includes utility clothes, equally ravaged so the models look as if they had crawled out of a swamp, and then a sexy segment related to pop culture, like the influence of MTV. This time, he based some of the styles on movie and concert posters — Kill Bill and the Spice Girls, for example. Whatever Martens is doing to the fabrics or the knitwear — this season, ultrastringy indigo knit tops and minis — the basic shapes nearly always remain the same.
"We're not engaging in crazy construction," he said. "It should be T-shirts, pullovers, sweaters, dresses. Simple."
Martens's point of simplicity and repetition is rational. Convincing Diesel customers worldwide to buy something other than basic jeans is not as easy as one might think, even if it brings the brand more design respect. The problem is Martens has so exhaustively developed his methods of destruction, along with the extreme sexy looks, that it's beginning to look like a formula. At this stage, it might be more daring and surprising if he designed a collection that was less in your face.
Kim Jones always injects personal notes into his Fendi and Dior men's shows. On Wednesday, at Fendi, it was the melancholy sound of Max Richter mixed with the gorgeous voice of Dinah Washington. That's the music he hears on his morning walks to work. "I like the romance of it," he said. "Which I associate with Rome and Fendi."
Jones referenced Karl Lagerfeld's collection from spring 1999, but don't bother looking it up. That collection and the one Jones showed couldn't have been more different, apart from a few colors — dusty blues, grays, warm brown, pops of orange-red, and some color-blocking.
Lagerfeld's clothes, in retrospect, looked too fashion-y, while Jones was after a cooler sense of chic and, as well, lighter fabrics. "People like lightweight things," he said.
And that meant superfine knit dresses, crisp cotton shorts with blazers, and year-round double-face cashmere coats. The color-blocking was effectively done in both knits and leather, and none was too obvious. Tiny red metal grommets, like candy dots in a perfect grid on paper, were fused onto viscose for a more modern kind of embellishment on long, skimming dresses. A lot of the clothes were shown with ballet flats with a thin gold-metal ankle bangle. The comfortable yet refined shapes, and the lean silhouette, followed those of Jones's couture show in July, with the difference that these clothes were obviously ready-to-wear. He said couture sales were extremely high, and when asked in which regions of the world were the buyers, he replied, "Everywhere."
Milan has two debuts in fashion's perpetual revolving door of talent: Peter Hawkings for Tom Ford, which happens tonight, and, on Friday, Sabato de Sarno for Gucci. Let's hope they raise the tempo a bit.