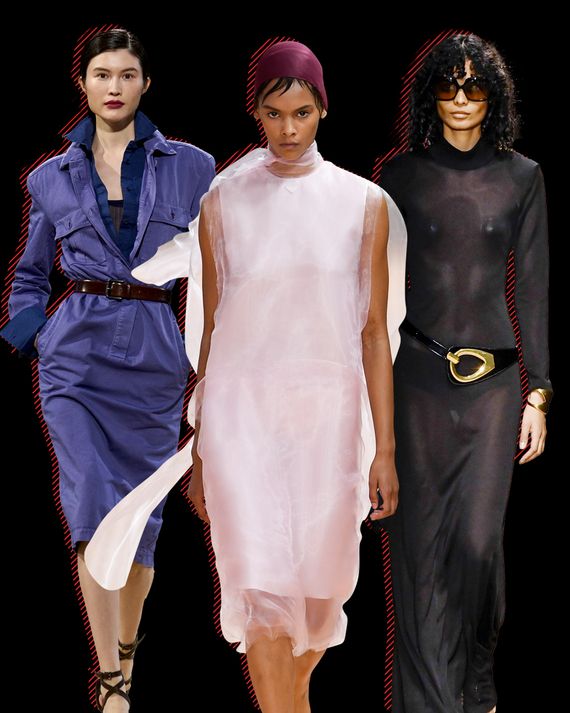 Photo-Illustration: by The Cut; Photos: Max Mara, Getty Images
"I always live a double life," Miuccia Prada said 30 years ago, long before she was famous. "There is my real life, and then there is the one I would like to live." Women designers often design for themselves, and out of those personal feelings come a fashion that didn't exist before. She liked uniforms, above all the uniform of the masculine suit, but she also liked feminine clothes that allowed a woman, as the writer Ingrid Sischy put it, "to convey the sense that she's playing with glamour — she's not owned by it." When Prada in the '90s showed twinsets with underpants, box-pleated skirts and glamorous ingenue silk slips, it's no wonder that people felt they were in a movie. That was Prada: somewhere between the real and the life of the imagination.
More than anything else, the Prada spring show on Thursday was a continuation of that original story, told in new ways and with references to the Prada company that reached back to the 1920s. On the soundtrack was Bernard Herrmann's stirring score to Vertigo, the 1958 Hitchcock thriller about a woman who imitates another in an elaborate murder plot and a cop's obsession with her. Down the middle of the runway, flowing out of ducts in the ceiling, was a continuous curtain of clear slime — the work of the architect Rem Koolhaas, who designs the scenography for Prada shows. It created an opaque blur between the audience on one side of the catwalk and guests on the other.
This was also the most substantial collection since Miuccia Prada began collaborating with Raf Simons, her co-creative director, in 2020. By that I mean it felt more high fashion, richer and more distinctive than some of their recent work, most notably the fall 2023 collection, which used a theme of uniforms — military kits, nursing whites, Wasp sportswear — and which, in hindsight, now seems slight for a brand of Prada's ability to get under your skin.
First of all, this collection did not have a theme, per se, and backstage, talking to reporters, the designers were reluctant to "philosophize," as Prada put it. In other words, let the clothes speak for themselves, which these could do plenty.
Simons did say, "Miuccia and I were talking a lot about how we can challenge ourselves." One way was with design that looks more fluid — clothing shapes, like the opening shifts in ultra-feminine hues of pale pink, blue, and ivory silk overlayed with wafting bits of tulle or possibly nylon. But another way to achieve a fluid effect was with details like fringe, which appeared on dresses, shirts, and as long streamers on belts worn with plain shorts and other garments that wouldn't ordinarily get that glam treatment.
The designers also challenged themselves, Simons said, with craft. One example is the black leather patchwork used for coats, blouson jackets, and a shift dress. It could suggest a 1980s flashback. There was also embellishment this time, like flat metal rings on some of the fringe and on tops, and embroidery on 1920s-style shifts that hinted, vaguely, of the Wiener Werkstatte, a style that sometimes surfaced in early Prada shows. It helps to know that Prada's grandfather, Mario Prada, who founded the firm as a luggage maker in 1913, used to travel widely for materials and bought leather for his luxurious cases and ladies handbags in Vienna. When Miuccia created the first black nylon Prada backpack, in the early '80s, she took the triangular metal plate from his steamer trunks for her modest logo. On Thursday, if there was a metal Prada logo in the lineup, I didn't see it. That, too, was a welcome change.
Miuccia Prada has always done decoration in a specific way. It has to translate into daily life, like her own personal mixture of a plain sweater and skirt with antique diamond jewelry and fancy peau de soie shoes. In the show, along with classic Prada brogues and black socks, there were silk-satin pumps and square-toed slides in lipstick pinks and siren yellow.
From the beginning of her career, as Sischy pointed out in a 1994 article, Prada liked to mix different traditions, values, and associations. That was something completely new in Milan fashion then, as other brands tended to be very systematic in their approach. That difference again came through, more strongly, as Simons and Prada combined, say, a barn jacket in drab, dark cotton with a silver beaded shift or paired a black leather patchwork dress with a many-pocketed leather fishing vest.
A lot of women would actually look ridiculous wearing such a vest over a party dress; try to picture an actress sporting that look on a red carpet. But the dream of indifference to glamour, the subversion, is nonetheless there. It also makes a powerful statement, together with the brisk, uniform tailoring and the black head wraps — here, less about the old female modesty custom of covering the hair than simply not giving a shit. The show ended loudly on that note, with Babes in Toyland's 1992 "Bruise Violet."
Simons said of the choice: "Actually, it was Miuccia saying, 'But you know what? We do pretty but I also want screaming, powerful women.'"
In that context, the attitude in Peter Hawkings's first collection as creative director of Tom Ford could seem stereotypically sexy, even dated. All those models in their shades and stilettos pouncing down the carpeted runway in killer suits and hot pants. Then, again, think of the last couple of shows that Ford himself did before he sold the brand earlier this year to Estee Lauder, which produces the brand's fragrances and cosmetics. The minuscule garments barely qualified as design.
So, in a big way, Hawkings, who worked with Ford for about 25 years, has sharpened the brand's style and, it appeared on Thursday night, raised the quality of the cut and make of the clothes. A number of things didn't work, like the hot pants (too extreme), but most did, especially the tailoring, which had a slightly looser cut and the fantastic opening look, a black croc-embossed leather coat with flat-healed, black patent leather thigh-high boots. Hawkings will obviously have to figure out where Tom Ford sits in today's world, but that's half the fun of being in charge.
Meanwhile, Max Mara's Ian Griffiths seemed completely at his leisure. He drew inspiration from the Women's Land Army in Britain during the Second World War, when women of all classes worked on farms to supply food for the country. The collection of military-style shirts, slim skirts, shorts, and open-back dresses based on gardeners' aprons, most in faded cotton hues of blue, red, and green, was relatable and charming on every level.