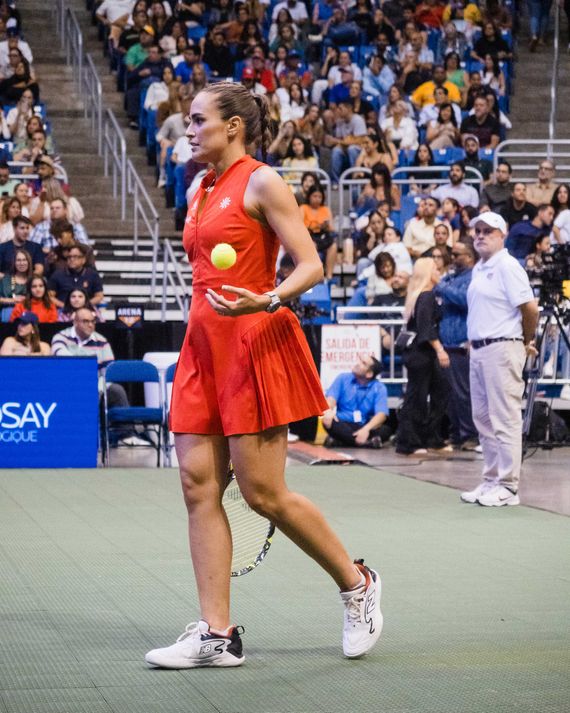 Photo: Maridelis Morales Rosado
On August 13, 2016, 22-year-old Monica Puig took home Puerto Rico's first Olympic Gold Medal in the Rio Summer Olympics in tennis. I remember being on a grassy field in the middle of a music festival in Dorado, Puerto Rico, surrounded by friends and strangers all sharing phone screens as the winning match against Angelique Kerber played out. When Puig won her game point, you could hear celebratory screams throughout the field, and musicians included congratulatory remarks during their sets for the remainder of the night. I'm always amazed at how such a small island can have such an incredible global impact, and that day in August turned into collective joy. In 2019, Puig decided to retire from tennis due to a shoulder injury, and the match this weekend marked an emotional (unofficial) return to the game.
Over the weekend, Puerto Rico had the chance to celebrate again with a sold-out exhibition tennis match hosted in its iconic Coliseo de Puerto Rico José Miguel Agrelot (commonly referred to on the island as "El Choli"), where Puig, now 29, played against Venus Williams. In her historic return to play on the island, she donned a red dress meant to symbolize the pride she feels for Puerto Rico, designed in collaboration with Athleta. She is a new ambassador for the brand, and forms part of the Power of She Collective, which embraces athletes in all walks of life.
Throughout the match, the energy in the venue was electric. Puig said ahead of the match, "I wish there was a way to grab the microphone before the match to tell them to be fair. I definitely know that it's going to be very loud because Puerto Ricans, as you know, do not hide their feelings very well, and they love to be loud, they love to be vocal, they love to get behind their people." That was exactly the case, while the crowd remained fair and cheered for both players, you could feel a slight bias towards Puig, especially after her win.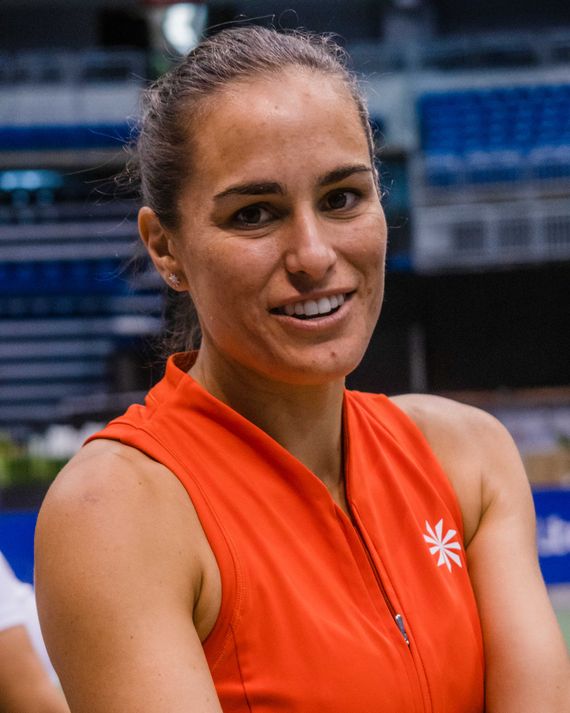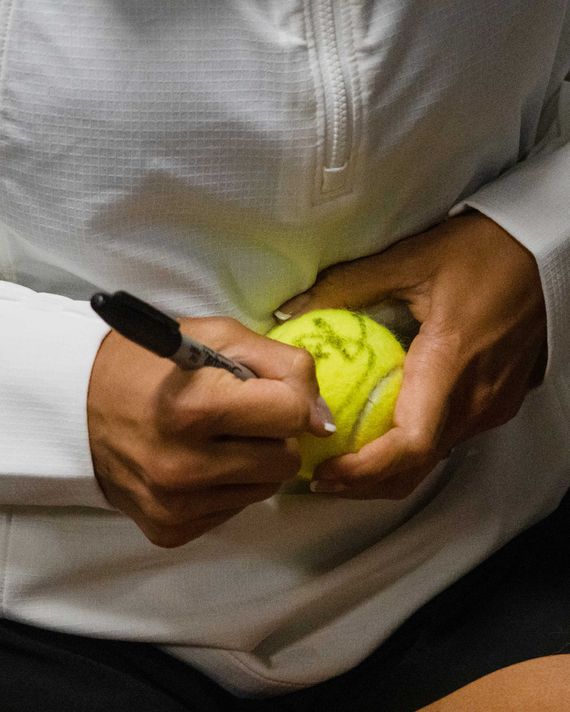 Let's go back to the beginning: When did you realize tennis was going to be your thing? 
Once I got tired of ballet, my mom gave me my first tennis racket — I was six years old — and said, "Do you wanna try tennis and take some clinics?" Growing up in Miami, there's an abundance of those. I grabbed the racket. I thought it was really fun, going to a clinic a couple times a week. I don't really remember what the development was like, but I do remember playing in my first couple of little tournaments when I was eight years old, and I always had that competitive fire in me. Those progressed into local tournaments, regional, national, and international. At about 14 years old, that dream started to become much bigger than just the idea to play tennis at a professional level.
In tennis you have two pathways: You could use it to get a really good scholarship at a school or you can pursue the professional level. My parents pretty much made sure that if I were to pursue the professional level that it was not going to be without knowing the risks involved. They wanted to make sure that I could do this and make a living because it is very, very hard as an up-and-coming professional. My parents gave me their blessing to pursue the dream, and we never looked back.
What did your pre-match rituals look like? What about for today? 
Well, obviously I'm a retired player, so some of the rituals and the little quirks that I used to have probably won't come into play today. But when I used to play, if I felt like things were going well, I would try and stick to the same routine until I would kind of like slap myself out of it and say, "Monica, don't be one of those people."
One thing that I used to do religiously is that every tournament I would pick a new song and that song would be on repeat over and over while I was warming up for my matches. It would just circle around in my head, and sometimes even during the matches I would sing the song in my head and work my way into a zone.
I don't know if I'll do that today. I'm not really nervous about the match … yet. I know that I will be as I get out there because I've played in the colosseum of Puerto Rico once before, and it was very overwhelming. I've played in stadiums full of people for many years, but it's been quite some time since I've done that. I don't know if I'm used to that sensation anymore, but it's gonna be a fun time. I'm excited.
How does it feel to come back to el Coliseo? What does it mean to you to play there?
It's without a doubt one of the staples of the island. Anybody who's anybody as a performer always aspires to have a sell-out crowd because it's where people want to go to party. It's where people want to go to feel things. The fact that it's pretty much a sold-out crowd and so many people are looking forward to this event is just mind-blowing.
I've played in front of sold-out crowds before, but I think this is definitely going to be very different because bringing Venus here and what she means to me, to sports, to women's sports, to African American sports, to girls in general who want to pursue their dreams and being a minority. Her African American, me a Latina, we're often seen as less than, and I feel like we just have what it takes to continue to elevate and continue to inspire and continue to trail blaze for the future generations coming.
Speaking of Venus, what are your favorite memories of her, on or off the court?
I grew up watching her on TV and I always admired what she and Serena have done for the game, the ability to win nonstop. When I was little going to the Miami Open, I remember running after her with a giant tennis ball asking if she could sign it. I ended up getting a call from her at 17 or 18 years old saying, "Can you come and hit with me and practice with me in Florida?" I was like, "Are you kidding? Are you joking?" I asked my agent, "Are you sure that that was her?"
I ended up hitting with her, she made me feel completely welcome. Obviously, I was super-scared and nervous because I didn't want to mess anything up, and then we ended up playing a couple of times on tour. We've always had this mutual respect for each other because first of all, it's who we are. The fact that she accepted this invitation at all speaks volumes to, you know, what she means to me, and I hope she has the best time tonight.
Tell me about your favorite place to visit in Puerto Rico.
It used to be my grandma's apartment, but she is living in Miami, so now it's my aunt's apartment. I do have some favorite spots; I got married in a beautiful little corner here in San Juan at a beautiful hotel. And I have so many good memories of this whole island. When I'm coming from the airport into San Juan, we drive by my grandmother's old, old apartment, and I remember when I was three or four years old going to get sand dollars in the ocean with my grandma and going to eat at all these different places.
My grandfather was a dentist, so I remember my grandmother bribing me and saying, "If you don't let grandpa check your cavities, then we can't go to this little theme park" that they used to make in the parking lot of one of the malls here. I would let him check my teeth.
Puerto Rico itself is full of so many great memories for me growing up, and while I didn't live here, I spent every single summer here. All of those weeks that I had in between the last day of school and the first day of school, they were spent here. Spanish is my first language. My mom made it very clear that that was what she wanted to do, and eventually, for my kids, I'll do the same because being bilingual is pretty cool. The Puerto Rican Spanish is the coolest for sure. I don't think there's just one place here in Puerto Rico that stands out the most because every little nook and cranny of this place is filled with memories for me.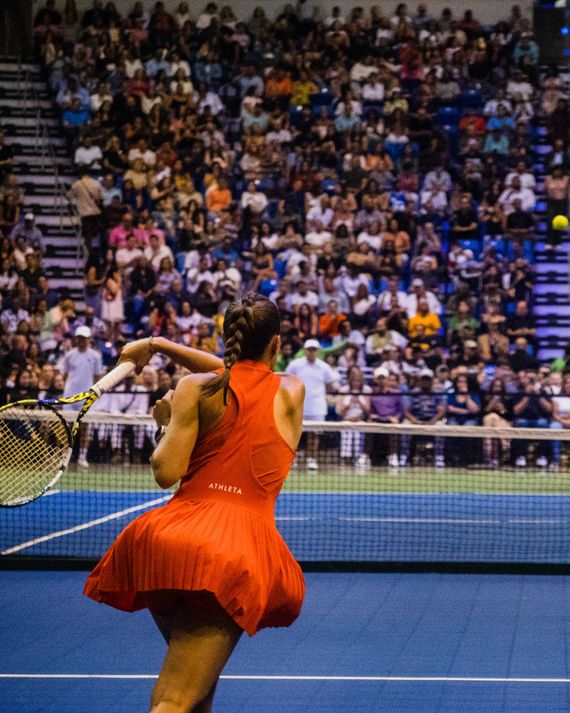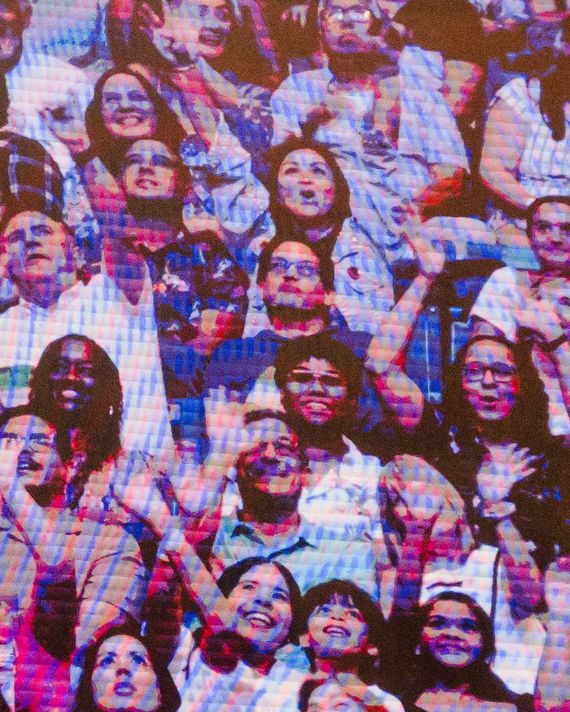 How did you collaborate with Athleta to create your look for the game?
When you retire from professional sport, you think that you're going to feel like an outcast and you feel like you're about to become invisible to everything. So when Athleta approached us wanting me to be part of this really unique group of women, I said "You know, I'm retired, right?" They did not even hesitate to say that's not why we want you; we want you because we want several women who are in different phases in life and we want it to be relatable. We want it to be fun. We want it to be something that people can look at, and it doesn't matter their situation, it doesn't matter where they are in their life. They want to feel supported, and they want to feel loved. That's exactly what I felt from the very beginning.
Once this event was further along in the process, I asked if it was possible to have a custom dress for the event. There was a dress that was already on the shelves that I thought was extremely flattering and just absolutely perfect for tennis. We talked about maybe changing the color and doing a limited-edition dress. I went to San Francisco for a big event with Athleta, and they chucked me into a room and started jumping into ideas about what the color was going to be like, the fitting process just to make sure that it fit absolutely right.
The red could not be more perfect because when I won the Olympics, it was in a red dress, and it was kind of a nod to that moment.
Tell me about some of your happiest and hardest moments on the court. What did you learn from those experiences?
Any professional tennis player will tell you the happiest moments are the ones when you win and the hardest are the ones where you lose. But I've had some pretty incredible experiences like traveling the world; that was always something that was very important to me as a little girl. The happiest moment definitely was Rio and what happened there. But I've had some pretty incredible successes on tour in other great places like Sydney, Australia.
The sad times I would definitely cap off from 2019 onward, which was the beginning of the end of my career with the injuries. I struggled really hard for three years, four really grueling and tough surgeries. The moment I knew it was time, my mom and I both knew because she's been with me through everything and knows me sometimes better than I know myself; we kind of gave each other a look. While it was cut short, I've been able to live some pretty incredible things post-career. While it was kind of a dark moment for me, it was kind of a blessing in disguise.
It's hard because I wish I was still out there, but at the same time, I stay connected to the sport. That's always been very important to me because I don't want to ever leave tennis because sometimes I tie my identity and my self-worth to it. But I think every athlete kind of does that. I have a lot of people who remind me that I am so much more than tennis and that helps me kind of stay happy.