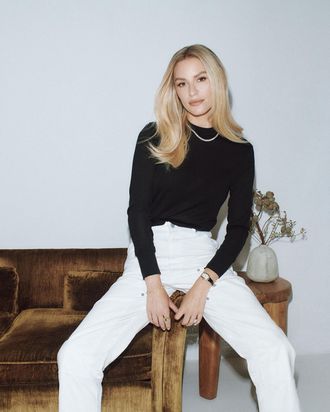 Photo: Courtesy of Morgan Stewart McGraw
In Los Angeles, the reality star to "It" girl pipeline seems especially strong lately — but it's been Morgan Stewart McGraw's destiny for forever. Specifically, ever since she introduced herself to the world on E! Network's Rich Kids of Beverly Hills. "My name is Morgan Stewart, I'm from Beverly Hills, California, I'm 26 years old, and I have a blog called Boobs and Loubs. My blog is a perfect representation of me. I have very large boobs and a very large affinity for Louboutins," she said during the series premiere in 2014. It was clever, unapologetic, a little bitchy, and slightly out of touch … all the makings of a Modern Star™️!
As expected, McGraw went on to successfully leverage her fame after two years on reality television. She landed major hosting gigs on E! shows like Daily Pop, Nightly Pop, Necessary Realness, and What the Fashion, all while securing her status as the premiere fashion influencer for fans of The Row and aspiring rich moms.
So, what's next for McGraw? Renggli, her luxury ready-to-wear line, launched last week with an ultracurated collection of timeless staples: trousers, a high-neck tank top, a T-shirt, an oversize jacket, and a cashmere sweater. (Several items sold out almost immediately, but the next collection is dropping soon on rengglistudio.com.) All five styles — available in butter-yellow, black, white, and chocolate-brown — are inspired by the star's own closet, which is full of timeless items she can always rely on. "People are going to get really wearable, cool clothes from this brand … clothes that are effortless, that you don't have to fret over," McGraw (whose middle name is Renggli) told the Cut. And every last detail — from the silhouettes and fit to the versatile neutral color palette — was intentional. "I really wanted to eliminate the issue of the girl standing in her closet being like, 'What am I going to wear?' or 'I could wear this but what would I pair it with?' No one has time for the overthinking."
When developing Renggli, quality and longevity were equally important to McGraw, who has understood the value of investing in one navy-blue Jill Sander sweater instead of a dozen cheap alternatives since the tender age of 14. "That's always been my shopping mantra because that sweater would last me forever," she explained. "By the way, I still have one of those sweaters that's now almost 15 years old. You want to have clothes that are going to be in your closet for a long time and are going to support you through your shit — not clothes that are going to betray you because you're at the wrong place in your cycle, for example. So quality was a major focus of mine throughout creating this brand." Still, McGraw was able to keep the price point surprisingly low. "My thought process was that I have not earned luxury quite yet, but I am delivering an incredible product. My silent partners behind the scenes learned very quickly that I was not just going to be like, 'Make a crewneck, and let me know how it turns out.' It's priced extremely well considering the quality. My audience is kind of all across the board, so I just wanted to create something that was accessible to a lot more people."
Despite having an entire storage unit full of coveted designer items and priceless vintage finds (the highlight being a jewel-embellished Alexander McQueen taffeta skirt from her mother-in-law, Robin McGraw), the busy mother of two said she tends to gravitate toward pieces that are low-maintenance and easy to wear. "I'm really in a place in my life where I don't I don't want that fashion drama. I'll do it when I'm really prepared. But otherwise, I just want to throw things on and look French," she said.
Here, McGraw shares the elevated essentials that help her achieve that quiet-luxury-for-the-fashion-girl look; the ten most worn items in her closet that have become the foundation of her personal style.
"I gravitate toward the Renggli cashmere sweaters because they're easy. I wear them with leather pants. I wear them with jean shorts. I was just in Italy, and I wore them literally every single night. I literally just wore the brown one to the gym with leggings," McGraw said of her classic crewnecks, which feature a ribbed trim and slim fit. The cashmere blend is soft yet lightweight, plus all four colors work well with other pieces in the collection. "I'm very much of the mindset that every tea kettle should have a top. I don't like when pieces feel like they're floating [within a collection]."
McGraw said she's been "living" in these 100 percent cotton pants. With a relaxed fit, several pockets, silver hardware, and a utility loop, they're a fashion-forward take on the traditional work pant. "I wore them last week with white Chanel sneakers. I wear them with this specific pair of lime green shoes that really work well with the Carhartt vibe. I even saw Barbie in them. That was big. So the styling is all across the board." Although the work pants are sold out, the matching shacket is still available in several colors and sizes.
"It's like the highest-end shit. I'm sorry, I had to. I've literally worn it probably every week. It's just one of those things that look good no matter what. It's a really important piece to me," the Renggli founder said of this double-breasted blazer, which features wool lining, peaked lapels, and shoulder pads.
"It hits below the knee. I've probably worn this on every trip I've been on since I bought it. You can wear it in the day with flats. You can wear it at night. It's proven to be a very sturdy staple. I usually wear it on its own. It's flowy, pretty, easy, and really stylish. It's one of those pieces that's going to be in my closet for a really long time. I love that it's silk, and I love the cut of it. It's not too low — I can't do super-low-cut dresses because I'm not going to tape these babies up. For me, it's always like, am I going to be able to throw this on and will it be easy to wear? Also, it looks ambiguous. You don't know what brand it is. It looks expensive because it is, but it could be from any designer," McGraw said, adding that she loathes flashy labels and logos.
"These bitches, they need to stop it. It's … it's so good," she said of this buttery-soft tee, which has a slim fit and classic neckline. "I don't even know how to explain it."
"These are my favorite shoes. Again, despite the fact that they have the red sole, they're so ambiguous. They're so easy, and they go with everything. There's no ankle strap, I don't have to tie them," McGraw said.
"I had to include this Celine darker-denim kind of boyfriend, baggy jeans. They're so good. And they're the perfect amount of baggy without being obnoxious," McGraw said of this low-waisted style. "I can wear them with ballet flats or I can wear them with heels. Celine does a pretty damn good job with denim. I wear these all the time."
The Renggli founder said she wears the classic The Row belt, below, "all the time." She added: "If you can only get one belt, I would suggest getting this one. It doesn't have a huge buckle, because then all of a sudden your outfit totally revolves around the belt. I always feel like a try-hard when I wear a belt with a big buckle." A similar option by The Row is available to purchase here.
"It has kind of a '60s flare with the big gold buttons and industrial pockets on both sides," McGraw said of the Celine leather jacket, below. "It's one of those things I wasn't sure about at first. In my mind, I was like, 'Am I my mom wearing this?' But it's become one of my favorite pieces. I wear it all the time. It always looks good. It always ties things together. It's a little bit longer so it covers the butt, which is always easy and nice." Although it's no longer available to purchase, this duster from Max Mara and this oversize jacket from Khaite will help you achieve the same look.