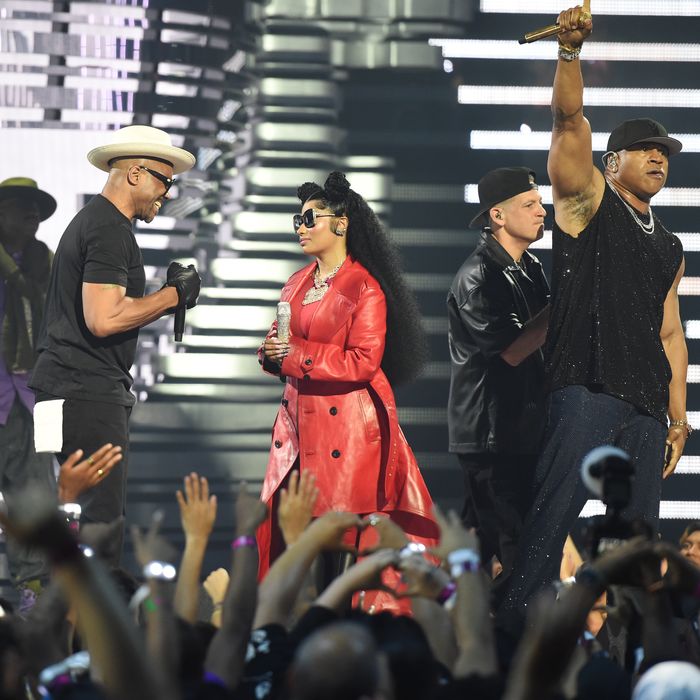 Photo: Gilbert Flores/Variety via Getty Images
It was a lengthy night at the 2023 MTV Video Music Awards, which honored Diddy's arms, Shakira's hips, and, even more momentously, the 50th anniversary of hip-hop. The evening ended with a jam-packed performance celebrating the genre, which is said to have been born on August 11, 1973 when Clive Campbell, also known as DJ Kool Herc, spun at his sister's back-to-school party in the Bronx.
Ahead of the special finale dedicated to the history of hip-hop, the show included a handful of performances in the genre: Megan Thee Stallion and Cardi B doing their drum-centric, horny collab; Diddy joined by four of his children, all in coordinated bright red getups, including his son King Combs, who rapped with him onstage; and a lively Doja Cat number involving corporate suits and fake blood. To close it out, an ensemble of hip-hop legends joined forces onstage: Lil Wayne, who opened the awards show, returned with the night's host, Nicki Minaj, to perform "A Milli" and "Itty Bitty Piggy," respectively. Alongside them were other major figures who made hip-hop what it is today: Grandmaster Flash, Darryl McDaniels (one-third of Run-D.M.C.), Doug E. Fresh (also known as the "human beatbox"), Slick Rick, and LL Cool J (also in a bicep-baring ensemble).
Though this smattering was by no means comprehensive — and skewed particularly light on women rappers — it was a dedication nonetheless, both to hip-hop and the beefy upper arms of our elders. Two things worth celebrating, don't you think?