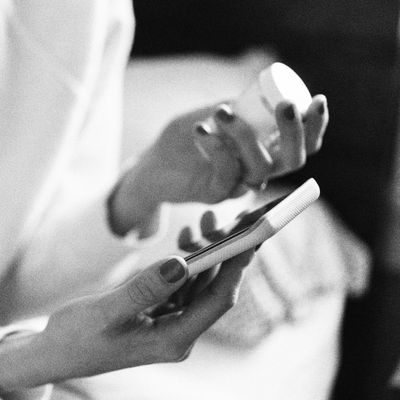 Photo: Jamie Grill/Getty Images/Tetra images RF
A Nebraska mother who faced criminal charges after helping her teen daughter self-manage her abortion with pills last year was sentenced on Friday to two years in prison. Jessica Burgess, 42, took a plea deal in July and admitted to charges of false reporting, providing an abortion after 20 weeks of gestation, and concealing, removing, or abandoning a dead body. Her sentencing went forward despite the fact that a judge had canceled Burgess's court-ordered psychological evaluation last week owing to a lack of funding.
Her daughter, Celeste Burgess, who was 17 when she used abortion pills to end her pregnancy in April 2022, pleaded guilty earlier this year to one felony charge of concealing or abandoning a dead body. In exchange, the prosecutors dropped two other misdemeanor charges. At her sentencing hearing in July, Celeste told the judge she sought to terminate her pregnancy because she had been in an abusive relationship and did not want to raise a child with her former partner. She was sentenced to 90 days in jail and two years' probation and was released from Madison County jail this month after serving 53 days of that sentence, according to KTIV.
Self-managed abortion is not illegal in Nebraska; currently, only the state of Nevada explicitly bans it. At the time of Burgess's case, Nebraska had outlawed terminating a pregnancy after 20 weeks unless the pregnant person's life was at risk. In May, Republican governor Jim Pillen signed a highly restrictive 12-week ban into law.
U.S. prosecutors have long punished pregnant people for stillbirths, miscarriages, and abortions, even while Roe v. Wade was in place. Nearly 1,400 people were investigated, arrested, or prosecuted between January 2006 and June 23, 2022, the day before Roe was overturned, according to a new report by the legal-advocacy group Pregnancy Justice. Following the end of the constitutional right to abortion, abortion-rights advocates have worried that more states will introduce legislation targeting patients and that overzealous prosecutors will continue to stretch the boundaries of the law to go after people suspected of self-managing their abortions and those who help them.
"Supporting someone through an abortion is an act of love," Elizabeth Ling, senior helpline counsel at If/When/How, a legal-aid network focused on reproductive rights and abortion access, said in a statement to the Cut. "We should all be outraged that prosecutors in Nebraska chose to misuse the law and criminalize a mother who was supporting her daughter. No one should have to fear punishment for helping a loved one make the best decision for themselves, including when they decide to self-manage their abortion."
The investigation into Celeste and Jessica Burgess began months before the fall of Roe and relied heavily on Facebook messages Meta had turned over to the police in which the two discussed ending the teenager's pregnancy with abortion pills. It's a scenario that advocates have long feared, in which social-media activity or other personal data are used to prosecute those seeking abortion care and the people who help them.
A Norfolk police detective had received a tip in April 2022 that Celeste had a stillbirth and that her mother helped her secretly bury the fetus, according to a search-warrant affidavit. (The case was first reported by the Lincoln Journal Star.) Court documents show the detective went on to obtain Celeste's medical records and determined she had been around 28 weeks pregnant at the time.
According to the affidavit obtained by the Cut, the teen told police in an interview that she unexpectedly had a stillborn baby in the shower during the early hours of April 22, woke up her mother, and then drove north of town with her to bury the body. They had the help of a 22-year-old identified in court records as Tanner Barnhill, who told police the Burgesses had attempted to burn the body before burying it. An autopsy later confirmed the stillbirth. Court records show the Burgesses were each charged in June 2022 with a felony count of removing, concealing, or abandoning a dead human body as well as two misdemeanor counts of concealing the death of another person and false reporting.
A friend of Celeste's then contacted the Madison County attorney's office to say she had witnessed the teen "take the first of the two pills meant to cause a miscarriage," according to the affidavit. She added that the Burgesses had several computers at their residence. The detective served a search warrant to Meta and obtained the women's Facebook chat history. Once someone is turned in to the authorities and a crime is suspected, police have nearly free range to request personal data from tech companies; even without a court order, law enforcement can easily purchase information ranging from internet search queries to location information from data brokers, putting abortion seekers and anyone who aids them at risk. The detective found messages suggesting that Jessica had obtained abortion pills for Celeste and instructed her on how to take them. "C. Burgess talks about how she can't wait to get the 'thing' out of her body and reaffirms with J. Burgess that they will burn the evidence afterward," the detective wrote in an affidavit. This seems to be the officer's interpretation of the conversation between the Burgesses; Facebook messages obtained by Vice do not include that sentence.
According to court documents, Jessica Burgess purchased Pregnot — a kit that contains mifepristone and misoprostol — from "an online source." Medication abortion is recommended only up to ten weeks of pregnancy in the U.S., but research has shown that with the right dosage of a mifepristone-misoprostol combination or misoprostol alone, it can be used to end pregnancies in later weeks. As a result of the search warrant, two additional felony charges were brought against Jessica Burgess in July 2022: performing or attempting an abortion at greater than 20 weeks and performing an abortion when not a licensed doctor. Celeste, then 18, was tried as an adult. Barnhill pleaded no contest to a misdemeanor charge of attempting to conceal the death of another person; he received probation.
The court documents don't indicate who first tipped off police to the alleged abortion. But according to a report from If/When/How, the majority of self-managed abortions are reported to law enforcement by health-care providers (39 percent) or loved ones and other acquaintances who have learned about it (26 percent). Police can also learn about these cases through other means, such as the recovery of fetal remains and 911 calls (18 percent) or reports by social workers (6 percent). The organization says the "trigger" for law enforcement was unknown in 11 percent of cases. It also found that between 2000 and 2020, 61 people were arrested or criminally investigated for allegedly self-managing their abortions; over a third of cases studied in the report ended with a guilty plea or verdict. The case of Celeste and Jessica Burgess is a harbinger of what's to come. With Roe gone, we can expect more overzealous prosecutors being set on criminalizing pregnancy outcomes — the contours of the law be damned.
This story has been updated.
The Cut offers an online tool you can use to search by Zip Code for professional providers, including clinics, hospitals, and independent OB/GYNs, as well as for abortion funds, transportation options, and information for remote resources like receiving the abortion pill by mail. For legal guidance, contact Repro Legal Helpline at 844-868-2812 or the Abortion Defense Network.