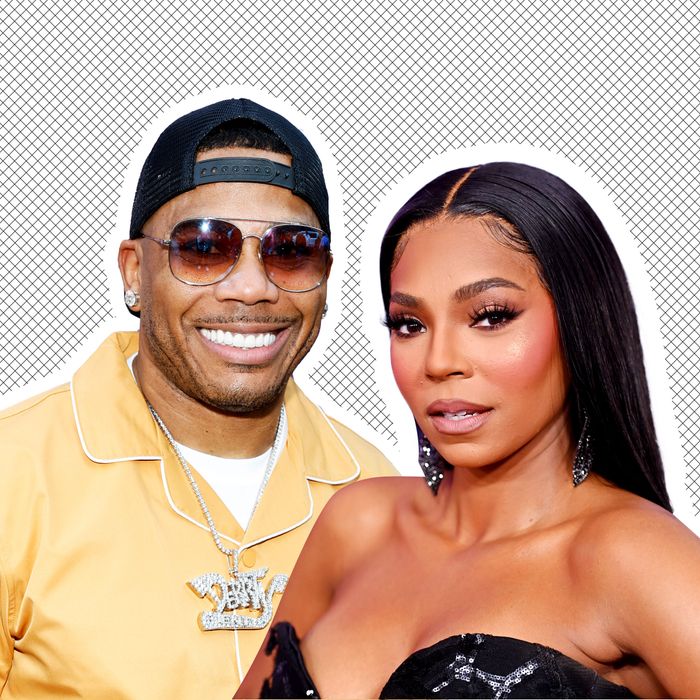 Photo-Illustration: by The Cut; Photos: Getty Images
While other celebrity couples spent the summer breaking up, Nelly and Ashanti spent it making up. The couple is officially back together after a decade apart, the rapper confirmed in an interview with Love and Hip Hop: Atlanta's Rasheeda and Kirk Frost, per Entertainment Tonight. Although fans have been speculating for months that the two rekindled their relationship, this is the first time either musician has admitted that they are romantically involved again — not just friends.
The duo dated on and off for ten years, from 2003 to 2013. Fans rooted for a proposal, but in 2010 Nelly said he wasn't ready to get married, and around 2013, they called it quits. Years later, Ashanti would refer to a "betrayal" by the rapper. But a pandemic pastime — Verzus — brought them together: They reconnected during Fat Joe and Ja Rule's 2021 DJ battle, when Nelly strolled across the stage and hugged Ashanti. After the performance, Ashanti said she didn't know Nelly would be at the event, and didn't know what to expect when she saw him coming toward her, but ultimately had a "positive" interaction with him.
By December 2022, Ashanti and Nelly were "in a better place," or so she told Andy Cohen on Watch What Happens Live. The singer said she and her ex had been staying in touch, but wouldn't say if they were dating or not. Since then, they've performed together, appeared on red carpets together, and shared flirtatious Instagram posts together. In February, Nelly told ET that they were just friends, but given all the recent crossover, some fans (me) found that hard to believe. In confirming the relationship, Nelly told the Frosts that he and Ashanti hadn't "planned" to reconnect. Instead, he said, "I think we both were pretty much doing what we do, but sometimes being separate, you understand one another more. See maybe what they see." This time around, though, the relationship feels good because there's "no pressure," he said, adding that he not only hopes to get married, but "to die married." I and other 2000s R&B fans can only hope he means "to Ashanti."
Less than 12 hours after the interview came out, Ashanti showed up to the red carpet of MTV's Video Music Awards — where Nelly performed during the preshow — with a photo of the couple taken at the 2003 VMAs printed on her bag. "We're in a great place," she said when asked about the rekindling. "I think it's pretty obvious. Yeah, we're together." :')