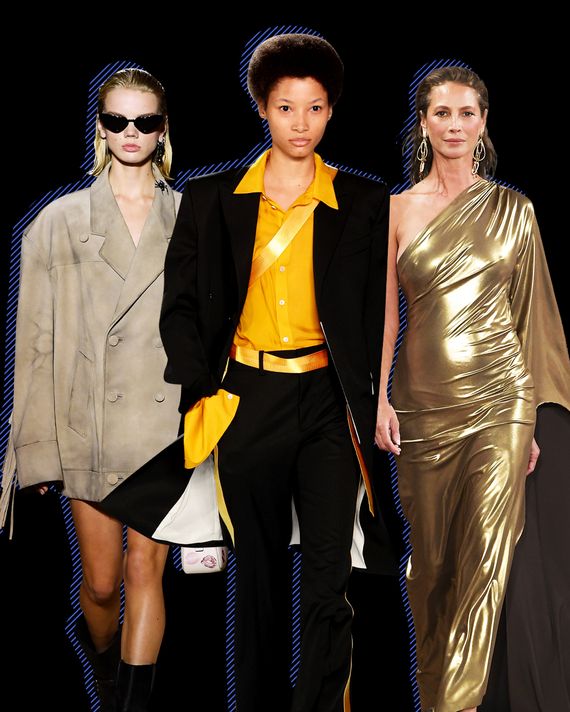 From left: Coach, Helmut Lang, and Ralph Lauren
Photo-Illustration: by The Cut; Photos: Getty Images
Two years ago, on the Greenpoint waterfront, Peter Do staged his first runway show and the assurance came striding through every look. He was a minimalist in the tradition of Jil Sander and Phoebe Philo, for whom he worked at Celine, but he put his own stamp on the form, with flowing white silk shirts printed with an exploded flower and airy suits in the palest pink and taupe that caught a modern vibe. A native of Vietnam, who arrived in the United States at age 14 and got turned onto fashion by "Project Runway," Do could make his references slide between two cultures, like a long side-split tunic in pale pink worn over a lighter shade of pink trousers and finished off with a loose-fitting coat. He wasn't heavy-handed, and that in itself suggested a substantial designer in the making. New York needed that more than ever.
So when Fast Retailing, the parent company of Uniqlo, announced that Do would be the new designer of Helmut Lang, another of its brands, it made sense. Do has 1990s minimalism on his brain; he knows the style as well as the cliches, and he seemed the best choice to unpack Lang and find a new expression for 2023.
That didn't quite happen on Friday, as the New York spring collections got underway in the sweltering heat. Do certainly navigated Lang's straight-line tailoring, opening with suits with a fuchsia stripe down the sides of pants, a nod to a well-known Lang collection. (The Austrian designer retired from fashion in 2005, after selling his brand.) And Do evoked Lang's taste for ordinary garments, like T-shirts.
But everything is context. When Lang appeared on the Paris fashion scene in the late 1980s, almost everything was extremely glamorous, or, in the case of Thierry Mugler and Jean Paul Gaultier, an extremely camp version of glitz. Gianni Versace was doing his sexy version of glamour in Milan. Lang was a blunt counter to all that. And putting an ordinary undershirt or a utilitarian trench coat on a runway — and calling it Fashion — was startling at the time. It was new. Plus, the amazing thing about Lang was that his clothing made you feel differently when you wore it. It was in the specific cut of his suit jackets and coats. I remember a stylist telling me in the mid-90s, that they sort of grabbed you. Lang's clothes delivered a different sexual charge — and you couldn't quite put your finger on why.
We're obviously at a point now where a T-shirt or a simple cotton shirt tucked into a pair of jeans means nothing. On Do's runway, they were merely reiterations of Lang signifiers — devoid of meaning. The same was largely true of his tailoring. My thought while watching the show was: 'These clothes are not cool. And they could be.'
Do obviously has a daunting task ahead of him if he wants to make a real project of Helmut Lang and have some fun in the process. He has to first get to the bottom of Lang's sensibility, what made him so different, and then find a relatable beat in the present moment. Hedi Slimane did the smart thing when he took over Saint Laurent after Tom Ford, though his approach was initially annoying and seemingly lazy. Slimane located the moment in Yves Saint Laurent's career when the designer was truly subversive, roughly 1965 to 1970, when he did the original tuxedo, the baby doll dresses, the Pop Art dresses, and the see-through black blouse.  And, for me, that's where Slimane found his modern link and then he took those styles further. Do is going to have to find his own point of contact with Lang and then express that spirit in a contemporary way, without respect for his legacy. Otherwise, we might as well go to Uniqlo.
Stuart Vevers got things just right this season at Coach, where he celebrated his tenth year at the sportswear brand with a big show at the Public Library — Jennifer Lopez, in a fringed buff-suede jacket and boots, in attendance—and a dinner. Vevers was in his twenties in New York in the 1990s, so he knew firsthand about girls in their skanky slip dresses coming home from the after-hour clubs (so many then) and the more confident and relaxed trouser suits that followed the power looks imagined so brilliantly by the designer Ann Roth in "Working Girl," the 1988 film starring Melanie Griffith and Harrison Ford.
"I deliberately didn't want to do a retrospective," Vevers, a Brit, said. "But I couldn't help but think back at how much my life has changed, becoming a husband and a father." Yet the collection of slip dresses and aged, oversized leather or suede jackets or blazers, and distressed knit tube dresses didn't look nostalgic. That's probably because the attitude was sharply contemporary. The slim silhouette feels practical for now, and the craft techniques, like over-dying and washing, added enough vintage flavor to the styles without swallowing them. In other words, all the components of the design process worked in unison. Vevers also tucked in some personal references, like an adorable pair of baggy overalls worn with a sleeveless tee that flagged the name of a favorite Upper East Side hangout, Donahue's steakhouse on Lexington Avenue.
Ralph Lauren served up filet mignon for the carnivores and Bob Dylan on the sound system for all true believers at a dinner following his show, at the Brooklyn Navy Yard. This collection, his first New York show in four years, wasn't the company's most exciting — the fit of the generally snug clothes, as well as some proportions, looked a bit dated, and there was a passage of dressy sportswear in shades of chartreuse, peacock blue and jade that didn't seem particularly Laurenian. Still, there were some cool moments, like a fabulous black blazer with subtle military trims shown with matte gold lame pants, some fancy denim separates, and the gorgeousness of Christy Turlington in a one-shoulder gold lame gown.
Hillary Taymour's Collina Strada show was slight but fun. The designer and her team apparently worked with A.I. on the designs, which seemed (to me) to achieve a more distilled version of her hectic, free-form style, with plenty of dripping bits of lace and banal floral prints. But the funny bit, the simply genius bit, was watching her models launch themselves down the runway with frozen beauty queen smiles and then suddenly turn them off.
Ah, the fakery of fashion. The shows have begun again.