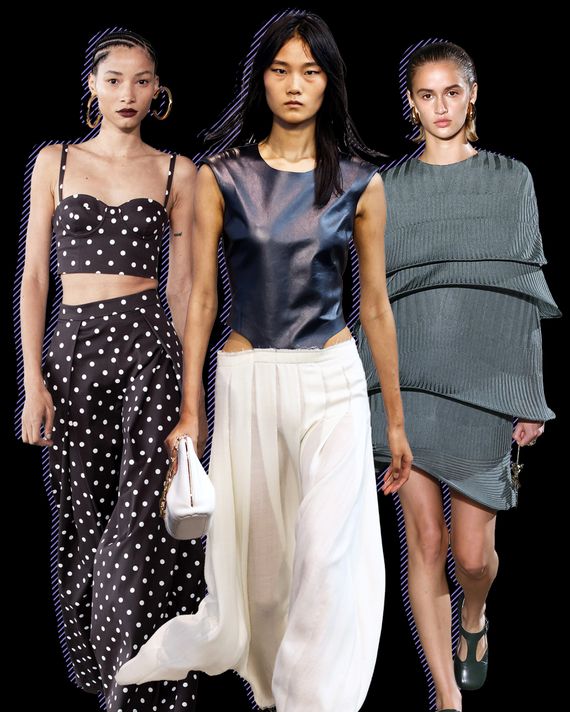 From left: Carolina Herrera, Gabriela Hearst, Tory Burch
Photo-Illustration: by The Cut; Photos: Getty Images, Gabriela Hearst, Tory Burch
For some reason, Gabriela Hearst can't design a collection without a theme, despite the fact that dozens of remarkable designers over the past century have done just that. Is it our relentlessly self-affirming times? Is it that the runway will seem to shrink in importance without a serious idea haloing it? Hearst has referenced female empowerment, fusion power, and re-wilding, among other topics. For her latest collection, she looked to the Druids in prehistoric Britain. "The Druids were the most complicated subject to get solid information about," she said on Tuesday, before her show at the Brooklyn Navy Yard.
The statement seems spurious, given the scholarship available and that her show lasted about six minutes. How many Druid prophets do you need to make a gown look modern? The point here is that Hearst has never needed a highfalutin theme less.
This collection exemplified the design principle of reduction. None of the 36 looks had more detail or texture — design — than it needed. Some critics complained that the predominantly long dresses and pantsuits, in black, ivory, and silver, lacked newness. But novelty has never been Hearst's problem. On the contrary, if you look back at her previous shows, they are nearly all stuffed with color, patchwork, fringe, different suit silhouettes, and arty details that unfailingly impress fashion people. Hearst's problem has been more fundamental. Her designs lack form. They're all content — extraneously so — and no compelling form.
For me, that was the big change this season. Her opening looks set the tone: the long, sweeping lines of a pair of ivory coats, one with full sleeves that ended in a soft gather at the elbows for a poetic effect; masculine pantsuits in the same relaxed form, with one mixing a black blazer with sheer, wide-leg black trousers for a newer, mismatched look; and a flowing, ankle-length dress in white crochet.
That dress was a cut above what other designers showed for what might be called a "special occasion." First, the crochet was clearly done by hand, not machine made. Second, the cut of the dress put a nice amount of volume in the skirt, and that decision gave more substance to the minimalist form.
Hearst maintained that sense for the rest of the show — substance but no excess. She showed a pleated, low-slung skirt in ivory cashmere gauze, with frayed edges, worn with a sleeveless black leather bodysuit that was notched open slightly at the sides for a cooler attitude; and an austere ivory silk satin A-line gown with feathery bits on the lower portion, an effect achieved by both embroidery and pulling threads of the silk. There were also close-fitting long dresses in finely pleated silver or black leather. The black version also had notched sides, so that it looked sexy and cool.
The collection was also a testament to how long it can take a designer to develop her sensibility. Hearst started her label more than eight years ago, and she went on a lot of gung-ho excursions to reach this sharp point. With any luck, we won't hear about Druids or fusion power again. (She ends her run this month as creative director of Chloé, which, in my view, wasn't particularly memorable or right for the brand's youthful spirit.)
Wes Gordon, the creative director of Carolina Herrera, brought out his many girlfriends for Tuesday's show at the Whitney Museum of American Art, and I found myself seated in the midst of them, between lovely Ivy Getty and a sparkly Leonie Hanne, listening to everyone talk about Ibiza and who's going to London and Paris. It's amazing how the front-row faces change over the decades but the drift of the conversation doesn't.
Gordon's collection was rich in color but strategically simple in the lines, with a single-breasted jacket in a gorgeous shade of yolk yellow with a matching layered tulle skirt; a robust shirtdress in white cotton; and a number of pencil skirts with bra tops. He also nicely balanced soft shapes, like a straight-line minidress in black lace and a Hollywood-style halter dress in white silk taffeta with more structured (and buzzworthy) styles, like a pale yellow bustier mini with a teacup skirt.
On the demerit side, the show had too many beside-the-point looks. A harder edit would have given Gordon a direct hit.
Tory Burch seemed to be fighting with two competing ideas — wanting to experiment with new shapes for her customers and giving them an "effortless" look. Or, as she put it, "Clothing that frees up space in your mind."
I doubt that her spring collection will achieve that result. Among the stranger styles she offered were tunics with deep U-necks; a viscose knit dress with a top pulled down to the elbows, like a tea cozy; and other knit dresses with wired hems, causing a spacey jiggle. Though long floral silk dresses layered with embellished crochet looked great, she simply had too many elements — puffball skirts, blazers, a wide variety of shoe styles, wraparound goggle glasses — to qualify as effortless.