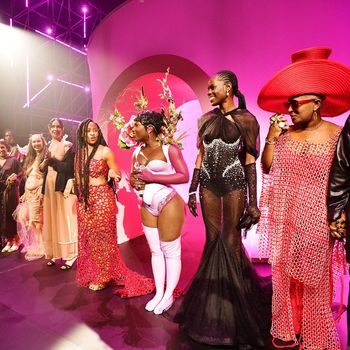 Photo: Eugene Gologursky/Getty Images for Victoria's Secret
Good try, Victoria's Secret. Seriously! Since its fall from grace back in 2019, the controversy-plagued lingerie brand has poured massive amounts of time and money into a full-blown rebrand — from (finally) embracing body diversity and canceling the once-iconic Victoria's Secret Fashion Show to hiring an impressive group of women (including Adut Akech and Megan Rapinoe) to help advise the company as part of the VS Collective. The inclusive marketing strategy has been met with criticism and skepticism, but Victoria's Secret doesn't seem to mind — the brand has shown no signs of pumping the brakes and seems bound and determined to make a comeback.
So when I received an invitation to its glitzy New York Fashion Week event, I was intrigued and excited. What better way for Victoria's Secret to silence the haters and prove that executives have acknowledged the criticism and complaints from their customers? The fashion-industry underdog had a huge opportunity to get back on top — and as someone who once worshipped at the altar of the Fantasy Bra, I was rooting for it. Unfortunately, the highly anticipated event fell flat. Sigh.
It got off to a bit of a rocky start; all I knew ahead of time was that it was taking place at Manhattan Center, it was not a seated show, and there would be a live performance. Fast-forward to last night: I arrived at the venue and walked past a pink carpet where Victoria's Secret darlings like Taylor Hill and Adriana Lima were doing interviews. Inside, the larger-than-life set design featuring the brand's signature angel wings was quite impressive, though it did, in fact, resemble that of Rihanna's 2019 Savage X Fenty show (as the internet pointed out last week).
I soon realized I was surrounded by my For You page. Influencers including Monet McMichael, Alix Earle, Josh Richards, Jordyn Woods, and Brianna LaPaglia (a.k.a. Brianna Chickenfry) were walking around the ground floor, while models and celebrities including Candice Swanepoel, Priyanka Chopra Jonas, Emily Ratajkowski, Doja Cat, Winnie Harlow, Paloma Elsesser, and Julia Fox could be seen hanging out on the second level.
The presentation (er, show? performance? I'm not sure) opened in dramatic fashion: with a single spotlight on Naomi Campbell reading a poem from the rafters. She was introduced by Gigi Hadid. Next was a short preview of a new Victoria's Secret–presented film called The Tour '23. I stood there, along with hundreds of other guests, marveling at the massive screen above me as music pounded my eardrums from all directions. The star-studded film, with filmmakers like Lola Raban-Oliva and Cristina Sanchez participating, was beautifully done (in a press release, Victoria's Secret described it as "a re-imagination of the brand's iconic fashion show, celebrating women and global creatives" that will "take audiences on a journey through the behind-the-scenes craft and intimate stories of the VS20 — a group of twenty innovative global creatives who will conceive four fashion curations from the vibrant cities of Bogota, Lagos, London and Tokyo, alongside iconic custom Victoria's Secret design"), but it was definitely giving Imax. The full film will be released on September 26 on Amazon Prime. Which, of course, we will tune in for and are very interested to see.
I kept waiting with bated breath for the fashion icons in attendance to appear onstage, strut down the stairs, pose … or do anything at all. Alas, they did not. Despite being in the building, in costume, and in character, the Victoria's Secret dolls gave us nothing. Instead, the night ended with short performances from Doechii and Goyo. I loved both, don't get me wrong, but it was a bit disappointing considering the incredible production value of past Victoria's Secret fashion shows. All in all, the event missed the mark. I wanted a spectacle that felt just as glamorous and high-budget as the iconic early-aughts shows starring Tyra Banks, Heidi Klum, and Gisele Bündchen — only more inclusive and accessible. But what I got was something that could've been an email.