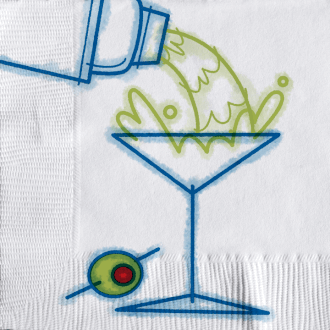 Last night, a horde of celebrities, designers, and influencers braved one of the sultriest nights of the summer in the name of lab-grown diamonds. Armed with pieces from Pandora's newest collection of scientifically cultivated jewels, they flocked to what the brand has declared its own Lab-Grown Diamond District, an outdoor Fashion Week pop-up near Astor Place that was decked out with baby-pink kiosks and fake newspaper stands for the evening.
"I thought it was gonna be way colder here," Halle Bailey told reporters on the pink carpet, where the hottest accessories were hand fans. She was joined by a blindingly sequinned Ashley Park, Ella Emhoff accompanied by someone with a crocheted bonnet, and Barbie Ferreira in "a lot of heavy hair." The guest best dressed for the weather, which is to say the least dressed, was Julia Fox, who showed up with a terf-banged mullet and a bandeau and assless microskirt made entirely of wristwatches. Fox informed me that she was having trouble focusing on the Fashion Week events unfolding this week because she's gearing up to do press for her imminent book, Down the Drain. "The tea is piping hot," she said of the book's contents, at which point my sweat droplets doubled in size. "I'm kind of freaking out a little bit. I'm worried it might be too hot now." I wasn't sure if she was talking about her book, the weather, or both.
Because of course, all anyone could talk about was how hot it was, and most of the interactions I observed consisted of people waving their hands in front of their faces and reminding each other to stay hydrated. (The beverages available were pretty hit or miss — I swapped out a suspiciously airplane-like orange juice cocktail for a hot-pink elderflower concoction that kept me sufficiently sugar-hyped.) My one conversation that didn't involve the weather was with a gemologist manning a diamond-examining station, who described in detail how Pandora's team of artisans creates rough-cut diamonds above ground. She excitedly asked me to guess which of the two identical-looking studs on her table was mined. "That's the point," she said when I told her they looked exactly the same. "You can't tell the difference!" And indeed, I could not.
At some point Caroline Polacheck (bravely wearing Tabi boots) began to perform, and I caught up with Pandora brand ambassador Pamela Anderson, looking breezy in an ivory silk ensemble that I was not surprised to learn was The Row. She'd brought her sons Brandon and Dylan, who, in their white button-ups and light-wash jeans, looked like a cross between TikTok influencers and British models. "It's been a tumultuous couple years," said Anderson in response to my question about her new pared-back makeup look. "I've been able to think about where I am in my life and who I really am. Sometimes in this career you become a caricature of yourself. I realized, You know what? This is good enough. I love my garden and my dogs, and that's just the way it is."