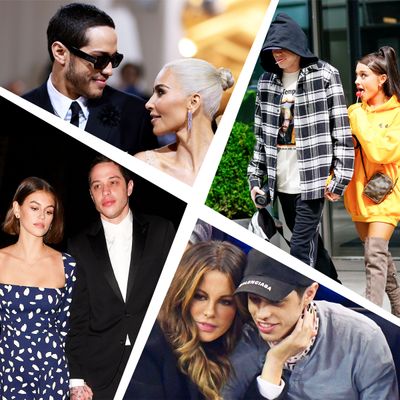 Photo: by The Cut; Photos: Getty Images, Shutterstock, SplashNews
Pete Davidson is technically a comedian, but most people know him for his other, more prolific career: dater of famous women. Since 2016, he has been photographed with an impressive parade of women both more famous and, by many accounts, more attractive than him. The world turns, seasons change, but all of us — even Ted Cruz — can agree on one thing: Pete Davidson pulls.
How Davidson's dating résumé came to read like the ensemble cast of Taylor Swift's next music video, I do not know. While there are many theories about how this asparagus-stalk-shaped man has managed to score partners of such stature (most of them revolving around his dick size), I believe the mystery of Davidson's allure is not for us to figure out. No, we are here to observe, judge, and analyze. In pursuit of that, I've embarked on a cursed journey to the center of the earth (Pete's Raya profile) and chronicled his full dating timeline, something only Pete and his tattoo artist know by heart. Please, follow me down this dark path.
Carly Aquilino
Do you know who this woman is? I don't, but Davidson apparently has since at least 2015, when the two comedians dated for a few months while Aquilino starred on MTV's Girl Code and Davidson appeared on its brother show, Guy Code. Her TikTok handle is currently @fashiongirl42069, which explains their connection. They appear to still be friends and occasional co-workers — she had a role in his autobiographical 2020 movie, King of Staten Island. Good for them!
Cazzie David
It's May 2016. "One Dance" is playing everywhere, the Snapchat dog filter is huge, and you just bought your first pair of straight-leg jeans. Also, two celebrities you never really thought about are in a committed relationship: Saturday Night Live cast member Pete Davidson and Larry David's daughter, Cazzie David. Davidson and David (it's impossible to create a couple moniker from these near-identical last names) dated for two years. According to David, Davidson broke up with her over text, and she found out 24 hours later via Instagram that he had covered up his David-centric tattoos and was dating Ariana Grande. Here's Davidson talking about the breakup in Complex: "Very talented girl, she'll be great and she'll be fine. Yeah, I think she'll be okay."
Ariana Grande
The ponytail that put Davidson on the map. This was Davidson's first true high-profile relationship, and no one talked about it much. Ha ha ha. To know this couple was to know every cutesy, PDA-heavy detail of their relationship: their couple tattoos, their pet pig, their tattoos of their pet pig, their "dope" kissing, that photo. They got engaged in June 2018 after three weeks of dating and reportedly called it off in October of that year in one of the most mature breakups of the century. At least we'll always have "Pete Davidson" (the song).
Kate Beckinsale
After several public sightings together, Davidson and Beckinsale seemingly confirmed their relationship by engaging in some passionate tongue play during a hockey game in early 2019, to the distress of their seatmate Antoni Porowski. They were together for almost five months, which is pretty long for a rebound relationship, and also for Davidson generally.
Margaret Qualley
Qualley and Davidson's brief fling in 2019 was pretty uneventful as far as Davidson's romantic endeavors go: They hung out with each other and some pigeons in Venice, and Qualley's mother, Andie MacDowell, called their relationship "nice." They broke up after two months. C'est la vie.
Kaia Gerber
Pete's third nepo baby! In the fall of 2019, Davidson started publicly holding hands with model and actress Kaia Gerber, daughter of Cindy Crawford. He appears to have actually put on hard pants at some point in this relationship, which is huge. In a more characteristic move, he and Gerber touched tongues next to a pool in Miami. But a relationship cannot survive on denim alone, and these two broke up in January 2020. Davidson said several months later that he was "going through a lot" while they dated and checked into a rehabilitation center shortly after the breakup. He suggested he wasn't a great fit for Gerber, who was 18 and "should be having fun."
Phoebe Dynevor
We have entered Davidson's Bridgerton era, by which I mean the time he romped through a field in the English countryside with Bridgerton star Phoebe Dynevor. For several months in the spring of 2021, these two enjoyed a sexy little dalliance, which included wearing matching necklaces of their initials and watching tennis. Refreshingly, no tongues were shown in public during the course of their courtship. They broke up in August 2021, with tabloids citing their long-distant status. Ta for now!
Kim Kardashian
Kim and Pete: A relationship that can succinctly be described as "too much." They were first seen holding hands on a roller coaster, a telling indication of where things were headed. Kim was not the first girlfriend to venture to Staten Island for Davidson, but she was certainly the most famous woman to do so. They got pizza. They took a vacation. They befriended Jeff Bezos. Davidson got tired of covering up his tattoos and ventured into searing his own skin with the name of his girlfriend. Classic stuff. We could measure the timespan of this relationship in how many deep, shuddering breaths I took while reading news about it (too many to count) or in months (nine). They broke up in August 2022, and while their relationship is over, their hickey will live forever in my nightmares.
Emily Ratajkowski
Which brings us to another recently single high-profile woman: Emily Ratajkowski, who made a handful of public appearances with Davidson in the months following her separation from her husband, producer Sebastian Bear-McClard. (Does Davidson have a Google alert for "divorce"?) After being followed into a building and photographed hugging in sweatpants, they made their slightly more official debut at a Knicks game, where they could be seen enjoying their reported "similar vibes." However, it soon became apparent that Ratajkowski was not looking for anything serious, and "Page Six" elegantly announced in December 2022 that "their fling has moved into the friend zone."
Chase Sui Wonders
Despite being "bummed" about Ratajkowski's ambitious dating aspirations, Davidson rebounded by mid-December, when he was spotted heading into his apartment building with his Bodies Bodies Bodies co-star Chase Sui Wonders. (Technically, this was several days before we even knew he and Ratajkowski had ended things.) In the following month, their whirlwind romance included eating pierogi in Brooklyn, going to Whole Foods, and making their other co-star Rachel Sennott third-wheel them at a Rangers game. Sound familiar? Further evidence this man is running out of date ideas: He and Wonders also paid a visit to Universal Studios, where they held hands on the Revenge of the Mummy ride. Six months into their relationship, Davidson was charged with reckless driving after nearly driving into someone's house with Wonders reportedly in the car, and he checked himself into inpatient mental-health treatment shortly after. In August, People reported that they'd called off their purportedly "very sacred" romance, but things are looking up: Davidson is apparently "out and about and doing really well."
Madelyn Cline
Life comes at you fast, but Davidson rebounds faster. In September, less than a month after he and Wonders allegedly parted way, tabloids reported that Pete was back in the game, this time with Outer Banks star Madelyn Cline. Us Weekly claimed they checked into the Beverly Hills Hotel for a night and had breakfast in the lobby, "wearing baseball hats," the next morning. After that, she reportedly jetted off to Vegas with him for his live show at the Chelsea followed by a night of lounging on the strip. Pete is back, baby, and I am ready for a long nap.
This article has been, and will probably continue to be, updated.