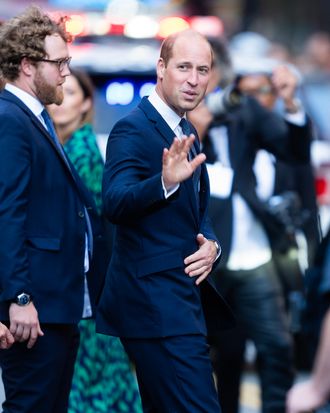 A hearty bing bong to Prince William, who spent part of his week on a whirlwind, two-day tour of New York City. This was Big Willy's first trip to the Big Apple in nearly a decade — he was last here in 2014 when he and his wife Kate dined under the Temple of Dendur with Mary-Kate Olsen and hung out with Jay-Z and Beyoncé courtside at a Brooklyn Nets game. You know, normal touristy activities. This time, though, our boy was solo, and though there were no known celebrity encounters to speak of, he did manage to go running and wade in the East River.
As you may remember, William did make another recent trip to the colonies: At the end of 2022, he and Kate spent several days living large in Boston, where they presented the Earthshot Prize, his environmentalism grant. Though William was ostensibly in New York for more Earthshot Prize promotion — the organization held a special summit on Tuesday to coincide with the U.N. General Assembly — a select few have heralded his visit as a victory lap. As the more favorable coverage of his trip was wont to remind us, a recent Gallup poll suggested Big Willy was the most popular public figure in the U.S., beating out his father King Charles, Volodymyr Zelenskyy, and President Joe Biden. As such, the Daily Mail would have you believe that New York was overcome with a sudden wave of William-oriented horniness, claiming he's a "reborn sex symbol" and has finally reclaimed his title of "William the Hunk."
Sexy or not, the rumored Prince of Pegging certainly had fanfare, which perhaps explains why royal sources are already calling his visit "a great success." He landed stateside on Monday and was whisked over to Governors Island to volunteer for the Billion Oyster Project, a mission that aims to clean and filter New York's waters by filling the Hudson and East Rivers with oyster shells. Behold, his wading overalls:
Apparently, he did make it into the water, though only to waist level. Gotta keep that everyman baseball cap that he has definitely worn before dry!
On Tuesday, Willy went for a top-secret, early-morning run in Central Park, only to spill the beans to a large audience at the Plaza Hotel hours later. "I decided to join the hordes of New Yorkers doing their morning routine," he shared during his Earthshot Summit speech, where he was introduced by former mayor Michael Bloomberg as someone who has "won over Americans of all stripes."
American hero that he is, William stopped by the Ten House, one of the first fire department units to respond to the 9/11 attacks, on the day after his relatable jog. There, the Prince bore witness to at least one quintessential New York experience: According to the New York Times, a "long but not especially fat" rat followed him into the firehouse via a sewer hole, leading the crowds to cheer on the rodent's tenacious commitment to meeting its favorite royal. I guess he really has wooed us all.