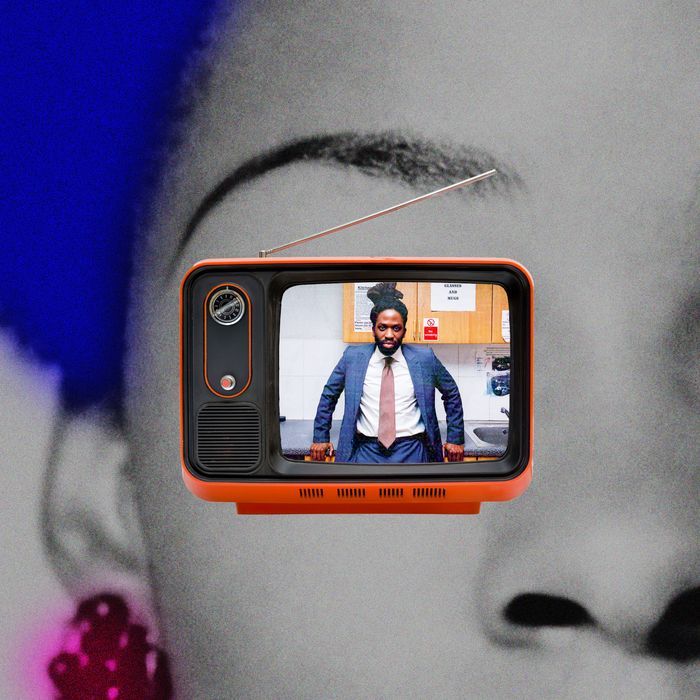 Photo-Illustration: by The Cut; Photo: Anup Bhatt/Big Deal Films/A24/Courtesy of SHOWTIME
We get it: There's an overwhelming number of television shows right now. The streaming landscape is an impractical maze, and the good stuff easily gets lost in the shuffle. But most of us can still find one show that cuts through the noise. We call this "appointment viewing" — or the time you carve out in your busy schedule to watch the show you'll want to unpack the next day with your friends while it's still on your mind. Tune in here each month to read what writer Michel Ghanem, a.k.a. @tvscholar, deems worthy of a group-chat deep dive.
Over the last seven months of "Appointment Viewing," we've covered some buzzy television hits that are worth a watch, from HBO's The Last of Us to Apple TV+'s Platonic. Like the underrated gems we highlighted last month, Dreaming Whilst Black risks flying under the radar of bigger releases in September. But you shouldn't sleep on Showtime's insightful dramedy import from the U.K. about an aspiring filmmaker.
Wait, what's this show nobody seems to be talking about?
Dreaming Whilst Black is a six-episode satirical dramedy imported from the U.K. It follows Kwabena (Adjani Salmon), a working-class aspiring filmmaker who finally quits his dead-end job after one too many racist microaggressions from his white co-workers at a recruitment agency. After a pivot to gig work, he dedicates the majority of his time to securing funding for Jamaica Road, his film about an immigrant facing discrimination while falling in love. Kwabena can't seem to get the film funded and also faces discriminatory barriers in an entertainment industry that values certain stories over others.
Kwabena just wants to make his damn movie! But he's forced to embark on comical side quests — like filming his roommate's pregnant wife's aunt's 60th birthday party — just to raise enough funds for the film. The show is both co-created and co-written by Salmon and tackles his semi-autobiographical journey navigating, in part, exploitation in the film and television industry as he tries to get his project funded and filmed.
Where can I watch it?
The series premieres with two episodes available to watch on Paramount+ with Showtime on Friday, September 8. Two episodes will air weekly after that. If you've still got cable, you can catch it live on Showtime on September 10 at 10 p.m. ET.
This is actually the second iteration of the series. Like Broad City and Insecure, Dreaming Whilst Black grew its roots as an indie web series in 2018, eventually leading to a 2021 BAFTA-winning television pilot. A24 and Big Deal Films produce the latest version of the series, which aired on BBC Three earlier this summer. It makes sense for it to end up at Showtime, which has a history of greenlighting smaller-budget shows with an interest in identity intersections like Flatbush Misdemeanors and Work in Progress (both canceled too soon after two seasons), as well as Ziwe, the sketch show also produced by A24. It's also a relief to know Showtime, which has been in the midst of a corporate restructure and rethinking its content priorities, is still invested in stories outside of dominant narratives.
Is this show actually funny, though?
Don't worry, Dreaming Whilst Black is first and foremost a comedy — I did laugh out loud! Kwabena's trials and tribulations on the road to making his film are absolutely emotionally grounded and told empathetically, but each half-hour episode zips by with sharp British quips and fake-out scenes reminiscent of Issa Rae's performance on Insecure, when the viewer gets to see what Kwabena really thinks about a given social interaction.
In one such fake-out, Kwabena bursts into a rant to a panel of producers who think his film pitch is "not commercial enough," taking them (and the film industry more broadly) to task by asking how the same World War II stories keep being produced over and over again. Before they can respond, the scene snaps back to reality, in which Kwabena knows his true, internal feelings made public could jeopardize his future in the industry. True to its title, DWB shines when Kwabena daydreams in this way, offering us a rich portrait of a character conflicted on "playing the game" to further his filmmaking career at the cost of his moral compass.
There are what seems like countless dramedies that have come out of the U.K. in recent years in the auteur space: Fleabag, This Way Up, Back to Life, Starstruck, and Am I Being Unreasonable? to name a few. These shows and those like them are each excellent in their own right, but there are still unexplored stories outside of white women trying to figure out contemporary life. (More I May Destroy You and We Are Lady Parts, please.) DWB centers the Black experience in London through not just Kwabena's navigation of filmmaking and dating amid financial insecurity, but also via supporting characters that form a compelling ensemble.
This includes Kwabena's love interest Vanessa (Babirye Bukilwa), whom he meets in a meet-cute involving a detached wig, and his neurotic roommate Maurice (Demmy Ladipo) who cares for his pregnant wife Funmi (Rachel Adedeji), both of whom have a stand-out episode in the midst of some hospital discrimination. Each of their stories includes interactions with fragile white characters, some of whom cry at the slightest mention of racial discrimination in the workplace. This "othering" of white characters is a clever subversion of a trope typically reserved for racialized characters in predominantly white narratives — it's comical here because the show wants you to be in on the joke, to be pulled into a world where Blackness is the main lens. Here's to more stories from the margins.