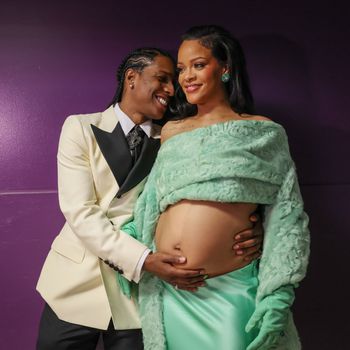 Photo: Robert Gauthier/Los Angeles Times via Getty Images
In the month since Rihanna and A$AP Rocky welcomed their second child — believed to be a boy — fans have waited for the couple to finally drop the name. This week, the newborn's predictably unguessable name was confirmed: Riot Rose.
Back in February, Rihanna hinted at her pregnancy in a high-profile-yet-chill way: She wore a red jumpsuit (unzipped to showcase her ambiguous bump) for her Super Bowl halftime show, which she performed on a platform suspended 60 feet above the ground. Since her reps confirmed that she was expecting another kid, she's taken every opportunity to remind us that maternity dressing can be sexy and adventurous, just like she did the first time around.
Speaking of, RZA only turned 1 in May and has already appeared on the cover of Vogue. That's no small accomplishment, though Baby Rihanna II made in-utero appearances at the Oscars, the Met Gala, and in Pharrell Williams's inaugural Louis Vuitton campaign. Not that it's a competition, but we can't wait to see what else he will accomplish in his first year.