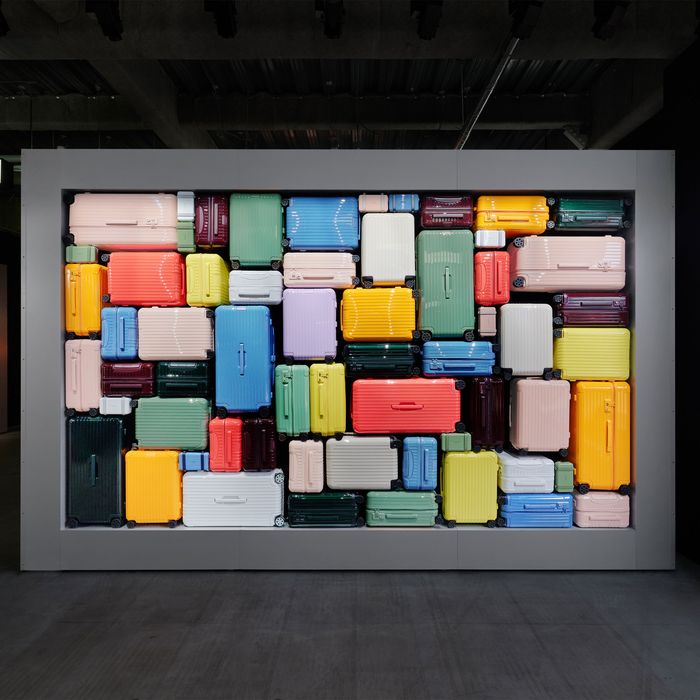 The wall of polycarbonate suitcases at a Rimowa exhibit about travel.
Photo: Courtesy of Rimowa
The legend goes: A Rimowa suitcase was on a doomed flight and survived to tell the tale. And it's basically true too — after some servicing. Michael Moore, a now-retired pilot, bought said suitcase in the late 1980s in a Red Cross facility in Geneva. "It required a bit of repair after the plane crash, but considering that the plane itself never flew again, the suitcase came out of that accident pretty well," wrote Moore. "Only minor dents and water damage." That Rimowa suitcase and over 100 others — including one that traveled from Germany through Ellis Island in the 1950s — are on display at Rimowa's 125th-anniversary exhibit titled "SEIT 1898" through September 17 at Chelsea Factory in New York City.
You might be wondering why a luggage brand is having an exhibit? Well, because it's really an exhibit about travel. Which the brand understands better than most — Rimowa was founded in 1898, five years before the Wright brothers flew a plane. (Plus, it's the only luggage brand owned by a luxury company — LVMH, which also owns Tiffany & Co and Louis Vuitton. Fancy!) I visited Japan, where the exhibit opened in June, to see it for myself.
Visitors are greeted by the first piece of luggage the brand ever made: a cabin case from the 1940s, made to fit under the berths of a train or ship. Next, an area for pieces of luggage for different interests: a case designed specifically for makeup artists, a cigar case, a suitcase to transport 12 bottles of wine, and one to transport a violin. "A lady had a parrot and she wanted us to produce a case to transport her little bird," said Emelie De Vitis, the senior vice-president of product and marketing at Rimowa. "I don't know if we will make that one, but we always get requests for golf cases."
That led to a room full of the brand's collaborations, which they've become known for and have helped shape the brand. One piece Rimowa did with Porsche took three years to complete, resulting in a piece of luggage that fits perfectly into the trunk of a 911. "Going back to a suitcase without wheels was quite interesting; we didn't know if people would react positively to it," said De Vitis. The exhibit also features the personal suitcases of Spike Lee, whose suitcase is outfitted with the Yankees logo; Martha Stewart, who etched her trips on the outside in writing ("It's called memory-keeping," she wrote); Pharrell's piano case; and more.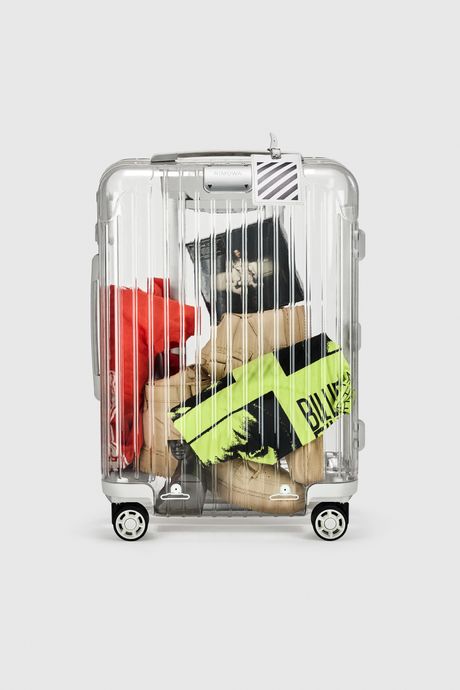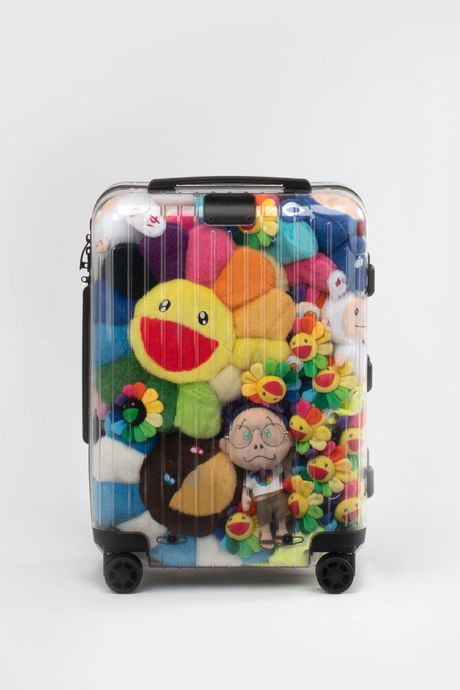 The exhibit takes us up to where we all are today; after nearly three years of a pandemic that grounded most people, we are rethinking how and where they travel and the brand had to evolve after the industry came to a halt. "When you can't jump on a plane anymore because airports are shut down, you are more likely to have weekend getaways and jump on a train or car, bus — so we opted for weekender bags, backpacks, going-to-the-office briefcases," said Hugues Bonnet-Masimebert, the CEO of Rimowa.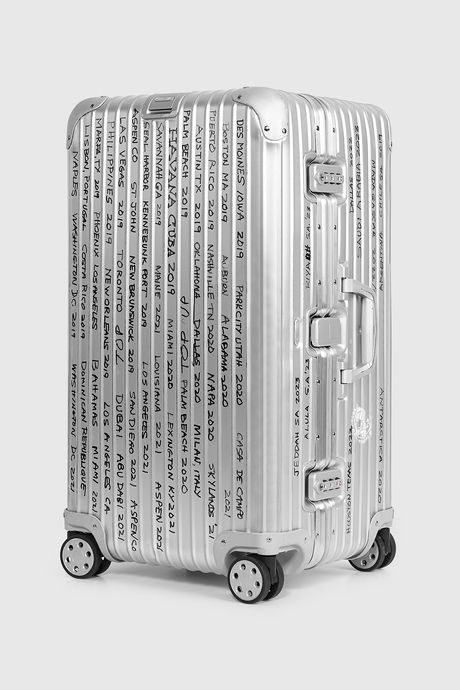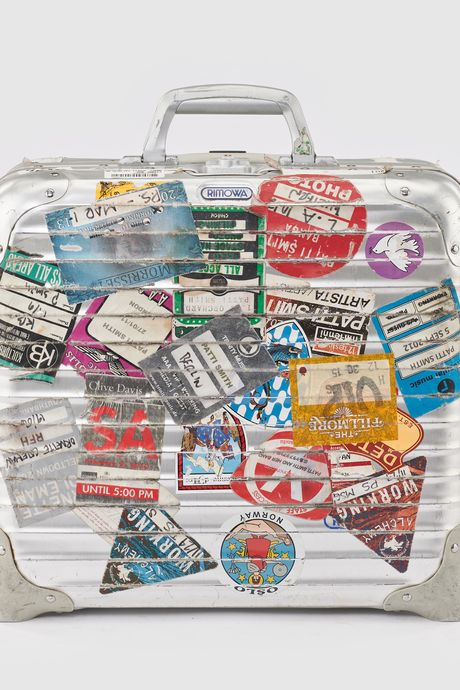 Before this trip, I first encountered the brand via my chicest friend, who owns multiple silver Rimowa cases, including the checked-baggage-size ones, the ultimate luxury. But still, I never understood why some people spent $1,000 on a suitcase just to have it smashed up against the edge on the luggage conveyor belt, or in my case, stuffed to the brim to take back things to every aunt of mine in Greece (hoping the baggage person doesn't realize it's about ten pounds overweight).
But roll a Rimowa around and you get it. The ease of the wheels. The airy lightness. The lifetime warranty — each piece takes 90 steps to make, its components fitting together like a Lego set, allowing them to be easily remade and repaired. That said, if you still don't want to spend $1,000 on a suitcase, you can voyeuristically peek through Billie Eilish's see-through suitcase at the exhibit instead.