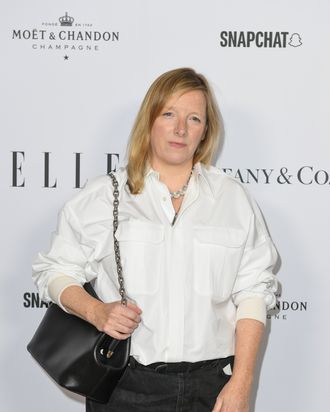 Photo: Getty Images/Dave Benett/Getty Images for ELL
After 13 years, Sarah Burton, who has been at the helm of Alexander McQueen's fashion label since his tragic death, is leaving her role as creative director at the brand.
Burton first started as a student intern at McQueen after receiving recommendation from one of her professors at the prestigious design school, Central Saint Martins. Burton quickly became McQueen's right hand and the only assistant the prolific designer ever had. At the time, the team was small with only one other employee beyond McQueen and Burton. Each collection was made nearly entirely by the three of them and a few interns.
"I am so proud of everything I've done and of my incredible team at Alexander McQueen. They are my family, and this has been my home for the past 26 years," Burton said in a press release from the label. "I want to thank Francois-Henri Pinault for believing in me and offering me this amazing opportunity. Above all I want to thank Lee Alexander McQueen. He taught me so much and I am eternally grateful to him. I am looking forward to the future and my next chapter and will always carry this treasured time with him."
Through the late '90s, the brand continued its rapid ascent, and in 2000, McQueen named Burton head of design. Among her duties, Burton was tasked with translating each season's runway looks into more commercial styles. Karen Mengers, the head of merchandising since 2007, told the Cut's Cathy Horyn there was an "intense connection between" McQueen and Burton. The pair continued working in tandem with one another until McQueen's suicide, following the death of his own mother, in 2010 at the age of 40. It was decided that Burton was the only possible successor, and she became the brand's creative director in May of that year. Mere months later, Burton quietly designed both Kate Middleton's wedding dress and her sister, Pippa's, both of which were globally well-received, bringing new recognition to the brand and shepherding McQueen into a new era.
Since then, Burton has become one of the highest-earning brands at Kering, McQueen's parent company. While Kering does not publicly release sales for all of its brands, executives have hinted that McQueen's revenue could be as much as $800 million.
On the occasion of Burton's departure, François-Henri Pinault, Chairman & CEO of Kering, said: "I am immensely grateful to Sarah, and I want to personally thank her for her work over the past two decades, first alongside Lee Alexander McQueen, where her role was instrumental to his success, and then as the Creative Director since 2010. Through her own experience, sensitivity and talent, Sarah continued to evolve the artistic expression of this iconic House. She kept and continued Lee's heritage, attention to detail and unique vision, while adding her own personal, highly creative touch."