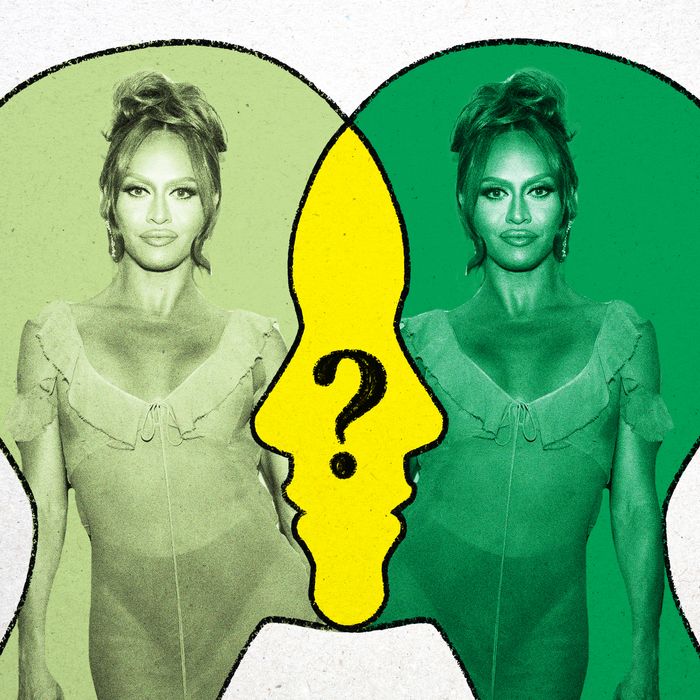 Photo-Illustration: The Cut; Photos: BFA
It's only been five months since Sasha Colby, a.k.a. "your favorite drag queen's favorite drag queen," was crowned the winner of RuPaul's Drag Race season 15, but the reign has felt eternal for the beloved queen. Colby was already well known within the world of drag before competing on the popular reality series. She most notably won Miss Continental, an annual drag beauty pageant, in 2012, but this new level of fame has afforded her opportunities that have landed her front row at some of the world's biggest fashion shows.
If you're familiar with her run on RPDR, then you're already hip to the idea of Colby being a fashion girl, whether she was whipping up a look from scratch in a design challenge or pumping down the runway in custom couture, which aided her in winning those challenges. She has a deep knowledge of high fashion and a love for the '90s supers like Naomi Campbell and Linda Evangelista. At NYFW, she seems right at home.
Colby was one of the many celebrities seated in the front row for Coach's tenth-anniversary celebration of having creative director Stuart Vevers at the helm. "The show was so great," she told the Cut. "This is my first event ever out of Fashion Week, so to kick it off with Coach is kicking it off with a bang!"
What do you love most about being at Fashion Week? 
I'm an '80s baby, so I grew up loving the '90s supermodels, watching House of Style, watching Elsa Klensch on CNN on Sunday mornings. I've always been obsessed with fashion. And not for nothing, I'm such a designer nerd and a fan, so to be at Fashion Week and to see everything live, in person, was just so cool. I thought, Wow, all of my fantasies are coming to life and my dreams are coming true.
What's your No. 1 rule for meeting other famous people?
Don't fangirl immediately! You know I'm the mother of meet and greets, but I also try to not be so "meet and greet–y." I find that if you have a little finesse, be there for the fashion, and if you happen to bump into a celebrity, be cool. Don't be weird, be cool, is the advice that I was giving myself last night!
How has your life changed since winning RuPaul's Drag Race, season 15?
Oh my goodness, my life has changed in every single possible way, except for the fact that I'm still doing drag all the time, just like the last 20 years. That's the amazing thing. Nothing has changed in terms of my daily moves or my daily practices with my work and creativity — that's all the same. But everything else in my life has been elevated. To be celebrated on such a global level is really amazing — to have people connect with all of our stories on the show. Getting to know people all over the world, and people saying that they have a whole season they can show their grandparents to explain what they are. Just having an impact based on what I love to do.
What is your best advice for auditioning to be on reality TV?
We are in the era of branding, and I think when you're on a reality show, you have to realize that you're selling yourself as a product. So I learned my brand the same way an advertising executive would learn about the product that they're selling: What are the strengths, what are the weaknesses, and then sell it accordingly. Know your brand in and out and be honest with yourself about what you can and cannot do and really sell yourself in that way.
What does your pre-performance ritual look like?
Well, I like a lot of weed! And I really love music that sets the tone for me. I like a good playlist, but it really depends on where I'm going or what venue I'm at. I love jazz when I'm painting and getting myself ready because it's not what I'm hearing in the club. I also love getting painted to a good podcast.
What's the best way to approach weed etiquette? 
I feel like flower is like cigarettes: You don't wanna smoke it in front of everyone. Vapes are good when you're out being social. If you need a little jolt during an event, then hit your little vape, but keep the flower at home. Keep the smelly stuff at home!
What's your best failproof makeup advice?
I have very oily skin. So sometimes when I'm doing brunches or multiple shows, I need something very long wearing. I actually found this product by Carpe, and it's a sweat absorber. It's really helped me during daytime gigs, and it helped me so much during Pride. It really keeps the makeup intact all day long, it's great.
What is your No. 1 rule when posting on social media?
I have a tendency to write a post, hold onto it for a bit, and then go back and read it. I'm much more conscious about being mother and having my post mean something. A lot of people get caught up and might say something they didn't completely think through. Let it sit for a second.
What is your best rule when engaging with people at parties?
I picked the craziest profession for someone who's technically an introvert. I can be a little socially awkward once I get into a party, but I just force myself to start mingling. Nowadays, I don't even have to mingle; they come to me at the meet and greet!
What is your No. 1 tipping advice when attending a drag show?
Tipping is to show appreciation for the drag queen's hard work, you know? It's very big in American culture, which is interesting because I'm going all over the world and it isn't big in certain countries. So I think when you're tipping someone, a lot of the intention is to be a part of the show. Don't do that. Don't be a part of the girl's number; just show appreciation. If you wanna be a part of the show, I'm sure there's an amateur night one day out of the week!
What is your No. 1 dinner-party rule?
Be on time; you don't want to be the late girl. Always bring a little gift, especially if you're at someone's home, to show your appreciation. Have a few funny anecdotes in your back pocket so that you can contribute to the lovely dinner conversation.
What is your No. 1 rule for canceling plans?
I am the queen of that. I personally hate a plan. I love an impromptu thing. I'm at the age where canceling a plan is probably what the other person that I have plans with wants to do as well. So they're probably like, Okay, thank goodness. Now I can just stay at home and watch Netflix. I always say that I have an early flight or an early morning, which is usually the case, so it's not a lie. That's always a good way to get out.