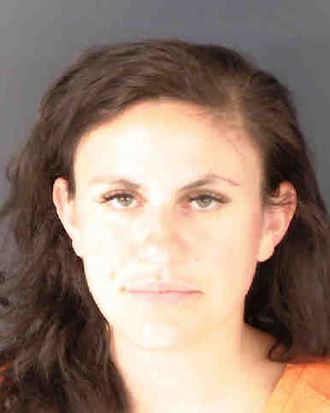 Photo: Sarasota County Sheriff's Office
Self-proclaimed con artist Danielle Miller was sentenced to five years in prison on Thursday for deploying stolen identities to get $1.2 million in Covid-19-related loans. She notoriously used the loans to — among other things — rent an apartment and charter a private jet, according to NBC. In a statement, prosecutors alleged that she did so in "a quest for fleeting social media stardom," siphoning money from people in need in service of clout. In addition to her prison sentence, handed down in a Boston federal court, Miller received three years of supervised release and was ordered to pay an as-yet undetermined amount in restitution.
Back in March, Miller pleaded guilty to three counts of wire fraud and two counts of aggravated identity theft in connection with a scheme she ran from the summer of 2020 to May 2021. According to prosecutors, Miller stole the identities of more than ten people, some from the Massachusetts RMV website, and attached them to fake driver's licenses, bank accounts, and businesses. She then used these to skim government benefits through the pandemic unemployment assistance and economic injury disaster loan programs, among others. She also used the counterfeit IDs — bearing her own photo but her victims' names — to fund lavish spending sprees. In August 2020, for example, she allegedly used a Massachusetts resident's license to book a private jet from Florida to California. Once there, she made a hotel reservation under the same person's name. At another time, she used a different person's identity to rent a luxury home in Florida. All the while, she advertised her lifestyle to her 34,000 Instagram followers.
Last month, Insider reported that the government had already garnished more than $600,000 from Miller, and had ordered her to relinquish the designer items — including but not limited to Rimowa suitcases, a Rolex, and a Louis Vuitton bag — she fraudulently purchased. In an email on the sentence, her attorney, Mitchell C. Elman, told NBC that Miller "accepted responsibility for her actions and has expressed her remorse to the Court, the Government, and the victims affected." In his statement, acting U.S. Attorney Joshua S. Levy said Miller's "sentencing should make it crystal clear that curating a high-society social-media presence on the backs of hardworking taxpayers is a path to prison, not fleeting fame." Levy added that Miller "isn't an influencer, she is a convicted felon." But while on house arrest in New York City in 2022, Miller told New York Magazine that she actually considers herself a "con artist more than anything."
"You know how they have that saying that you can sell ice to an Eskimo?" she said. "If there's something that I want, I'm getting it."