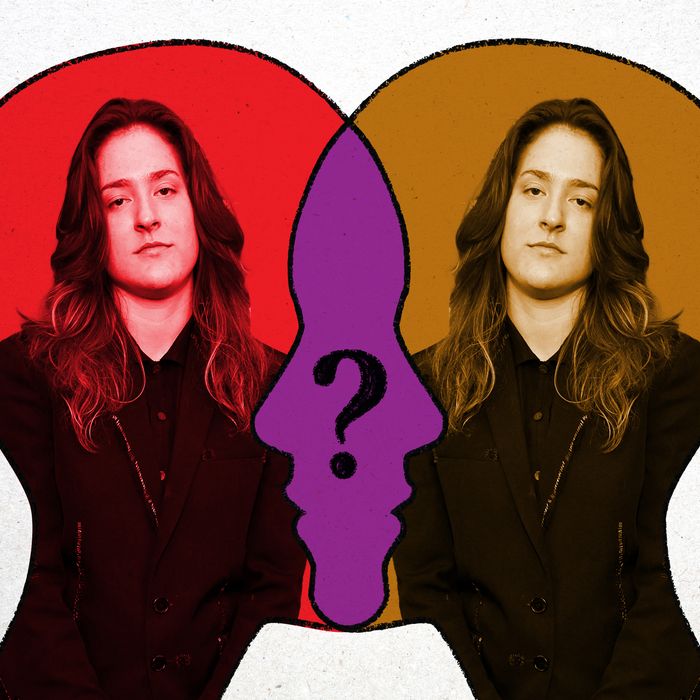 Photo-Illustration: by The Cut; Photo: Getty Images
Sedona Prince knows a thing or two about life in the spotlight. Measuring six-foot-seven, the 23-year-old basketball player has spent the past few years highlighting the inequalities between men's and women's college basketball, all while playing in the NCAA women's league. If that weren't enough pressure, she's taken up spending a lot of free time on TikTok, where she has over 2 million followers, and shares everything from basketball clips to relationship updates.
Growing up a talented basketball player in Texas, Prince is not unfamiliar with people talking about her. That only intensified as she gained popularity on social media, and it came to a full head last year when she split from her girlfriend in what had been a viral relationship. The drama that unfolded around that was big, especially on lesbian TikTok, where commentary ensued from her then-girlfriend, JoJo Siwa, and other famous lesbian couples. But now Prince feels like she's finally mastered the balance between what to share from her personal and her public life. That starts with not feeling like she owes everyone information all the time and never reading anything about herself online. Will she even read this interview? "Probably not."
After sitting out last season due to a torn ligament in her elbow, Prince wasn't planning on playing another year of college sports. But in April she removed herself from the WNBA Draft pool and announced a transfer from the University of Oregon to Texas Christian University for her final year of college basketball. She's still planning on joining the WNBA when she graduates. As for who she wants to be coached by? "Becky Hammon is the easiest answer because she's the GOAT," she says. A true Texas gal through and through.
How would you define a successful basketball game for you? 
I know it sounds corny, but it's if I have fun. That's my biggest goal in basketball, and it has been my focus for about the last year: just having fun with the game again, because I feel like so many people lose that and it's such an easy thing to lose, but it's the main reason why we play our sport. My biggest definition of success is that I was proud of myself and I gave it my all.
Is there something you do to get your head back in the game if you feel yourself being off? 
I mentally reset. So much of the game is mental and psychological, especially when we're playing at these higher competitive levels. The people I play against, including myself, we've played so much and we've shot so much that it comes second nature; we're not really thinking about it anymore, and it's become unconscious, so when there are these ruts of bad shooting or performing bad, it is almost 90 percent of the time mental. Taking a reset, assessing what gives me stress around the game or in my personal life, and just taking a step back and figuring out what's going on is the best thing, and then taking a deep breath helps me a lot.
What does your pregame ritual look like? 
I get a different ritual every different season, but it's usually pretty much the same. I will have an energy drink … I might shotgun it if I'm feeling crazy. I listen to chill music. I don't want to get super hyped up and overwhelm myself. And then I'll dance. It's always helped me get rid of the nerves, like shaking my arms out or just feeling goofy and connecting with my body. It sounds silly, but it's really fun and it works. And it makes my teammates laugh a lot so that makes them relax as well.
How do you spend a day off during the season?
I hang out with my puppy. He's a little French bulldog named Auggie and he's super-dope. I don't really watch TV. I love to be outside. I'm a Texas kid, I grew up on a ranch, so being outside and swimming or hanging out with friends. I try to also include active recovery, whether it be yoga, stretching, or ice baths. Just something to help my body recover on those days off.
What's your No. 1 rule for deciding when and what to post on TikTok?
I used to post a lot more, but I would say I never post too often. I post probably once every day at the most, but usually once every two to three days. It helps me with not letting social media become too overwhelming and not be too much of what I'm focusing on. I'm not just throwing things at people. I want to make good content that I put time and energy into and that I actually care about.
You've had some pretty public relationships on TikTok, so I'm curious if your boundaries and how you post about relationships have changed since then. 
Absolutely. I've only had one very viral relationship that was massively popular, and when we broke up it was just a lot of people prying into my business, which I understand — in social media, everyone wants to know what happened. But it was weighing so much on me and it kind of drove me nuts. I didn't really have a separation between my personal life and me on social media. Throughout the past year and a half, I've gained so much perspective on the fact that people don't have to know anything at all. It's my relationship off the internet. I'm a basketball player first, I'm an activist, I'm Sedona, and then my relationships are just a part of who I am. I just had to create boundaries and not post everything and not share everything. And it's hard because I want to and I'd love to. I love inspiring kids that you can be gay, you can be loud and proud, and go through the ups and downs of dating as a young adult. But it's also hard because I need to protect my own being.
What's your No. 1 relationship rule? 
Date your best friend.
Is it a rule in your relationship that your girlfriend has to be at your basketball games, or do you not care? 
Oh, no, she's got to be there. Every game, jersey on, in the stands cheering. That way when I call her it's not like, Did you see that game? It's, Did you see that play? And my girlfriend now loves watching so it's awesome.
What is the last app you downloaded on your phone?
ChatGPT was the last one. It's AI. So you type in a prompt or question and it spits you back out information. I didn't know about it, but all my friends were like, "You have to try it," and it's friggin awesome, dude. I just have random conversations with my AI app.
That sounds terrifying. Are you into AI? 
No, it's horrifying. It's really scary. It's gonna take a lot of jobs, but it's also uncontrollable. It's the kind of thing where you have to get on the bandwagon and use it before so you don't fall behind, but I don't know.
Do you think basketball players are going to be replaced by robots one day?
I've had long conversations about this, and I think that if they were replacing anything, it would be football, just because football is such a barbaric sport. But I don't know, you can't replicate the human body, so I hope not. If a robot dunks on me, I'm done.
Do you have any rules around your phone?
I don't take it to the gym with me. I'm very particular about it. I separate my phone and whatever I'm doing, whether it's work, school, or basketball. I only have a couple of games on my phone, and when I'm flying or on a long car ride, I'll play word games. It's a bit more fun and it makes me feel like I'm getting smarter even though I'm not.
What is your No. 1 rule when texting?
Oh God, I'm such a bad texter. I really struggle, and everyone gets mad at me. I try not to read into other people's tones because you never know with texting. I never read too much into it. I'll just make a phone call or send a voice memo if it was a misunderstanding.
What's your No. 1 fashion rule, especially as a taller person? 
I love thrifting. People always ask where my pants are from for tall women. All the thrift stores. They have them. I don't know why. I don't know who's gonna wear these pants. I don't know who gives them to the thrift stores to begin with, but they're all fucking massive and they're all super-long.
Is there a specific type of pants that you're really into right now?
Carhartt. Always.
What is your No. 1 rule for ordering food?
Always ask the server or anyone who's working at the restaurant what they suggest because it's probably gonna be the best item on the menu.
Do you think holding a seat for someone is fair?
It depends, and it depends where. If you're at a concert and you get like the front row, some things should be first come first serve. But I also hold seats for my friends and that's fine, but when someone else does it, it can be annoying. So I don't know.
As a tall person, would you stand front row at a concert or do you feel like that's unfair? 
No, I'd feel too bad.
Are there any coaches or players that you would really love to like, play alongside or be coached by?
Becky Hammon is the easiest answer because she's the GOAT. I have a lot of old teammates in the WNBA, so playing with them or playing against them is really cool and is one of my favorite parts of basketball. It's these full-circle moments of, Oh my god, I played with you in the sixth grade, and now we're playing the WNBA together.