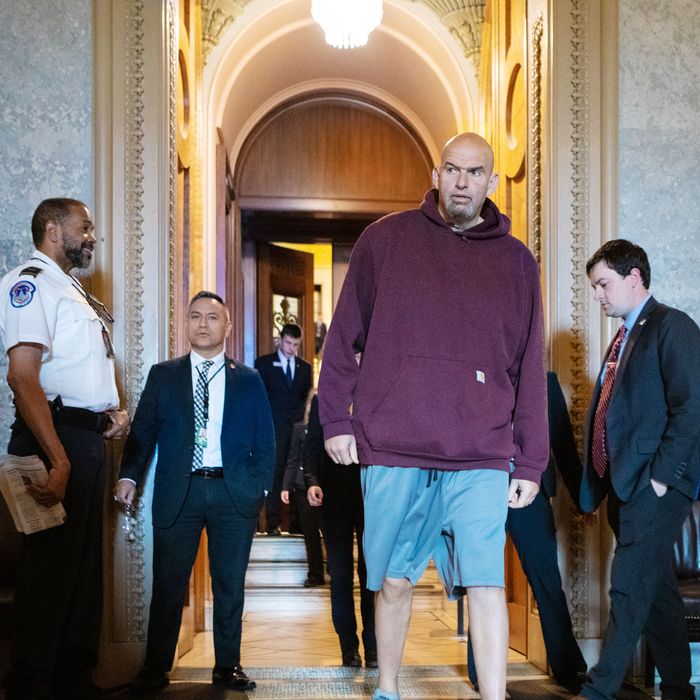 Photo: Anna Rose Layden/Bloomberg via Getty Images
U.S. Congress may not be very efficient about getting things done — which partially explains why it is on the brink of a record-breaking shutdown — but already this week, the Senate has tackled at least one thing: its own dress code. On Monday, Senate Majority Leader Chuck Schumer relaxed the chamber's requirements around office attire for the first time in centuries. Instead of defaulting to business formal, "senators are able to choose what they wear on the Senate floor," Schumer told Axios, which originally reported the big news. "I will continue to wear a suit."
According to Axios, there's no known record of the Senate dress code ever being formalized. Nonetheless, the rules are enforced by the Sergeant at Arms, who ensures that everyone is dressed for a board meeting before they can step on the floor. Some senators have historically found a way around the unofficial uniform by voting from the edge of the floor in their sweats, keeping one foot in the cloakroom while they give a thumbs-up or -down from the periphery.
John Fetterman has become the poster child for wearing what he wants, which generally means shorts and a hoodie, and voting from the edges. After Schumer made his announcement, Susan Collins of Maine scoffed that she planned to "wear a bikini" while admonishing the change, which she said "debases the institution." Other, primarily Republican, lawmakers aren't thrilled about it, either. Shelley Moore Capito of West Virginia thinks the new rules are "terrible," while Lindsey Graham said he's "not a big fan." Chuck Grassley of Iowa said simply, "It stinks."
But Marjorie Taylor Greene, who is notably not a senator, went after Fetterman by name on Twitter, calling the change "disgraceful" and disrespectful of institutional etiquette. Fetterman responded by tweeting, "Thankfully, the nation's lower chamber lives by a higher code of conduct: displaying ding-a-ling pics in public hearings," referring to Greene's decision to show explicit photos of Hunter Biden at a hearing. As one of the House's loudest bigots, Greene has harassed many of her colleagues on a number of occasions — Cori Bush, for example, said that in deference to her staff's safety, she once moved her office to get away from Greene — so you can see Fetterman's point. Greene has since returned to tweeting her support for January 6 rioters.