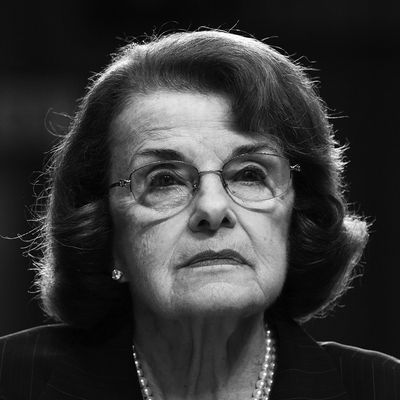 Photo: Alex Wong/Getty Images
Senator Dianne Feinstein, the longest-serving female senator in U.S. history, died on Thursday night, according to her family. She was 90.
Feinstein's trailblazing political career began more than 50 years ago in Northern California. She served as mayor of San Francisco for nearly a decade following the assassination of Mayor George Moscone and City Supervisor Harvey Milk in 1978. She later was elected to the U.S. Senate in 1992, becoming California's first female senator. Early on, Feinstein made gun-safety reform, women's rights, and LGBTQ+ rights some of her signature issues, but, in recent years, clashed with the progressive wing of the Democratic Party over her more centrist approach to policy. Her age and an apparent decline in her cognitive health were also a source of concern.
In February, Feinstein announced she would retire following the 2024 election. Shortly after, complications from a bout of shingles — including developing Ramsay Hunt syndrome and encephalitis — kept her away from work for several months.
Her husband, Richard Blum, died last year, following a long battle with cancer. She is survived by her daughter, Katherine Feinstein; her son-in-law, Rick Mariano; and her granddaughter, Eileen Feinstein Mariano.