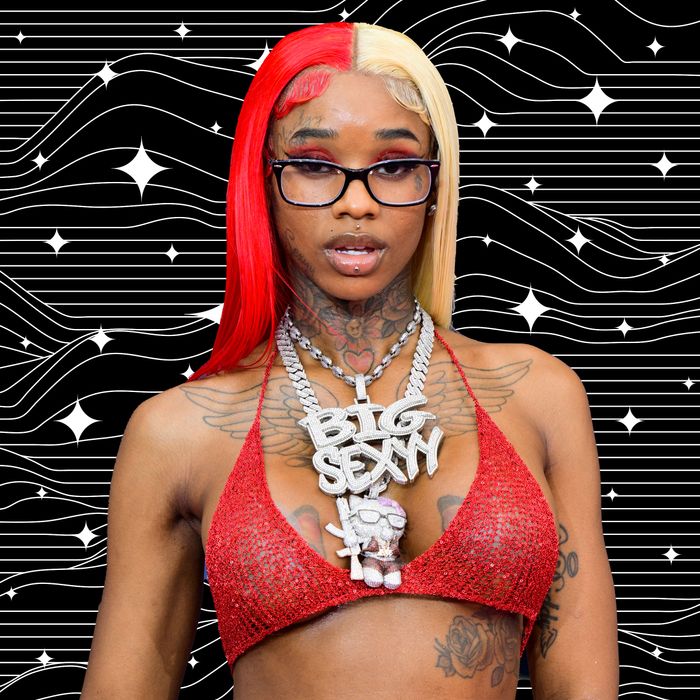 Photo-Illustration: by The Cut; Photo: Getty Images
In April 2023, New York Magazine celebrated "It" girls: who anointed them, what it was like to be them, and where they are now. Follow along as we continue that celebration by interviewing musicians across genres who we think have "It."
Sexyy Red is not a morning person. "Yeah, I was over here sleep because it's early over here," the St. Louis rapper croaked from Vancouver. Early is relative (it was 11 a.m. her time), but when you've been juggling a booming music career, increasing fame, and motherhood with opening-act duties for Drake and 21 Savage's U.S. and Canada tour, you'd probably jump at the chance to sleep in after a last-minute show cancellation, too.
Born Janae Nierah Wherry, the 25-year-old had a breakout summer thanks to her mixtape Hood Hottest Princess and its unapologetically ratchet anthems turned viral smash hits "SkeeYee" and "Pound Town." The latter track features Nicki Minaj on a remix and boasts a brazen, off-the-dome bar that's been quoted by everyone from Issa Rae to TikTok kingmakers alike: "My coochie pink, my bootyhole brown." From unfussy I-said-what-I-said lyrics to signature prescription glasses (so she can "see the bad bitches," she once tweeted), Sexyy Red's penchant for keeping it all the way real is a refreshing antidote to contrived highlight reels and "fake it 'til you make it" culture. It's no wonder heavy hitters like Cardi B, Bun B, SZA, Summer Walker, and Latto have co-signed the young phenom.
Don't get it twisted, though. Far from an overnight success, Sexyy Red has been putting in the work since 2018, when a diss track she penned about a cheating ex revealed the then-hairstylist's raw musical talents (even her ex approved of the song). So whether we're talking music, fashion, or beauty, no co-sign matters more to Sexyy Red than her own.
What is an "It" girl? 
An "It" girl is somebody that all the girls look up to and want to be like. She just herself. You just got to have confidence and know that you that. That's what make you the girl. Can't nobody tell you nothing about yourself. You do what you want to do. You don't care what the next person doing, you just follow your own rules, basically.
Who are some musicians you would classify as an "It" girl?
Me.
Anyone else? 
Nope.
So what do you love about yourself?
My confidence. I don't care what nobody think about me.
Who were some musicians you looked up to and who inspired your style growing up?
I used to like the girls that just dressed differently from everybody and had their own styles and stuff. Nicki Minaj was an "It" girl. I think Trina was a "It" girl. Lil' Kim was a "It" girl. I like Erykah Badu, too.
Where do you like to go out?
I don't like going out. I like to be at home, chilling with my friends, my family, my son. I'd rather have people come to my house or something, but I always been like that. I don't really like going out to the clubs and stuff.
Well, you recently went to your first frat party, so what was that like?
It was fun. But I just was saying I wish I wasn't Sexyy Red because then I could go as a normal person and enjoy the party instead of the attention being on me.
When's the last time you felt like you were able to go to a party as yourself and not as Sexyy Red?
It's been a long time. I've been Sexyy Red for a long time, so it's been a minute since I was able to just do something and not get noticed. It's not fun to me. I can't really enjoy the party without people bothering me, all in my face. I just want to chill, but I can't do that. I would have to go disguised just to have fun.
What has it been like to have this major viral success from "Pound Town" and "SkeeYee"?
It's cool. I get money from it, but at the same time I'm a chill person. So when people be coming up to me screaming and just trying to twerk on me, I don't like all that kind of stuff. I just be trying to chill. I don't be with all that, especially if I don't know you because I be paranoid. So I don't know if you an opp or what.
Bitches be hating. You never know if it was a bitch talking shit about you. I have bitches try to be cool with me and then my peoples would be like, "Don't talk to her. She was just talking bad about you." And I won't know because I don't be on all that internet shit like that. So I'd be like, damn, "This the same bitch all in my face trying to take pictures and shit."
Where do you like to shop?
I shop everywhere. I don't care. I could be riding past a flea market and if I see some cute stuff outside, I'm like, "Oh, let's stop in there. They must got some shit in there." It could be a beauty supply store. If I see they got some cute clothes outside the store, I'm going to stop in there.
What are your must-have products from the beauty supply store?
I got to get conditioner, shampoo. I got to get some hair products for my son. I always got to get some lip gloss and lip liner. Lashes, body glitter, eye shadow. The beauty supply is one of my favorite stores, though, so I can go in there and just literally go to every aisle and just pick up stuff from every aisle. They got clothes in there, everything. Purses. I'll be in there all day, for real. My friend got a beauty supply called Prince Beauty back home in St. Louis. So I just go to his and he just let me get whatever I want.
What are the top "It"-girl hairstyles of 2023?
My favorite hairstyle is bust down middle parts or two ponytails or the Chinese bangs. That's my favorite hairstyles. Color for sure. I hate boring stuff. It got to have some color.
What are some "It"-girl essentials?
Lip gloss, for sure. She got to have some money and maybe some nails. Either some press-ons or nails painted or something. Her feet definitely got to be done because she not that if her feet ain't done.