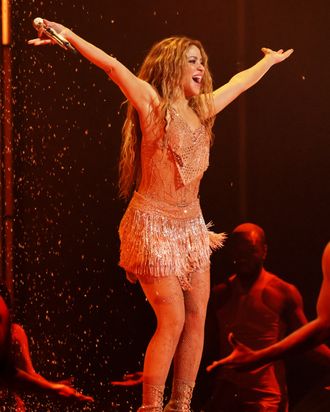 Photo: Dia Dipasupil/Getty Images
Shakira and her enviably hardworking hips have won Grammys, broken Guinness World Records, and even secured political appointments — and now, they have been honored for many contributions to music-video history. During the 2023 Video Music Awards, MTV presented Shakira with this year's Video Vanguard Award. She's the first South American artist to win the title.
Just before accepting the award, Shakira delivered a ten-minute tour de force performance where she hit all her biggest tracks while also showing off her astounding arsenal of talents. Opening with "She Wolf" and ending with her collaboration with Bizarrap and eviscerating breakup track, "BZRP Music Sessions Vol. 53," Shakira managed to crowd-surf, knife-dance, play electric guitar, ululate, gyrate under stage rain, and, of course, shake her hips a ton.
Shortly after her performance, she coolly returned to the stage not at all looking like she had just whipped through ten minutes of vigorous choreography to receive the Vanguard Award from her infamous collaborator Wyclef Jean. (And, yes, he did sing "Shakira, Shakira" before handing her the award.) She thanked her label, parents, and her two sons, who were standing by the stage in matching sweatshirts. She also addressed her fans, who she said "always, always support me through thick and thin."
Congratulations to Shakira, her hips, and all of us for coexisting with a woman who can belly-dance with spears!