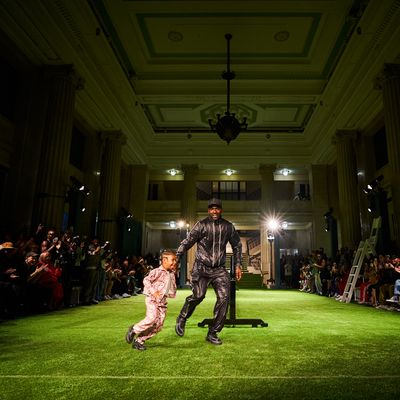 It's been over four years since Skepta's clothing line, Mains, went offline. But on September 16, inside a grand hall staged as a tennis court, complete with grassy turf and a net, Mains officially awoke from its slumber.
"We were just in a bad situation with our production company, so we had to get out of it," Skepta said of the brand's hiatus. "I just want it to be exactly how we picture it, how we want it to be. Because what we have, what we've done, is really good."
The collection, which was designed by Skepta himself alongside the brand's chief designer Mikey Pearce and graphics designer Johnson Orchid, featured palatable sportswear for the masses: shiny sweatsuits; textured, striped sweaters in vintage color palettes with matching, oversize hats; cozy, versatile fleeces; and even leather moto jackets and matching pants. It was a line that's clearly tapped into the culture and desires of the moment. (Skepta said much of his inspiration for the collection came from simply spending time in North London.)
The musician turned designer closed the show out by taking a sprint down the runway with his young daughter, giggling and flashing peace signs toward photographers.
We sat down with Skepta in the thick of preparing for his show to get the ins and outs of his creative process and why he's turning to fashion as a form of expression.
What's it like to prepare for a fashion show?
Stressful. I'll wake up, listen to some songs that I'm thinking about using for the show. Going to the studio. Figuring out what songs I'm going to play, what DJ set. And then go through samples, looking at samples, and writing down notes, stuff that we need to get right that they've fucked up five times. And maybe eat a bit of grapefruit, because I hardly eat these days. You just forget to eat and the day just goes by. There's always something to do, innit? Everything boils down to that 12 to 15 minutes.
Are you looking forward to being done?
More so I just want it to be like exactly how we picture it, how we want it to be. Because what we have, what we've done, is really good. I picked all the fabrics in the collection, and that's been enjoyable. That part's been fun. And just making sure that we know what we want it to look like, and we have all the right components. I'm not looking forward to it being done until it's right.
I want to go back a little bit. Can you tell me about your early experiences with clothing? 
I couldn't afford it when I was younger. I remember just thinking about clothes that I wanted, seeing shoes that I loved, and I couldn't afford them. But I used to make my own custom T-shirts and that kind of stuff.
So you've always been a designer at heart. What made you want to get into the actual business of fashion?
It's kind of funny that you say that, because I feel like everything I've done in my life has led me to this moment. I feel like I've always wanted to do it, but I couldn't. But my knowledge of clothes now, the amount of shows I've been to, the friends that I have, even every time I went shopping, everything I've done in my life is for this show. Every single part of it. The rapping, meeting people that now I can ask to be in the campaign, that's because I rapped. Like all the clothes I've worn and all the videos, all the music that I like, everything was for this show.
It sounds like this will be special for you, like everything is coming together. Can you tell me a little bit about your creative process?
I haven't been to school for fashion or anything. I haven't studied it. I just like the magic of it. The design process is just more making what I would wear and trying to make an impact without it being clickbait. I don't want it to be like I'm trying to shock people with my clothes. I'm just trying to make cool clothes that at least when I die, somebody will go into a vintage store 200 years from now and see these Mains shorts or whatever and be like, "Yeah, mate, I'm going to buy those shorts."
You're trying to build a legacy.
It's illegal to be naked, so we have to wear clothes, so now it's like what are we doing with that notion? It fascinates me that years and years and years go by and these garments can be resold and resold and resold.
Where does the inspiration for your garments come from? Obviously, you said you make clothes you want to wear, but how did you even develop that personal style to know, "This is what I want to wear, and these are the clothes I want to make"?
Just being around Tottenham, North London. In my time, anyway, it was the most ghetto area in London, but for some reason, everybody still just looked fly. It was a thing to go to Central London with your friends and everyone would be trying to buy Moschino, Iceberg. Everybody was trying to buy designer.
It's also my upbringing. My family, my mum and dad, we used to go to parties when I was younger, so I used to see everybody get dressed up, wearing their finest. My aunties used to wear their different dresses, but all from the same material and same hairstyles.
Is there a collaboration that you would like to have in the pipeline with any other designer?
Ferrari. Yeah. Mains/Ferrari, that would be a fly collaboration.
What can you tell me about what we can expect from this collection?
I'll tell you what not to expect. Don't expect any nipples showing. Don't expect any shock-value stuff. Don't expect anybody walking down the runway wearing sweet corn or lettuce or anything like that. It's not a weird show. I'm not trying to be different. I'm just trying to make cool clothes.
Just like in music, I feel like the fashion industry needs to change a little bit. I feel like it's a bit old. I hope that people can point at my brand and be like, "They changed this and that." I don't know what it would be, but I'm here to try and spark even an idea of change. Because I just think fashion design is in a weird place at the moment.
How are you feeling about showing at London Fashion Week? Are you nervous? Are you excited to be in community with other people in the industry?
I'm excited for the show. What we've done is going to be really good. I've done a lot of music shows before, so I'm not new to putting on a performance. I'm confident that as long as there is electricity in the building that the show will go on and it's going to be amazing.
But we just need to get these fucking pleats right. It's pissing me off. Been fucking trying to get these pleats right for ages.
Pleats are hard.
It's actually winding me up. Yeah, it's really winding me up. But that's about it. Apart from that, I feel like we're ready to go. Apart from these fucking pleats.