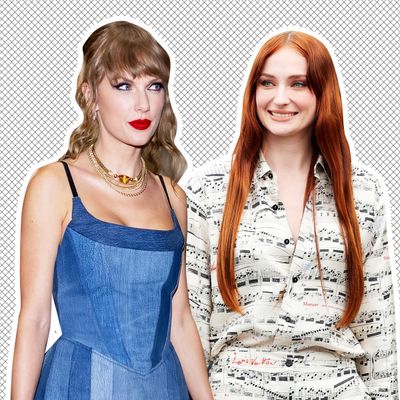 Photo-Illustration: by The Cut; Photos: Getty Images
No one believes in the power of women as much as single Taylor Swift, and lately, she has been taking her newly unattached ass to dinner with a carousel of famous female companions. Earlier this week, paparazzi found her dining at Il Buco Alimentari in Noho with Laura Dern, Zoë Kravitz, and Greta Gerwig. The following night, she continued her tour of New York's finest Italian joints, emerging from Via Carota arm-in-arm with Sophie Turner. According to "Page Six," they chased dinner with martinis and caviar bumps at Temple Bar, and two days later they were at it again, taking up residence with three girlfriends at a Tribeca hotel restaurant.
Turner's repeated appearance at Swift's side does seem particularly pointed, considering they share an ex. Turner is currently in the midst of divorcing Joe Jonas, whom Swift briefly dated in 2008 during the height of JoBro fever. Sure, Swift and Jonas's short-lived relationship is ancient history, and there have long been signs of friendliness between Swift and Turner, but still: There is nothing subtle about taking your ex's new ex out to dinner twice in the span of 72 hours. Few things are more formidable than a bunch of hugely influential women gathering around a bowl of spaghetti — especially when two of those women have dated the same man.
Personally, if I were Joe Jonas, I would be freaking out. I do not want two of my exes in the same room, let alone splitting bruschetta in front of a horde of paparazzi and reuniting two days later, ostensibly to pick up where they left off. What do you think these two have been talking about all week? Their favorite going-out tops? Where to get a good salad in New York? How annoying it is that Joe can't reach the top cabinet? Whatever it is, it was enough to fill at least two meals' worth of conversation. Your guess is as good as mine.
This post has been updated to reflect that Swift and Sophie were not joined by all three Haim sisters, as had been reported.