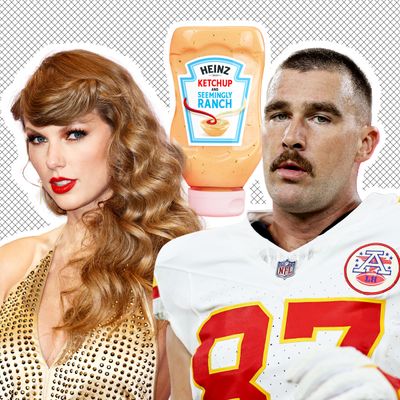 Photo-Illustration: by The Cut; Photos: Getty Images, Heinz
At this point, you and several hundred million other people have heard that Taylor Swift and Kansas City Chiefs tight end Travis Kelce are hanging out. Dating rumors were seemingly confirmed by her presence at a Sunday night football game, where Kelce scored a touchdown and Swift screamed, "Let's fucking go!" alongside his mom in the players' suite.
Of course, you probably already know this, as does every American consumer who possesses even a passing familiarity with the internet. Since Sunday, it seems some people — sportscasters, tabloids, teammates, certain ketchup brands — can talk about nothing but Kelce, Swift, and the many facets of their potential union. In some ways, it's understandable: Taylor Swift and the NFL are certainly two of America's highest earners and bring to the table two avid fan bases with lucrative crossover potential. Swift and Kelce's first "date," if we can call it that, has already proven very profitable, with NFL viewership spiking during Sunday's game and sales of Kelce's jersey rocketing by 400 percent from last weekend. But as the week dragged on and every detail of their night was picked apart, processed, and churned through an overeager marketing machine, I have quickly become exhausted.
One particularly fertile relic from the evening was a photo of Swift posing with another spectator in the box, a plate of fried chicken with dips on the side sitting on the table in front of her. One fan account, displaying the usual Swiftie-level fixation on the minutiae of her life, captioned the photo with a siren emoji, dutifully describing it as "Taylor Swift eating a piece of chicken with ketchup and seemingly ranch!"
It is one thing for a member of Swift's notoriously passionate army of admirers to comment on her choice of condiments with the zeal of an influencer announcing her engagement. What happened next, though, was unforgivable. Noting how amusing Twitter found the stilted wording of the caption (it is funny), Heinz suddenly claimed to be rolling out a "ketchup and seemingly ranch" hybrid condiment — which, let's be frank, is silly, since we all know ketchup and mayo is the superior combo.
Swift's chicken accoutrements had such a major impact that they quite literally altered the New York City skyline: On Wednesday, the Twitter account of the Empire State Building claimed to have lit up the building's tip in red and white to represent ketchup and, seemingly, ranch. Red and white also happen to be the colors of the Kansas City Chiefs, Kelce's team, though a brief perusal of the Empire State Building's lighting schedule suggests this photo wasn't even taken this week. Perhaps we should all get a grip?
Meanwhile, somebody on the CBS News social-media team thought it wise to incorporate Kelce's physique into its post about a rare stingray sighting.
Is it the news cycle we want? Absolutely not, but it is the one we deserve. Who do you think showed enough interest in the comings and goings of a pop star and her rumored football fling to convince brands they needed to hop onboard? That's right, you and me, baby. Swift is expected to show up at Kelce's next game this Sunday, so we might as well lean in: Throw on your Chiefs jersey, blast Lover over the dulcet sounds of football roars, and order in a bucket of chicken — dips are on Heinz.