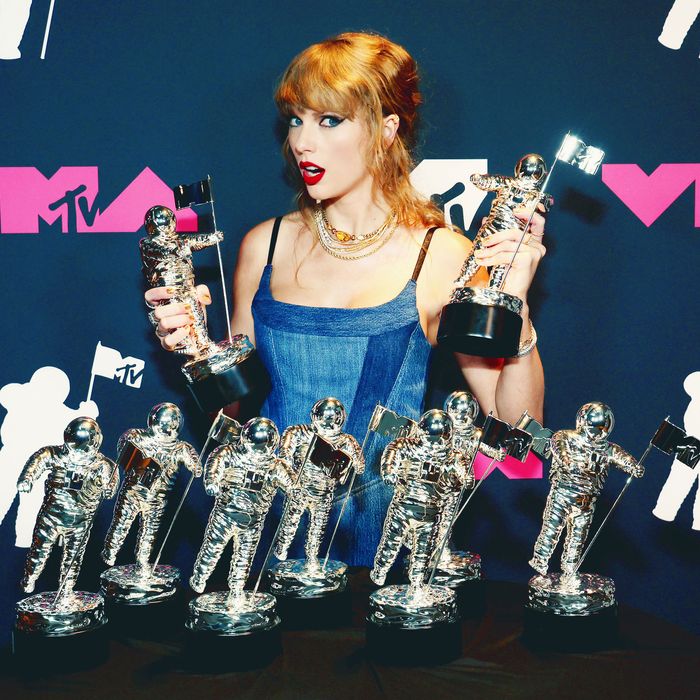 Photo: Kevin Mazur/Getty Images for MTV
For the second year in a row, Taylor Swift dominated the MTV Video Music Awards, winning the most Moonmen of anyone there by far. She took home nine trophies, tying the record for most wins in one night and bringing her VMAs total up to 23 — more than Madonna's 20, and three fewer than Beyoncé's 26. Maybe that's why Swift was in an especially good mood all night: dancing, singing along, and chatting with everyone around her.
As for Swift's big wins, her 2022 album, Midnights, got her Album of the Year, while the track  "Anti-Hero" won Video of the Year, Song of the Year, Best Pop, Best Direction, Best Cinematography, and Best Visual Effects. Swift was also named Artist of the Year, while her Eras tour won Show of the Summer. "This is unbelievable," she said during one of her many acceptance speeches. "The fact that this is a fan-voted award means so much to me."
Throughout the nearly four-hour show, the camera regularly panned to the pop star, who spent much of the evening in motion. When her pal Selena Gomez won the best Afrobeat award for her feature on Rema's "Calm Down," Swift fist-pumped and jumped up and down to cheer her on. She enthusiastically screamed in time with Demi Lovato; bopped along, open-mouthed, to Stray Kids from her spot in the audience; and appeared to prod all her neighbors into standing up for Shakira's unparalleled performance. On Wednesday, Shakira shared a video of Swift to her Instagram Story, writing that seeing the singer enjoy her knife-dancing was "a real treat."
Swift also seemed to enjoy a few of the show's signature "mojito, mo problems" cocktail, waving her glass in the air on numerous occasions.
She also shared a special moment with 'N Sync when the foundational early-aughts boy band presented her with the award for Best Pop. Swift did not appear disappointed by the fact that this 'N Sync "reunion" amounted to the men just standing together onstage, not even performing. Instead, Swift, a millennial girl in the throes of childhood nostalgia, hugged Joey Fatone, Justin Timberlake, JC Chasez, Chris Kirkpatrick, and Lance Bass — who handed her a friendship bracelet, the sign of a true Swiftie. "Not doing well pivoting from this to this," Swift said, pointing to the band, then back to her award, then telling the boy band she used to have their dolls. "You're pop personified, so to receive this from your golden pop hands — really, it's too much. Thank you for the friendship bracelets."
Clearly, the key to making lengthy awards shows watchable is inviting Swift to all of them. Maybe someone should let the Oscars organizers know.