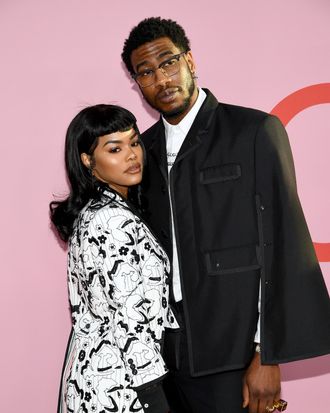 Photo: Dimitrios Kambouris/Getty Images
Another day, another celebrity relationship to mourn. On Sunday, singer-slash-actor-slash-choreographer Teyana Taylor confirmed that she and her partner of ten years, former NBA star Iman Shumpert, quietly split up earlier this year. "We are still the best of friends, great business partners and are one hell of a team when it comes to co-parenting our 2 beautiful children," she captioned an Instagram post.
Shumpert and Taylor started dating in 2013, while he was recovering from knee surgery early in his NBA career. They welcomed their first daughter, Junie, two years later, and revealed in 2016 that they'd secretly gotten married at home in the same bathroom where Taylor delivered Junie. In 2020, another daughter, Rue Rose, arrived.
Speculation about Shumpert's fidelity began sometime in 2022, when Taylor addressed a TikTok video that suggested she'd overdosed after learning her husband had cheated on her. "We got bigger fucking fish to fry here y'all," she wrote. "Now carry on. Nothing to see here." The chatter intensified again last week, when a celebrity-news Instagram account circulated a theory that Shumpert had cheated on Taylor with an artist signed to his music label. Though that artist denied anything had happened, the speculation took on enough of a life that Taylor addressed it on Sunday.
"AHT AHT! Not too much on my bestie!" Taylor wrote under a photo of the couple dressed in Wayne's World costumes. "Iman and I are separated and have been for a while," she confirmed, but "to be 1000% clear, 'infidelity' ain't one of the reasons for our departure." She didn't specify when they parted ways but explained that not revealing the news to the public has helped them "successfully & peacefully separate without all the outside noise." And when it comes to newsworthy divorces, there sure is plenty of outside noise to go around.