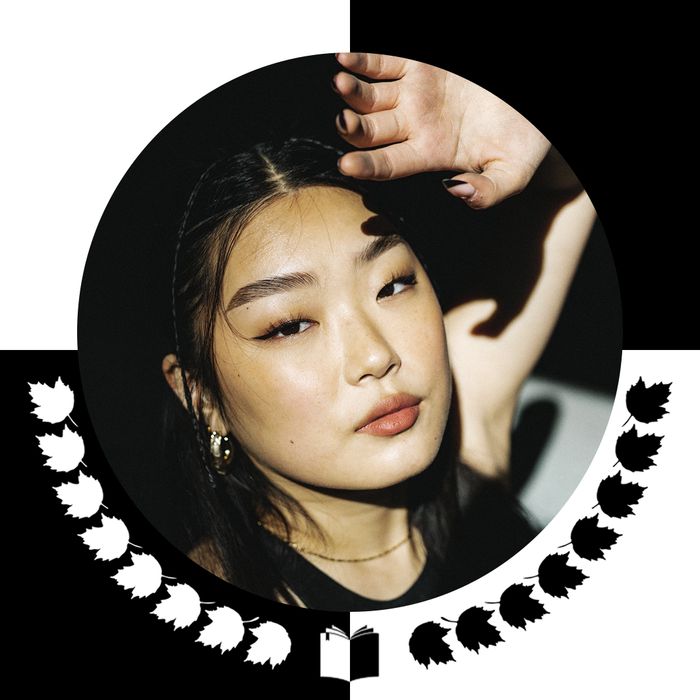 Photo-Illustration: The Cut; Photo: Courtesy of Bethany Werth
"Get ready with me while we talk about how my eyelashes are paying for my college tuition," Bethany Werth says as she pulls a white headband over her long black hair in a TikTok video, adding, "I know, confusing statement." The 19-year-old, who goes by @thegirlwithmonolids, often shares with her 75,000 followers what products she uses to grow her eyelashes and do her makeup. Her videos have earned her an audience big enough to reel in brand deals, which is not in itself unusual. That she explains to her followers how she made $26,000 from social media in one summer, and how that money will allow her to return to college after dropping out last year, is a refreshing departure from the deluge of other beauty videos on the platform.
"I'm telling you guys the number of how much I made this past summer not because I'm trying to brag, but to show you you do not need to be book smart to make success for yourself," she says in the video. This unique mashup of beauty content and personal finance confession has become Werth's trademark. She's forthcoming with her audience about her winding road through higher education, from dropping out of DePaul University in Chicago within the first few days of her freshman year to moving home and growing her TikTok account while working and attending community college.
When we speak, Werth has just started her first week of classes at Bethel University, a private Christian university in Minnesota, as a transfer student and plans to study strategic communications with a minor in social media. She tells me she's chosen to be so transparent about her college journey and financial situation because she feels it's important to be "genuinely authentic" and have "real conversations" with her audience. Read on to learn more about how Werth turned her social media into a stream of income, her trial-and-error process of learning to work with brands, and whether she sees herself as a content creator in the long term.
How did you get into content creation?
I started posting videos in the spring of my senior year of high school. I actually blocked everyone that I knew — I didn't tell my friends and family until I hit 10,000 followers. I initially got into making videos because I wanted to put out content that was geared towards girls or boys who have similar features to me, hence my username. When I was growing up, I felt like there was a lack of that type of beauty content.
The first videos that I posted on my account that really grew my audience were about growing my eyelashes — what eyelash serum I used, which ones I like, which ones I don't like, what ingredients to look out for, what ingredients are safe. Those videos led to me doing "Get Ready With Me," which is one of my most popular formats. It led to brand deals, to me being able to make an income, a majority of which is going toward paying for school.
You've been talking a lot in your videos lately about going back to college after dropping out last year. What made you pause your studies and why did you decide to go back to school?
I decided to attend DePaul University my senior year of high school at the very last minute. I was having a very hard time choosing a school and I just went with that one. I wasn't 100 percent sure if I wanted to go. When I got there, I realized I did not fully think my decision through. I just did not love it. I'm responsible for paying for school, and it was a lot. Being in Chicago, the cost of living is high. Food is expensive. That played a role in why I dropped out.
I rushed into the decision because I felt like I needed to go to college right away. I was a little prejudiced towards community college and staying at home. That was a hard lesson that I learned: Community college is actually a great path.
How would you describe your relationship with money growing up? 
I come from a true middle-class family. My dad is a mailman and my mom is a social worker. During the recession, around 2007 or 2008, my dad was laid off and we moved up to Sheboygan, Wisconsin. We lived with my grandparents. I was old enough to feel that uncertainty, and I think that has influenced how I view money today. My parents have always pushed my brothers, my sisters, and I to work, to save, and to budget. Money is a huge stress factor. Now that I have a bigger income the stress has changed a little bit, but I am afraid to spend. I think that comes from being raised in a frugal household.
Do you rely on anything other than social media to support yourself? 
After financial aid, my tuition per year is $27,000, including room and board. I got a scholarship from the school based on my grades, and they also gave me a grant for being a person of color. I have not taken out any loans this year, which I'm very thankful for because I do not want a bunch of debt. My grandparents pay for my textbooks, but other than that, I am on my own. I did have a summer job working as a social-media manager for a wellness center in my hometown, which was actually a good experience. And I've saved up money from past summer jobs. The summer after my senior year, I worked at a cheese factory on the third shift. It was kind of depressing, but it was very good money.
How much would you say you've made so far this year while doing social media?
I should have been more detailed in keeping track earlier than this, but last time I checked, from May to August it was around $26,000.
What would you say is the most and the least you've made per post?
The least would probably be in the very, very beginning, like $50. The most for a single post I think was $2,500. I do have one partnership that runs every week and has come to around $10,000 so far.
Can you walk me through how you book brand deals?
I don't do a whole lot of outreach to brands, but I do have my email listed in my bio. If companies see one of my videos and want to work with me, they can contact me. In videos where I'm using different products, I like to tag the brand. That's a great way to connect. There are times where I will get inbound emails from brands asking me to work with them, and then we'll negotiate rates and deliverables. I like to work with smaller brands because the experience is more personable. It feels less like a deal and more like a relationship.
You mentioned that you negotiated your rates. How did you learn how to do that? 
It was trial and error. I had no idea what to charge. I didn't know anything about usage rights or whitelisting in the beginning. I would look up social-media coachs' accounts on TikTok and see what their tips were. Recently I worked with Alyssa Chan-Evangelista and we went through my rates and updated them. I had been undercharging!
How do you deal with taxes? Did you try to find an accountant?
I didn't really start getting big brand deals until February, so I didn't have to worry about it too much. I did have to fill out a couple forms and pay some taxes, but not very much. Next year I will definitely be getting an accountant because I don't know how it works, and I don't want to get flagged down by the IRS.
What would you say are some of the expenses of creating content?
I'm not really bougie when it comes to my filming setup. At home, I either use natural lighting from my window or a $10 lamp that I got from Walmart. I have a tripod, which I got off of Amazon and was like $30. That's all I use. As for makeup, I do use a lot of the stuff I get in PR. That has been a huge blessing, not having to purchase a whole lot of makeup. There are a few staple products I love that I don't necessarily get in PR and that I will repurchase.
How are you thinking about balancing your classes with creating content? 
I'm still trying to figure it out. When I was at home, I would film whenever I felt like it because I had a lot of spare time on my hands. Here, not so much. I probably will need to batch content for one or two days, and then film when I can find the time during the week for other little ideas that pop into my head. It does stress me out and give me a little bit of anxiety, especially because my TikTok is how I'm paying for school. If I'm not putting stuff out there, I'm not going to be making money.
What are some misconceptions people have about content creators or influencers?
That it's super-easy. I've worked nine-to-fives, and I've worked in a factory. Content creation is obviously way easier than any of that, and it's a very convenient way to make a good amount of money. But I do think there is a lot of mental stuff that can come from social media, especially when you're a micro-influencer and you don't necessarily have a huge, consistent platform. Sometimes TikTok has moments where your views will be super-, super-low. It'll feel like what you're doing sucks, like you're not doing a good job, like you're not putting out enough. That can be really draining and make you feel really bad about yourself. You can easily get creative burnout from posting all the time, too. When I was at home, I tried to post three times a day, and it was hard to think of new ideas.
Do you see yourself working as a content creator in the long run? How are you envisioning the future?
I don't really know. When I was in high school, I had an internship as a social-media manager and I really enjoyed that. I had that internship before I even started my own account. I guess that inspired me to make videos. Part of the reason why I decided to go back to school was because I wanted to learn about the different pathways that I could take in my field. I wouldn't mind doing what I do now, but I don't know how sustainable that is. Everything changes so quickly. For my own anxiety and peace of mind, I probably would want something a little more stable and consistent.