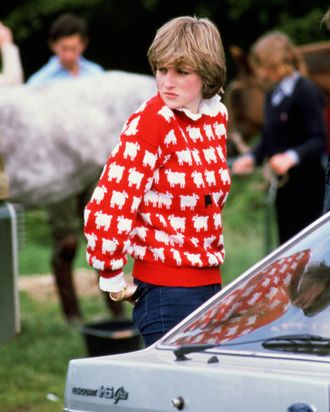 Photo: Tim Graham/Tim Graham Photo Library via GettyImagees
A sweater just outsold Kurt Cobain's $334,000 pullover at auction for the record of most expensive. The price? $1.1 million. The sweater? Princess Diana's famous sheep crewneck.
As the story goes, in June 1981, just a month shy of her royal wedding, a then-19-year-old Diana Spencer wore the simple, cheeky knit to her fiancé Prince Charles's polo match. The design, created by Warm & Wonderful, featured many neatly aligned white sheep prancing across the sweater with one singular black sheep. The garment became an instant sensation in part owing to the public's presumption that Diana was trying to send a message that she too was a black sheep in the royal family — though the designers of the sweater, Joanna Osborne and Sally Muir, would beg to differ. The design inadvertently became one of the late princess's most iconic and emulated fashion choices for generations, so much so that in 2022, Rowing Blazers, in collaboration with Warm & Wonderful, released a reissue.
Princess Diana sent her jumper back to the designers decades ago for repair, and the two lost track of it. Not until earlier this year, in her attic, did Osbourne stumble upon the original worn by the princess, which she recognized from stitching on the sleeve. "I was looking for an old knitting pattern, and I just thought, There's a hell of a lot of stuff in there. And I just saw this old wine box in the corner and I thought, What's in there? Can it possibly be?" Osbourne says. The designers decided the responsibility of caring for it was too much and handed the sweater over to Sotheby's.
To learn more about this subject of long public (and personal) fascination and source of wonder, we sat down with Muir and Osbourne to ask our long-standing sweater-related questions.
—
How did you two meet?
Sally Muir:
We met through my brother, actually. I'd just bought a knitting machine, a very cheap knitting machine, and he said, "Oh, you should meet my friend Jo Osborne because she's got a knitting machine too." And so I rang Jo and then went round to her house and we'd never met each other.
Joanna Osborne:
We didn't know each other.
SM:
And we just decided to start a business that evening.
What feelings came to the forefront when you stumbled upon this sweater?
JO:
I was in the attic of my house looking for an old knitting pattern, and I just thought, There's a hell of a lot of stuff in there, and I just saw this old wine box in the corner and I thought, What's in there? Inside it was this jumper along with a cotton bedspread, which is important because had it been with other wool things, it would've just fallen apart, it would've just vanished
I thought, Can it possibly be? And I looked at the cuff because that was significant; the cuff of Diana's had started to unravel. I thought, I might have found the original jumper. We had no idea we had it. I hadn't even been looking for it. It was very strange. We're always so desperate, scrambling around for jumpers to fulfill orders. We'd thought we'd probably just kind of sewn it up and sent it out with an order, which doesn't actually reflect very well on us.
We decided we'd offer it up to Sotheby's because we didn't really want the responsibility of keeping it.
Where did the inspiration for the black-sheep design come from? Does it mean anything personally to both of you?
JO:
It was a sort of natural progression, really, in that we wanted to make knitwear. Knitwear is made of wool and wool comes from sheep, so it seemed like a natural thing. We were quite keen on the witty knit, and we were restricted in the size of pattern we could make because we had really basic knitting machines that were hand-worked, so a pattern could only be about two or three inches in size. So it had to be a repeating one, and the black sheep was thrown in because it was funny. It was fun.
Do you ever feel as if other sweaters you made feel slighted because of the sheep sweater?
SM:
Slightly. Yeah.
JO:
Yeah. We put so much effort into them. They were much more complicated.
SM:
Becoming serious designers, but that first one in the first batch is always going to be the one that is remembered.
If this sweater were a person, or if this sweater could talk, what would it say?
SM:
Maybe the jumper would say, I don't imagine you thought I'd still be around 43 years later, in both senses.
Did you know Diana had purchased one of your sweaters, or did it come as a surprise when you realized she needed repairs?
JO:
She was given it. We didn't give it to her; we think she was given it by the mother of one of her page boys. Because we had a small business, we could virtually identify the buyer. We don't know for certain, but we think that's the case, and we had no idea she owned it at all until we saw it on the front page of the Sunday papers.
What were your first thoughts when you saw it on the front page?
SM:
Things were different and you couldn't leap onto Twitter and tell everybody, so we just thought, God, that's great. She's in the news, and here she is wearing our jumper. It took a while to kind of be able to let anybody know it was ours, for a start. Nobody knew it was ours.
JO:
But once it came out, we were inundated.
SM:
We were suddenly getting literally sackloads of mail. The postman would arrive with a sack over his shoulder.
JO:
We'd employ our friends' children to open the letters.
During your correspondence with Diana, did you ever meet her or chat with her in person?
SM:
I'm afraid not.
The two of you, your business, and Diana are so intrinsically linked in the public eye, yet that personal connection was never made. But maybe it's a testament to the power of clothing and the power of a good garment that you can still be connected without having met.
JO:
Diana did rather use her clothes to express herself too, so that sort of makes sense.
Do you think she was trying to get across any messaging with the pattern? 
SM:
I think definitely not the first time she wore it. She was really young; she was only engaged then. I don't think she'd quite understood the power of her clothes. She wasn't really working it then, was she?
JO:
And you can see in the photograph, she's kind of head bent. She looks very unsure of herself. She doesn't particularly want to be photographed. But then the second outing —
SM:
Yeah, quite different.
JO:
Three years later, a completely different look. Very much in control of her style. She styled it much more cleverly with the white floppy color and blackbird ribbon thing, white jeans. She looked savvy and in control.
Why do you think it resonated with her?
SM:
Well, I don't totally subscribe to the theory that she was sending a message about it because I think that's the benefit of hindsight, really, that she was the black sheep of the royal family.
JO:
I think she maybe liked it because it looked really good in photographs.
SM:
She obviously had a great sense of humor. Yes, I think it was more that than, I'm the rebellious member of this family.
Is there anything you wish you could have said to her if you'd met her in person?
JO:
Thank you.