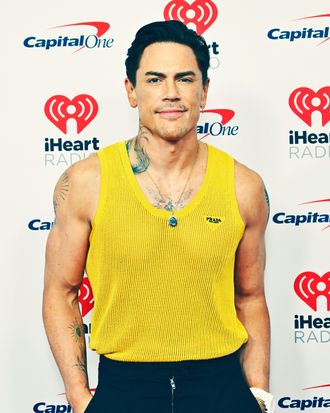 Photo: David Becker/Getty Images for iHeartRadio
If you thought that after a spring overtaken by Scandoval — the Vanderpump Rules cheating saga — we were done hearing about or from Tom Sandoval, you thought wrong. On Thursday, the Bravoverse's least favorite guy dropped the first episode of his new podcast, Everybody Loves Tom. That title is a bold choice from a man so deeply disliked.
As a reminder, Sandoval rose to international fame earlier this year not because of his cover band or his foray into the restaurant biz, but because he cheated on Ariana Madix, his VPR co-star and partner of nine years, with their friend and castmate Rachel Leviss. As most people sided with Madix, Sandoval quickly became the villain of the show: Not only did he refuse to take ownership of the affair, but he was also shady about when it began and how long it lasted. The scandal, dubbed Scandoval, generated sky-high ratings for Bravo and landed business deals, magazine covers, and podcast contracts for those involved — Sandoval now included.
To announce that he is now a podcast bro, Sandoval shared three videos to his Instagram page on Wednesday, all of which attempted to make light of his reputation as a terrible person by rounding up some of the negative things people have said about him these past few months. In one video, a man tells Sandoval that in an attempt to find a title for his show, someone — presumably whoever decided it was a good idea to give Sandoval this platform — asked a focus group what words they would use to describe him. "Scum devil, sando-vile, narcissist, sand-awful, scumbag, cheater, liar" and Vanderpump co-star James Kennedy's insult of choice, "worm with a mustache," made the cut. A third recording, which "Page Six" aptly described as a "bizarre shirtless video," shows Sandoval sitting at the desk with the microphone and taking his top off. An off-camera voice tells him that people won't know he's bare-chested, and Sandoval responds, "Oh, they'll know." Is a picture forming for you yet?
A description of the podcast on iHeart and Spotify says that Sandoval will be "FINALLY telling his side of things." While it's hard to imagine what more there is to say about all this — considering the drama already spawned an extended season as well as a drawn-out three-episode reunion — Sandoval will allegedly have "celebrity guests" and "VPR cast mates," on the show each week. He'll also dive "deeper into his personal life than ever before." Good luck to all involved.