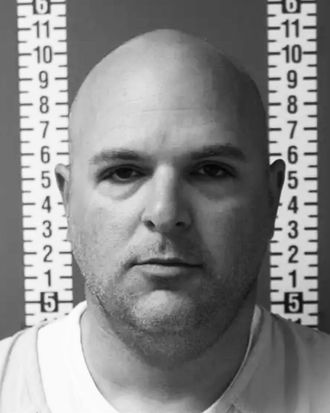 Photo: Dauphin County District Attorney's Office
A Pennsylvania woman spent five days in a mental hospital after her married ex-boyfriend allegedly used his position as a state trooper to forcibly arrest her and have her involuntarily committed. Apparently, he had threatened to do so during their four-month affair, according to an affidavit shared by the Dauphin County District Attorney's Office
Per the New York Post, the trooper, Ronald Davis, was arrested on Thursday and charged with felony strangulation, unlawful restraint, false imprisonment, simple assault, official oppression, and recklessly endangering another person. He has also been suspended from his job.
According to the affidavit, when Davis asked other troopers to commit the woman, he claimed she had sent him text messages suggesting she was suicidal. On the basis of those texts and Davis's assertion that his ex was "acting erratically," he was advised to contact Dauphin County Crisis Intervention and get an order to commit. His colleagues apparently told him that following procedure would, to quote the affidavit, "minimize conflict and liability" because of his personal connection to the woman. When the order was approved, Davis — who was off-duty but happened to be at the station — allegedly took a copy of the fax and left, saying, "I'll take care of it myself." Moments later, cameras showed him walking out of the police station with the papers in hand.
He then drove 11 miles to the picnic area where he had located his ex-girlfriend, the affidavit says, and with the help of a "civilian" he "enlisted" to film the encounter, proceeded to try and arrest her. The Dauphin County DA also released that footage, which shows Davis pinning the woman, who sounds genuinely confused as to what's going on, to the ground. She repeatedly tells Davis she "can't breathe" and asks him why he's treating her "like a criminal." The affidavit states that the woman was left with bruises from the confrontation and notes that Davis never clarified that he was acting in his capacity as a state trooper, let alone explained why he was there.
As a result, the woman was committed to a hospital for five days. Hospital employees ultimately released her because they didn't think she showed signs of psychosis or suicidal ideation during that time. Four days after leaving the hospital, the woman told police that before the assault, Davis had threatened her, saying, "I know you're not crazy, I'll paint you as crazy." And after reviewing text messages between the two, police concluded that Davis had deliberately misconstrued the purportedly suicidal statements, cherry-picking them from an argument about his allegedly domineering nature. According to the affidavit, Davis had locked his ex out of her home and was blocking access to her personal belongings."Taken in context, the texts revealed her frustration with Trooper Davis and his controlling behavior," the affidavit states, "not a true desire to harm herself."