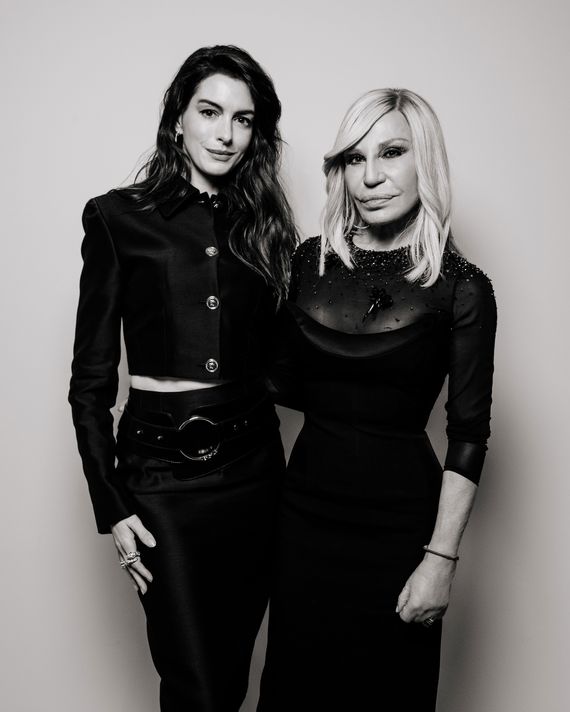 Photo: Hunter Abrams/Courtesy of Versace
It seems like anyone can be an icon these days. More moments in pop culture are deemed "iconic" than not, and it has quickly become the world's favorite adjective to describe anything remotely significant. Overuse has, unfortunately, watered down the impact of the word. But last night, during the inaugural Versace Icons Dinner at Rockefeller Center in midtown Manhattan, I was reminded of its true definition: "A person or thing widely admired especially for having great influence or significance in a particular sphere."
Hosted by Donatella Versace and Anne Hathaway — who starred in the debut Versace Icons campaign earlier this year and is set to star in a second iteration (launching October 9) alongside singer and global brand ambassador Chris Lee — the intimate event celebrated powerful female representatives and changemakers across all industries. From actors and musicians such as Rachel Brosnahan, Ariana DeBose, Sheryl Lee Ralph, and Teyana Taylor to models Cindy Crawford, Helena Christensen, and Aaron Rose Philip and authors and activists including Meena Harris, Raquel Willis, everyone in attendance embodied what it really means to be a modern icon.
In theme with the campaign, we asked attendees one question pertaining to their illustrious life and career — starting with Versace herself, whose lasting impact on fashion and culture at large cannot be understated. After Gianni Versace's tragic death in 1997, Donatella Versace assumed the role of chief designer and vice-president of the company. She has since shaped the vision of Versace, orchestrated trailblazing marketing campaigns, and overseen massive expansions into the accessories and lifestyle categories. When asked which of her many accomplishments she is most proud of and why, the designer paid homage to her beloved brother and sited her commitment to inclusion. "Becoming creative director of Versace and growing the business successfully. I hope that my brother Gianni would be very proud of me," she told the Cut. "Running a business in which many senior management positions are held by women. Helping support the rights of the LGBTQ+ community as an ally — fighting for freedom, equity, and inclusivity." Pretty iconic, if you ask us.
Here, Versace's iconic co-host, along with some of last night's most notable guests, reflect on their influence and impact.