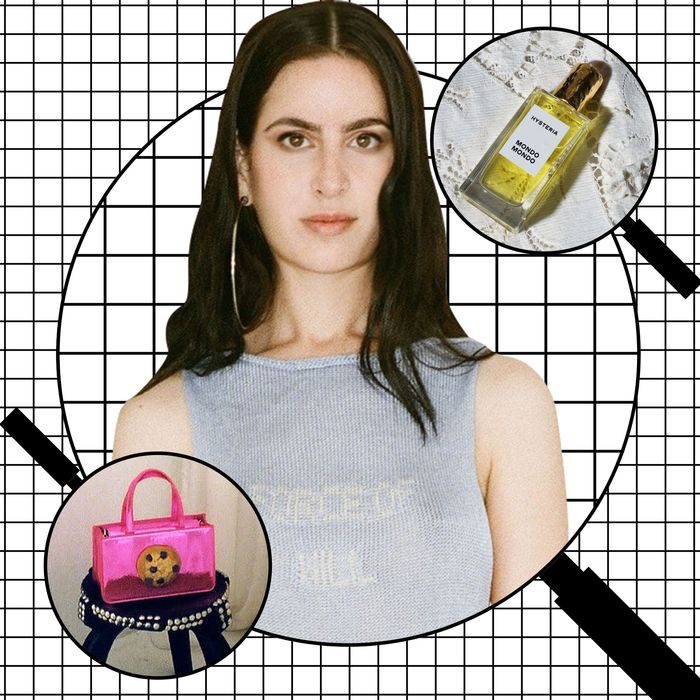 Photo-Illustration: by The Cut; Photos: Mina Alyeshmerni
For more of the Cut's favorite fashion, beauty, and home finds, sign up for the weekly Cut Shop Newsletter.
Mina Alyeshmerni's style philosophy is all about sticking to the classics and elevating them. The founder of L.A.-based boutique Maimoun tells us over Zoom how she considers style and taste as unique as handwriting.
When she's not shopping for her own store, she spends her time finding inspiration at vintage and thrift shops, local designers, and flea markets. Some of her favorites include The RealReal, Scout Vintage in Los Angeles, and Resurrection and Mirth Vintage in New York City.
Alyeshmerni also turns to Tumblr and old movies for eye-catching looks. "I'm really embracing a cozy, grown, and slightly unhinged version of girlhood femininity," she says. "I always look back at early-2000s Britney Spears paparazzi pictures. I love '60s Persian pop star Googoosh's stage looks, and Ryuichi Sakamoto album covers." However, her inspirations are always changing, so she keeps a close eye on Bella Hadid, Sarah-Linh Tran, Rosalia, and the youth of Depop. "Fashion is fun, and part of it is enjoying its fever for change."
Below, see where Alyeshmerni got the pieces that made it into her curated wardrobe.
Where did you get the inanimate object that brings you the most joy?
I got my Contax Film camera from Japan on eBay years ago. That was a splurge for me. It's a beautiful camera from the '80s or '90s. The idea behind it is to be more plugged into what you're capturing. With having an iPhone so readily available to you and the ability to take photos of anything during the day, it can feel like a deluge of imagery and nonsensical photos when you look back. It's a moment to really think about what and who I want to capture and what way I want to capture that. It's a more thoughtful process, and it allows me to keep an organized diary of things I want to remember.
What's your nighttime routine?
I remove myself from my phone and laptop. That's how I reset. I have a "phone home" that I keep next to my bed and place my phone there. Sometimes, I'll even place it in the hallway so I'm really far removed from it. I'll put on some music or keep a book by my bedside. I really like to take time for myself. Sometimes I'll watch the news or YouTube. I like Devon Lee Carlson and older fashion shows. There's a really good Alaïa one from the '80s, and it's such a theatrical performance.
I also keep on my bedside table pens and paper from the Good Liver. It's this store in Los Angeles and everything is so beautifully curated. I love everything to have a place of beauty and functionality. The notepad is exactly that. I love to write lists and anything that comes in my mind, even sketches.
Where did you get the item you wear the most?
My lip balm from Byredo. I've always loved lip balm since I don't wear lipstick. I usually purchase drugstore brands because I want to keep one everywhere, but the idea of splurging on balm was a fun way to have nicer packaging. It's kind of like adult ChapStick. The idea of being in a fancy setting and having something more sculptural and sublime instead of a drugstore one is fun.
Where did you get your signature scent?
Hysteria from Mondo Mondo perfume. It's a designer Maimoun has been stocking since we opened. Natasha Goshen is the designer behind it. She started out in jewelry and pivoted into fragrance, and I thought that was a badass combination, plus the two are closely connected. Perfume is like adding jewelry to your look. I love the name of the scent, and the scent itself feels so lived-in and takes me back to summer. It makes me happy. I'll rotate between a few different favorites, but that's the one I'm most excited to wear.
Where did you get the item you'll never get rid of?
My Issey Miyake tunic is from Scout. I picked it up my first time going to Paris Fashion Week when I needed something that made me feel confident and comfortable. There is a playfulness and lightness to it. It ended up being a piece I wore pretty often because it felt like a comfort blanket. It's also pretty far from how I would typically dress, which I think is fun. I wear it with sweatpants and Adidas pants. It's fun to style in different ways. I think that piece is from one of his shows where they're all walking down the runway holding teddy bears, and it was a really soothing show, a work-of-art '90s show.
Where did you get the item that gets complimented the most?
My bottle-cap earrings from DKNY. We did a capsule vintage drop in the store years ago from Donna Karan over the course of her career. It was fun to pick out the pieces that can span from the '80s to the '90s and early aughts. They were sourced from all over the world. When we got these earrings, I knew we had to hold on to them. They're too fun and playful!
Where do you get your favorite gifts to give?
Bookstores. Books can make you feel seen, and being able to give that kind of gift and pick out a specific book that fits that person can be really fun. I love the cookbooks from my friend Mina Stone. A cookbook or coffee-table book is great as a housewarming gift.
Where did you get your favorite pair of shoes?
My Gucci mules are from The RealReal. I don't know if they're vintage or contemporary, but wearing logos that large and dialing it down is really playful. The mule in L.A. is the way to go. You can pare down everything else and let the shoes do the talking.