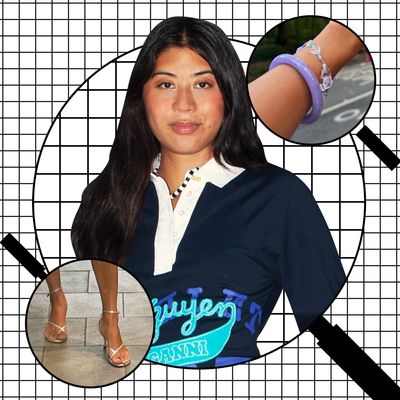 Photo-Illustration: by The Cut; Photos: Rowan Liebrum, Kim Nguyen
For more of the Cut's favorite fashion, beauty, and home finds, sign up for the weekly Cut Shop Newsletter.
Kim Nguyen thinks good style is all about attitude. "I love seeing people in archival fashion, but I also love seeing people in things that aren't designer. It's less of a visual thing and more of how you're carrying yourself and the way the clothes are helping," the designer behind New York City–based brand Nguyen, Inc explains. Her own personal style includes a lot of thrifted pieces, tank tops, and miniskirts she wears all year-round.
Growing up in Houston, she drew inspiration from fashion magazines at the salon where her mom worked, as well as music videos she watched every morning featuring rockstars like Brody Dalle from the Distillers and bands like My Chemical Romance, Thursday, and the Used. She is also inspired by unique thrift store finds and Yves Saint Laurent's work, which she loves purchasing from resale sites. "When I go to Houston, I try to pack lightly so I can go to all my favorite thrift stores out here. Houston is one of the biggest depositories for clothes that are no longer wanted at Goodwill or donation stores, so there's always weird stuff."
Along with frequent trips to the thrift store, Nguyen also loves to browse Poshmark and shop brands she spent her teen years obsessing over like Triple 5 Soul and Da Nang.
Below, see where Nguyen got the pieces that made it into her curated wardrobe.
Where did you get the object that brings you the most joy?
My California king-size bed and sheets from Magniberg. I love my bed. It's my favorite place in New York City. I got these sheets for my birthday last year, and they're so nice. They have a sateen sheen and feel so soft on my skin.
Where did you get your favorite piece of clothing?
It has to be the Ganni x Nguyen, Inc knit miniskirt. I wear miniskirts all year round, and admittedly, I designed it for myself. Ganni and I have collaborated before — I reworked some of its T-shirts and screen printed on them for its Brooklyn store opening and then again for its Houston store opening. I'm from Houston, so that was the connection there. Then they asked me to do a bigger collaboration, and they were going to do the production for it. I was really happy about that because, for my own brand, I haven't been able to do bigger-scale productions yet. We used lots of deadstock fabrics to create this collection that was loosely inspired by the outfits of female-fronted bands. Brody Dalle was definitely a big inspiration. I wear miniskirts all season long. I'm pretty short, and it does something for my legs. I have great legs so I have to show them off somehow.
Where did you get what's on your nightstand?
I got my bedside lamps from a vintage store called Good Behavior. They have mid-century modern furniture for a decent price. The lamps are chrome LED, and since I bought them two years ago, I haven't had to replace the lights. They also have an outlet on the base, which is a really modern touch for vintage, but super-helpful if I'm charging my iPad or phone or if I'm working in bed.
What's your nighttime routine?
No matter what time of the night it is, I can't get into bed without showering. Living in New York for ten years, it's like I can feel every germ, so I have to wash it all off when I get into my giant bed. I do that and I do all my skin care. One of my friends who's like an influencer gave me a NūFace Mini so I use that. I've been journaling a little bit before I go to bed, which is really nice.
Where did you get the item you wear the most?
I get my Hanes tank tops at the MaxDeals in a boy's size medium. They usually have a defect but because Hanes quality control is so strict, it's usually a tiny defect and altogether a good tank top. They sell them in packs, and I buy hordes of them because they're so easy to style. I'll wear them all season long with jeans and a cute pair of heels.
Where did you get your favorite pair of shoes?
My Gianni Binni silver strappy kitten heels are from a closet sale. My studio mate and I organized a closet sale over the summer in our studio. She loves thrift shopping and finding treasures, and she had these heels that were a size too small for her, but they were a beautiful shoe. They're really comfortable shoes and really easy to get on Poshmark. I made a resolution this year to not wear sneakers. I wanted to dress more ladylike, and these are a good alternative to ballet flats or sneakers.
Where did you get the item you splurged on the most?
My YSL gown is from Etsy. It's this silk satin evening gown that reminds me of Morticia Addams. I really love old YSL, especially of the era that Laurent was designing there. I went on a school trip to his studio, and I went to Morocco to see the museum out there. I was always really inspired by him. I feel like it's always surprising for people to hear because the way that I design is sort of a contrast to what the YSL woman is. But the construction of YSL's vintage pieces is really immaculate.
The gown is kind of long, so I've worn it with my Marc Jacobs platform boots. That was another splurge. I interned for Marc Jacobs and eventually worked for the shoe design department for two years after college. They would do internal sample sales, and they were selling a bunch of these shoes from the spring/summer 2017 collection for $60. At that point, I couldn't even afford it because I was still in school and dead broke, so I asked my boss to buy them for me until I could pay her back.
Where did you get the item you'll never get rid of?
My sterling-silver necklace with my sister's fingerprint imprinted in the pendant. I never take it off. My sister passed six years ago, and I was really close to her. My whole family has the same necklace, and we all wear it. Eventually, I'll get it remade in gold; my mom has had hers remade.
Where did you get your favorite item to layer?
My corseted hoodie is from my friend Timothy Gibbons. I always travel with it because it's so easy and snatches me in a way that I still feel comfortable. He hand-corseted them, and they're just really special pieces, similar to the T-shirts I make. You can feel the care that went into each one.
Where did you get the item that gets complimented the most?
My purple jade bracelet I got from my mom. It's something I never take off (it's also difficult to take off). My mom gifted it a few years ago. She got it from Vietnam. We were looking at jewelry and I wanted a jade piece. All the jade in Chinatown in New York is great, but I really wanted something straight from Vietnam. It was a nice coincidence that she had a purple one, which is one of my favorite colors.