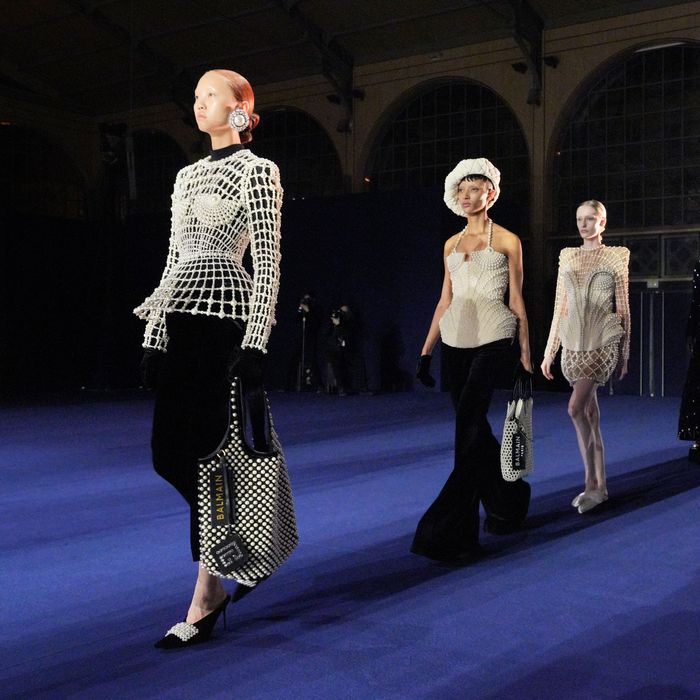 Photo: Swan Gallet/WWD via Getty Images
With less than a week until Paris Fashion Week begins, the chaos has already begun — and in a way we haven't seen before. On Saturday, Balmain's creative director, Olivier Rousteing, shared on Instagram that nearly 50 pieces from the brand's upcoming collection had been stolen from a truck en route from the airport to Balmain headquarters.
"Today, I went to the office at 9 a.m. waiting for the latest pieces for our show, our Balmain show in September. I was starting to create some looks with my team and our driver called us and said he was hijacked by a group of people," Rousteing wrote. "More than 50 Balmain pieces stolen. He was driving from the airport to the Balmain headquarters. This is so unfair. My team and I worked so hard. We will work more, days and nights, our suppliers will work days and nights as well but this is so disrespectful."
Rousteing confirmed that no one was hurt in the incident and that the team is already working on recreating the looks that were stolen. Brands like Jacquemus and celebrities from Jodie Turner to Donatella Versace showed support for Rousteing and the brand, with the latter commenting, "sending you all my love. I know that you and your creativity will be able to overcome this!"
While Balmain told The Wall Street Journal that its September 27 show will go on as planned, it's unclear what the spring-summer 2024 runway will look like and if the fashion house will add in any elements that refer to the stolen pieces — or just pretend it never happened. Meanwhile, fashion fans are puzzling over the bizarre nature of the crime and ponder what the motivation could be for stealing clothes that have not yet hit the runway (or the market, for that matter). It's not like the thief can sell them, as one user on the social network formerly known as Twitter points out: "Seriously though tf are these people gonna do with the stolen Balmain pieces… selling them would be like turning yourself in." So what exactly does the sticky-fingered hypebeast have in mind, and will we be seeing those stolen pieces again? This mystery feels far from over.