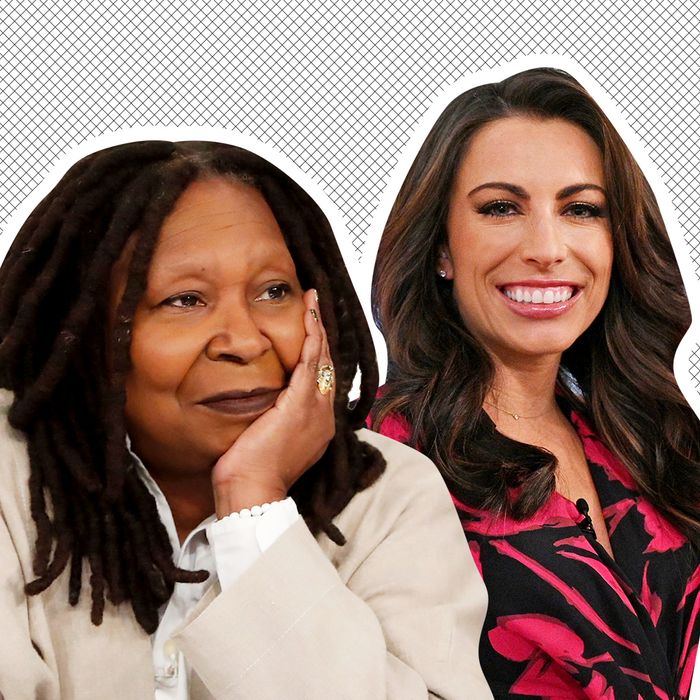 Photo-Illustration: by The Cut; Photos: Getty Images
It's hard to say who had the more awkward moment in daytime television this week: Drew Barrymore, who crossed the picket line by bringing her show back during the WGA strike, or Whoopi Goldberg, who asked her The View co-host if she is pregnant on air.
On Thursday, in the middle of a conversation about Mitt Romney's decision not to run for senate again, Goldberg — without taking a moment to pause or consider the concept of privacy — blurted "Are you pregnant?" to her co-worker, Alyssa Farrah Griffin. The non sequitur took everyone at the hosts' table aback, while members of the audience gasped. Even a producer, who briefly showed up on camera, looked visibly concerned. Griffin responded: "No, oh my God. You can't say that when my mother-in-law is here, who's been dying for me to get pregnant."
This is a very intrusive-relative-at-the-function question to ask a person, especially out of the blue and on national television, so naturally Griffin and Joy Behar were curious as to what prompted the inquisition in the first place. Goldberg replied that she simply "got a vibe" and felt like Griffin had "a glow," but subsequently apologized on air. Griffin told People that Goldberg also apologized during a commercial break. But it was too late for many Twitter users, some of whom found the outburst "inappropriate" and "rude," while at least one reminded others of this simple rule: "If people want you to know if they are or are not pregnant they will tell you."
Still, Griffin said that she hopes to have a child and is taking Goldberg's question in stride, explaining to People, "Whoopi, she thinks out loud sometimes, and I chose to take it as a compliment — that I'm glowing. She's so sweet." Sweet and nosy.