From left:
Stefanie Dolson, Marine Johannès, Kayla Thornton, Breanna Stewart, Courtney Vandersloot, Jonquel Jones, Betnijah Laney, Nyara Sabally, Jocelyn Willoughby and Sabrina Ionescu in the Liberty weight room at Barclays Center.
Photo: Dina Litovsky
It has been a rough month to be a certain kind of New York sports fan. Baseball playoffs are on the horizon, but both the Mets' and Yankees' once promising seasons have collapsed, and it's highly unlikely either team will be taking the field come October. The Giants lost their first game in a record-setting 40-0 blowout, and a much-hyped Jets season kicked off in typically devastating fashion, when the recently acquired star quarterback Aaron Rodgers blew out his Achilles tendon on just his fourth snap in the Meadowlands.
But go to Brooklyn's Barclays Center to see the New York Liberty and the energy is electric. The WNBA team had a breakthrough 32-8 season — the franchise's best-ever record and the second best in the league — and cruised into the postseason with triple-digit percentage growth in ticket sales. Outside its first playoff game of the 2023 WNBA postseason last Friday, the sellout crowd was buzzing with something like optimism — even bravado. Trent King, a 25-year-old draped in a polyester Lady Liberty tunic and a foam crown, posed for photos while he waited for his brother to arrive in a matching outfit.
"If we can make it, we're here," said King, who started going to games last season and plans to spring for season tickets next year. "Not for nothing, it's the best team in New York right now."
This kind of conversion happens easily and frequently at Liberty games. Even in low-stakes contests this season, the crowds are exuberant. During game one, in which starting guard Sabrina Ionescu's record-setting seven three-pointers paved the way for a 90-75 win, head coach Sandy Brondello attempted to participate in an in-game interview with ESPN and found she couldn't even hear the announcer's questions in her earpiece.
"Damn, it's so loud in there!" the upbeat Aussie tells me after a team practice the following Sunday. "In the timeouts, I had to yell." Barclays, Ionescu says, has become "a tough place for teams to play."
It's a hard-earned return to glory for one of the WNBA's original franchises. Led by Rebecca Lobo and Teresa Weatherspoon, the Liberty came out of the gate strong in the 1997 inaugural season and made it to four of the first six league finals. But they never won the title, and by 2018, they were decidedly suffering after years of neglect under longtime owner James Dolan. That season, Dolan banished the franchise from its home at Madison Square Garden to a small multipurpose arena in Westchester as he looked to offload the team; there, they went 7-27 and failed to qualify for the playoffs.
Then in 2019, Brooklyn Nets owners Joseph and Clara Wu Tsai purchased the Liberty and began to meaningfully invest in the team. After the 2020 pandemic season — played at an enclosed Florida campus known as the "Wubble" — the Tsais installed the Liberty at Barclays and hired Brondello, who had won a title with the Phoenix Mercury in 2014. The rebuild effort, which started out with a respectable 16-20 record in 2022, accelerated at warp speed this past offseason, when the Liberty managed to sign Jonquel Jones, Courtney Vandersloot, and Breanna Stewart, all in the span of three weeks. Any of them alone would have been fortune-shifting acquisitions for a team; together, their signings nearly guaranteed New York had a shot at a title run.
"I wanted to come somewhere where we could potentially build this team to win a championship," Stewart, a five-time All Star who won two titles with the Seattle Storm, says. "To be able to make a huge impact in the WNBA, it needed to start in a big city like New York."
The addition of the Liberty's so-called Big Three has elevated the level of play in New York, and, with the defending champion Las Vegas Aces, provided the WNBA with a pair of telegenic powers. In the regular season, the Liberty won three of five games against the Aces, including an 82-63 blowout in the WNBA Commissioner's Cup in August, and the chippy cross-country rivalry is already paying off for the league: WNBA regular-season viewership is up 27 percent this year, and attendance overall has jumped 16 percent. In game two on Tuesday — another home-court sellout — the Liberty gutted out a 90-85 overtime win over the Mystics to advance to the semifinal round against the Connecticut Sun. Should they win that series, they will likely face Vegas in the finals.
It would be the Liberty's first-ever WNBA title, and New York's first basketball championship since the Knicks won in 1973. And it means there's still time to get to Barclays this postseason to see what the bravado is all about. World-class basketball is not the only draw. Ellie, the team's gyrating mascot elephant, has taken on a delightfully brash persona since her 2021 introduction (my friend, a new season-ticket holder this year, has theorized that three people alternate wearing Ellie's plush mask and even swears she can tell who they are based on Ellie's dancing style any given night), and the Timeless Torches, its 40-and-over dance troupe, reliably wins the crowd over. And if the Knicks' celebrity row is a Hamptons white party, the Liberty's is brunch at Michelle Obama's. At a game against the Aces in late August, I looked up at the JumboTron to see why the crowd was roaring and saw Fran Lebowitz seated courtside in a green blazer; during Friday's game against the Mystics, a timeout featured an interlude to honor guests Billie Jean King and Malala Yousafzai — "for their contributions to society at large," the PA announcer blared, almost too casually. (Clara Wu Tsai presented them each with customized Liberty jerseys.)
But there's another quality about Liberty games that's harder to describe. It's a combination of an unusual feeling of intimacy — Barclays Center's upper bowl is curtained off for their games, so the crowd is by design smaller and the game action feels closer to everyone — and camaraderie.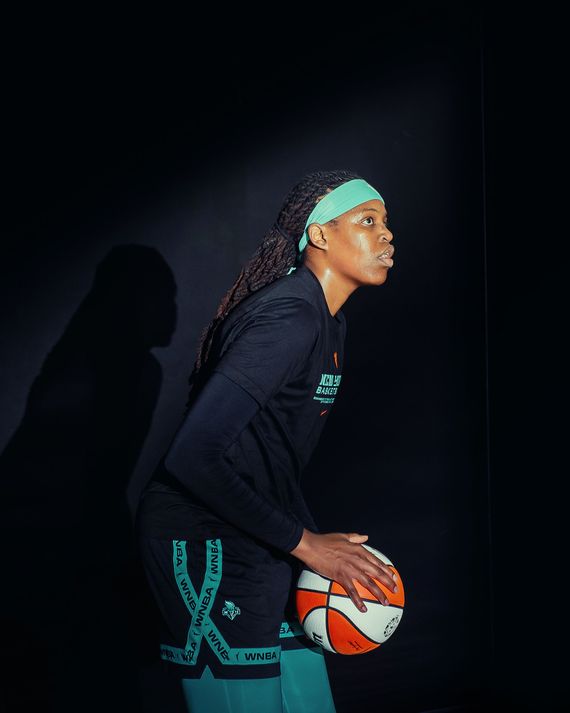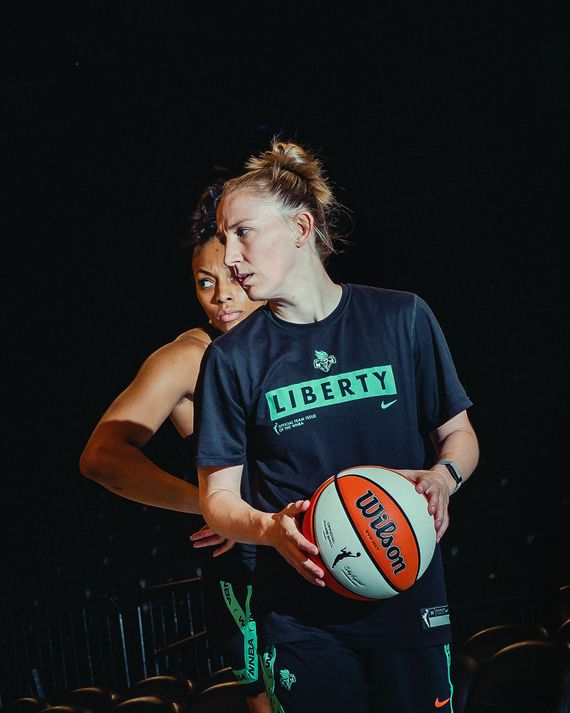 "I always say if people come to our games, they'll fall in love with it," Brondello says. For fans of the NBA especially, "they'll realize there's no difference. The skill level is the same. We just don't get paid the same." I've heard the same thing from newly converted WNBA and Liberty fans all season long: They went to a game one night and kept coming back.
The Liberty's rise comes during an ascendant year for women's sports. The women's NCAA college basketball championship and the women's World Cup set new viewership records. Coco Gauff's electrifying U.S. Open run this month was the most-viewed women's major championship ever and surpassed viewership for the men's final. As the Aces and the Liberty both continue to advance in the playoffs, there's a good chance we'll see more WNBA viewership records fall. Until then, the city's best team is enjoying getting to hear the roar.
New York, Vandersloot says, is a "basketball city. They're embracing a team competing for a championship. They want it. You can tell. They're hungry for it."