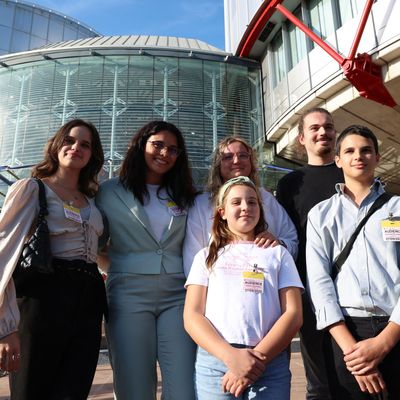 Young Portuguese citizens 32 countries for not doing more to fight climate change, pose at the European Court of Human Rights on September 27, 2023.
Photo: FREDERICK FLORIN/AFP via Getty Images
In 2017, wildfires ravaged Portugal, burning 500,000 hectares of land and killing more than 100 people. The blazes came so close to where Catarina Mota and Cláudia Duarte Agostinho lived that their schools had to close. The fires also made the then-teenagers "anxious about what sort of future" they would have, Duarte Agostinho told the BBC. Now, Mota and Duarte Agostinho are among six young people suing 32 countries in the European Court of Human Rights, alleging in a first-of-its-kind lawsuit that the nations aren't doing enough to curb the climate crisis.
The claimants, who range in age from 11 to 24 and all come from Portugal, filed their complaint on Wednesday. They have accused the countries in question — the entirety of the European Union, plus the United Kingdom, Russia, Norway, Switzerland, and Turkey — of failing to adequately reduce human-caused warming, thereby infringing on their fundamental human rights. The claimants say they are already living with the negative effects of climate change: Extreme temperatures limit the amount of time they can spend outside and affect their ability to sleep, exercise, and focus, the plaintiffs claim; the heat also threatens to aggravate more serious health issues, like allergies and asthma. Some report experiencing "eco-anxiety," a term for the fear, sadness, and grief people increasingly feel when they consider the far-reaching implications of the climate crisis. "It makes us worried about our future," 15-year-old André dos Santos Oliviera, one of the young people bringing the suit, told CNN. "How could we not be scared?"
Recent reports have confirmed that in coming years, Earth will likely pass a critical warming threshold that leaders said they would work to avoid. Extreme heat worsens air quality and harms people's health, but unchecked warming will likely also mean more pandemics, more famine, more droughts, and more massive and devastating weather events driving countless people from their homes. Experts expect that, by all those metrics, human suffering will get only worse, especially for the poor. And while this suit is the first to be brought before the European court, it's not the first example of climate-based litigation. In Montana, for example, a judge recently ruled in favor of young people who argued that it was unconstitutional for the state to approve fossil-fuel projects without considering climate change.
The European lawsuit could have significant consequences whether the complainants, who aren't asking for financial compensation, win or lose. If they win, CNN reports, their target countries would have to ramp up their efforts to combat climate change. But more than that, a victory could signal to complainants in similar suits that action on climate change is a human rights issue, and that governments around the world are responsible for addressing it. However, if the complainants lose, other courts could use the case as precedent for not fighting against climate change, ultimately hurting other climate suits.
According to the Associated Press, lawyers for the countries named in the lawsuit "questioned the admissibility of the case as well as the claim that the plaintiffs are victims of climate change harm." Alison Macdonald, an attorney for the young people, said, "Today's case is about the young. It is about the price that they are paying for the failure of states to tackle the climate emergency. It is about the harm that they will suffer during their lifetimes unless states step up to their responsibilities."