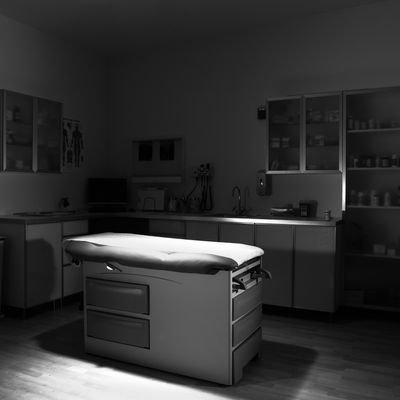 Photo: Thomas Barwick/Getty Images
The overturning of Roe v. Wade has forced abortion seekers in some states to jump through unimaginable hoops in order to obtain care, if they are able to get it at all. But while lawmakers decimated access in 17 states that have since implemented total or six-week bans, the number of clinician-provided abortions in the U.S. actually increased slightly in the year after the Supreme Court's decision, according to a new report from #WeCount.
The research project, led by the Society of Family Planning, offers the most robust look yet at how abortion access has changed since Dobbs. Researchers analyzed the average monthly number of abortions between April 2022 — establishing a baseline prior to the fall of Roe — and June 2023 based on data reported by 83 percent of the nation's abortion providers. (The project does not track self-managed abortions, so the figures undercount how many pregnancies have been terminated over the past year.) The report found states that outlawed the procedure after June 2022 performed 114,590 fewer abortions than they would have if the Court had preserved the constitutional right to abortion. In 33 states and D.C., where abortion remains legal, there were 116,790 more abortions than expected. That makes for 2,200 more cumulative abortions nationwide.
The #WeCount report says that increase can be attributed to abortion clinics expanding capacity and services, including telehealth care, in the wake of Dobbs; abortion funds and practical support organizations receiving more donations and stretching them to help as many people as possible; and states passing laws to protect providers and support patients, including offering funding for out-of-state abortion seekers.
Researchers also noted that abortion rates in the U.S. have been increasing since 2017, making the sharp decreases in banned states "even more striking given that need for abortion appeared to be increasing." "This increase in abortion access can't mask the tremendous hardships that people are overcoming to obtain basic healthcare services," said Alison Norris, #WeCount's co-chair and professor at the Ohio State University's College of Public Health, in a statement. "And for people who can't travel, we know that being denied abortion care can have devastating mental, emotional, and economic impacts. Unfortunately, this is the reality for people across wide swaths of the country right now."
The #WeCount report does not account for at least one substantial change in access this year. Surge states post-Dobbs include Florida and North Carolina, which reported 20,460 and 11,830 more clinician-provided abortions between July 2022 and June 2023, respectively. Both states have been critical points of access for patients in the Southeast, but access has either been decimated since then or is at risk. North Carolina's 12-week abortion ban, which went into effect on July 1, led to a 31 percent decrease in abortions that month alone, according to a report by the Guttmacher Institute. Meanwhile, the Florida Supreme Court, one of the most conservative in the nation, could uphold the state's 15-week ban any day now, paving the way for a separate six-week ban to take effect. In that scenario, even if patients are able to determine they're pregnant that early, the state requires them to make two clinic visits — with a 24-hour waiting period in between — in order to get an abortion, a truncated timeline that would be extremely difficult for patients to meet.
The country's remaining abortion-care infrastructure is already strained. Patient volume has exploded in states that allow abortion, leading to weeks-long and sometimes months-long wait times for clinic appointments. And while telehealth services have been crucial in allowing patients to obtain medication abortions, the legal battle over the FDA's approval of mifepristone is headed back to the Supreme Court, which could deliver another devastating blow if it rolls back abortion-pill access. Meanwhile, donations to abortion funds and practical support organizations have long dried up — even as abortion seekers have to travel longer distances and obtain care later in pregnancy due to their states' restrictions, driving up the total cost of the procedure. While we now know more about how much the fall of Roe exacerbated inequalities in access to abortion care, clinics and support organizations are still trying to figure out how to sustainably meet that need and stop abortion seekers from falling through the cracks.
The Cut offers an online tool you can use to search by Zip Code for professional providers, including clinics, hospitals, and independent OB/GYNs, as well as for abortion funds, transportation options, and information for remote resources like receiving the abortion pill by mail. For legal guidance, contact Repro Legal Helpline at 844-868-2812 or the Abortion Defense Network.