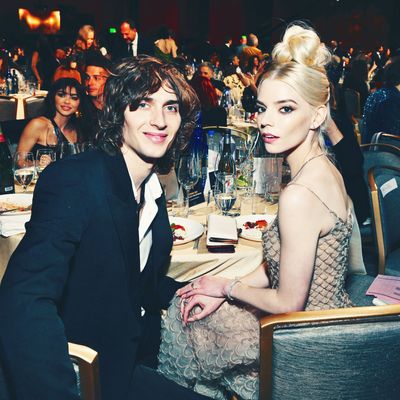 Photo: Michael Kovac/Getty Image
Anya Taylor-Joy and Malcolm McRae are officially married — though if you think you've read those words before, you're not wrong: The couple had an intimate courthouse wedding in 2022, and a bigger celebration in Venice this past weekend.
For the Italian wedding, the actress and musician were joined by approximately 150 guests, including Cara Delevingne, Nicholas Hoult, and Julia Garner, at the Palazzo Pisani Moretta on the Grand Canal. That's according to photos published by the Daily Mail, which also captured Taylor-Joy's dress: custom Dior in gothic beige, accented with birds and floral details.
Taylor-Joy and McRae have kept their relationship largely out of the public eye, but they appear to have met in March 2021. Two days later, McRae — who constitutes one-half of the band More — wrote a song aptly titled "Really Want to See You Again" about Taylor-Joy, and a year after that she was seen wearing a green diamond ring, and now they are married … again.