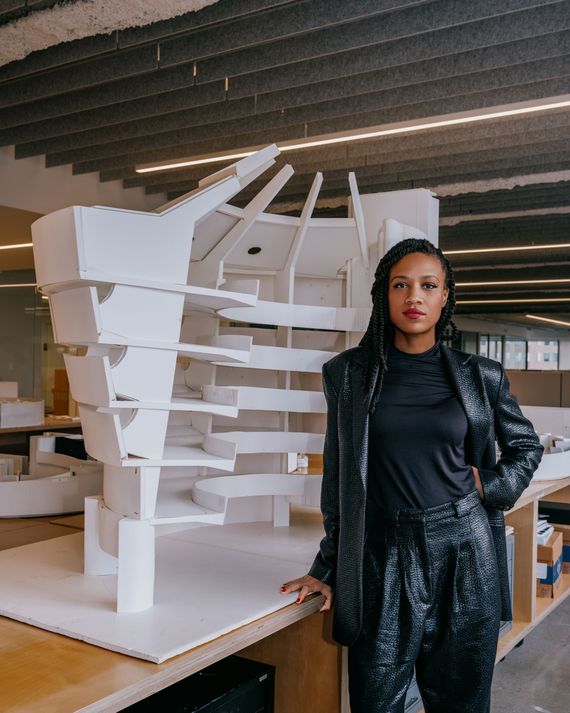 How do people want to be seen, if they even want to be seen at all? That's the question at the center of "Going Dark: The Contemporary Figure at the Edge of Visibility," the latest Guggenheim Museum exhibition curated by Dr. Ashley James. She arrived at the phrase "going dark" one night when scrolling on her phone, jotting exhibition title ideas in her Notes App. "We know if somebody says, 'You went dark on me,' they're saying, 'You didn't reply to my text,'" she tells me on a recent afternoon at the Guggenheim's Financial District offices. "It's also resonant in terms of darkness as a concept. The darkness that is literally Blackness. I'm well aware of the cheekiness of 'going dark' and what it means for it to be a Black rotunda show in the museum that does not have a track record of having Black artists at all, let alone in the rotunda. It clicks."
The 36-year-old curator is casually dressed in a navy-blue button-down and jeans with chunky black fisherman-strap sandals that give her petite frame some height; her hair is braided, and wire-rimmed glasses are positioned squarely on her face. She guides me through models of the six layers of Frank Lloyd Wright's iconic spiral rotunda, showing me the 114 works featured in "Going Dark," which are lined up and sticky-tacked to the tiny walls of the miniature museum. There's a pocket-size Faith Ringgold painting, and if I squint really hard I can spot a few teeny Ming Smith photos from her "Invisible Man" series (Ralph Ellison is a recurring reference point for several of the 28 artists featured in the show, 27 of whom are still living). From my bird's-eye view, I spy a couple of Kerry James Marshall pieces and works by Lorna Simpson, Glenn Ligon, Chris Ofili, and Carrie Mae Weems. It is rare to have a group show in the Guggenheim rotunda (recently, the museum held retrospectives for 96-year-old Alex Katz and the early abstract painter Hilma af Klint). It's even rarer to see a mix of contemporary artists who are mostly Black, women, or Black women. On October 20, just a few weeks from the day we meet, these full-scale works will, James hopes, bring in an assortment of visitors. "I would love for my parents, a New York City high-school student, and Kellie Jones or some other art historian to feel like the show gave them something to think about," she says.
James previously curated a blockbuster show at the Brooklyn Museum, "Soul of a Nation: Art in the Age of Black Power (2018–19)," during her two-year stint as its first full-time Black curator and came to the Guggenheim in 2019, introducing herself with the show "Off the Record" in 2021. "Off the Record" was a bold exhibition with a double entendre in its title meant to interrogate the "record," claiming there is no such thing as an objective tradition. There's a rebellious multiplicity, a similar sort of interruption happening, with "Going Dark."
"Off the Record" opened just one year after allegations of institutional racism rocked the Guggenheim. "I keep returning to these techniques," James says, drawing connections between "Off the Record" and "Going Dark." "Offing the record, redaction, covering, scribbling out." She gestures toward the rotunda model and points out a Sable Elyse Smith piece focused on incarcerated subjects to explicate her point: "These official documents aren't stable things; they have been constructed by people. And so they can always be undermined."
Both sides of James's family emigrated from Jamaica in the 1970s and '80s, and the small Orange County suburb she moved to in the third grade was not at all like the Queens community she was used to. Though nearly everyone around her was wealthy, her family was not. But James liked growing up outside the city. "It was very Pleasantville. You know, suburbs," she says, laughing. "It was very 'no drama.' I was just a nerd who studied a lot and took 11 AP classes in high school."
Between her undergraduate years at Columbia, where she focused on American Studies and English, and receiving her Ph.D. from Yale in African American studies and English literature, she taught middle-schoolers in Indiana — not her favorite job. But in those classrooms, she learned how to communicate to an audience that is, by virtue of being students, not expert in the topic at hand. Because James sidestepped the traditional art-history-major–to–curator pipeline, it's refreshing to hear her speak about the themes and concepts behind "Going Dark" sans any of the artspeak you might otherwise expect. Our conversation flows between the show at hand, being a millennial in search of hobbies, her two cats, and stanning Tinashe and Mariah Carey. She is shrewd at breaking down concepts into digestible yet challenging nuggets, telling me she doesn't ever want to sound too "jargony" or write in a way that might isolate the general public from feeling included in conversations about art. "What does it mean to not rely upon terminology but to actually explain the thing at hand?" James asks herself.
When we talk about "visibility" as an art term, it can be a formal construct — think about how artists might experiment with materials and play with the color (or lack thereof), shape, and size of the pieces they make. At the same time, to be "visible" is to exist within a social category in the world. A lot of Black folks think about this all the time whether we want to or not. Maybe it's just common sense that most of the artists featured in "Going Dark" are Black. "I think people who have been made less visible are going to be more conscious of calling attention to it," James says. "The show takes on many aspects of visibility across the spectrum — from something that is quite specific to Black women and the sense of a double marginalization that comes with race and gender, to the question of surveillance and what it means to be hypervisible in our ever-increasing technological surveillance state, which is something everyone is thinking about to some degree. It just makes sense that marginalized peoples would be the first ones to kind of call it to attention, and that is reflected in the grouping."
It should come as no surprise that James would continue her Guggenheim run with a show like "Going Dark." She has always been interested in discourse around the fraught subject of "representation." (She even wrote her dissertation on Adrian Piper, the conceptual artist who dared to confront racial politics through her work in the 1970s.) James unpeels a handful of the miniature unfinished replicas of the work that will line the real walls of the Guggenheim rotunda off the model's walls. In "Going Dark," visitors will start with Spectral Keepers, nine-foot-tall hooded figures constructed by Sandra Mujinga, one of the youngest artists in the show. They'll be introduced to the chroma-key or green screen as a motif that recurs throughout (which makes sense, given the chroma-key's capacity to obfuscate, substitute, and layer). Viewers will wind their way up to works from Rebecca Belmore and Sable Elyse Smith that negotiate the "new dangers" that come with visibility after it has been chosen by or foisted upon a person. The show culminates at the top with several pieces that could not fit anywhere else within the space, including works from Ofili and Ellen Gallagher. There's even a large-scale painting by Simpson that was made with fugitive ink, a substance that required a special wall to be installed that will protect the work from the direct light peeking through the oculus at the top of the museum.
James has said in previous interviews that she holds "skepticism of all kinds of contextualizations." This includes the label of "first full-time Black curator" at the Guggenheim. She would rather imagine herself connected to her peers and mentors, and in our conversation, this rings true. She leads me to a conference room where she pulls out a copy of the "Going Dark" catalogue and sifts through the essays and analyses written about the exhibition. "I wanted it to be a young cohort," she says, scrolling through the table of contents, which features Abbe Schriber, who has written an essay on David Hammons; Legacy Russell, who coined the term glitch feminism; the artist Ayanna Dozier; and Dia Art Foundation curator Jordan Carter. But it's intergenerational, too: James says she was motivated by the art historian Kellie Jones and her Yale adviser Elizabeth Alexander.
This show's examination of what happens when someone reverses the gaze or refuses recognition has me wondering how a curator like James feels about her own visibility. She has been spotted not only in the usual arts spaces, like galleries and art fairs, but celebrating the latest line from friend Rachel Scott's label Diotima at Palm Heights Grand Cayman and was photographed in the front row at New York Fashion Week for a PatBO show. But does it make her feel stressed to share her own life and work online? She surprises me when she says, plainly and calmly, "It doesn't." Still, you can want to be seen but also want to hide; it's a push-and-pull anyone with an Instagram account knows all too well. She must have caught a whiff of my own shock that a curator — whose job is not only to select the art for the museum's walls, meet with museum donors, edit the catalogue, collaborate with designers and museum education teams, and conduct her own scholarship but also to negotiate a public persona through social media — wouldn't put too much thought into being perceived on the internet. But maybe James's version of being seen isn't so straightforward after all. "I can talk about the exhibitions and artists and all of that forever," she adds confidently. "The personal questions, though … I try not to get too in my head about that."