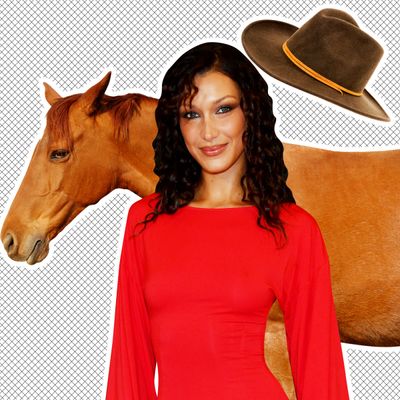 Photo-Illustration: by The Cut; Photos: Getty Images
Horse girls, rejoice: Bella Hadid was recently seen kissing a cowboy in Fort Worth, Texas. TMZ filmed Bella on Tuesday, nuzzling, stroking, and holding hands with competitive horseback rider Adan Banuelos in the city's historic Stockyards — a district formerly known for its bustling live cattle market. A horse boy for Bella? Giddyup!
Horses are, of course, one of Bella's greatest passions: She's been riding since she was 3, and once told Teen Vogue that she was potentially headed toward the Olympics when her career was derailed by a Lyme disease diagnosis in 2016. In March of this year, she dusted off her jodhpurs to compete at an event in Florida. And since sharing that she's "finally healthy" after an intensive Lyme disease treatment, she's been seen at the stables several times. Also, on top of all this equestrian action, she's currently single, having split with art director Marc Kalman in July after dating for two years.
Does this mean she's getting back in the saddle (wink wink) with a partner who shares her interests? Who knows, though Banuelos is one of the youngest-ever inductees into the National Cutting Horse Association Riders Hall of Fame and, according to his own website, a "leader in the performance horse industry" who specializes in training and showing cutting horses. (Cutting horses, I guess, are bred and trained to separate a single cow from a herd in competition.) Might he be the stallion to Bella's mare, the spurs to her boots? They aren't galloping into the sunset together just yet, but we give this a yeehaw just the same.