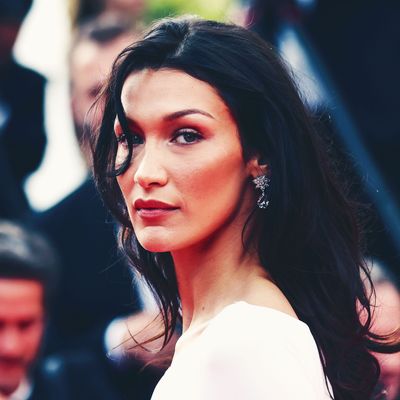 Photo: Vittorio Zunino Celotto/Getty Images
Supermodel Bella Hadid has long been a vocal proponent for Palestinian rights, but she's remained quiet on the Israel-Hamas conflict these past few weeks — even as she and family members have been reportedly doxed and threatened for supporting Palestinian liberation. On Thursday, Hadid broke her silence on Instagram, where she posted a video encapsulating the violence inflicted on Gaza's residents along with a lengthy and emotional statement condemning terror attacks. Expressing grief for both Palestinian and Israeli civilians, she spoke to the "generational trauma" Palestinians have endured over decades of violent occupation.
"It is important to understand the hardship of what it is to be Palestinian, in a world that sees us as nothing more than terrorists resisting peace," wrote the model. "It is harmful, it is shameful, and its categorically untrue."
Hadid, who has spoken in the past about losing work and friendships over her pro-Palestinian stance, began her statement by asking followers to forgive her silence. She has "yet to find the words" for these "deeply intricate and horrific past 2 weeks," she explained, confirming that her cell number has nonetheless been leaked and that she's received "hundreds of death threats a day" since the conflict broke out. Hadid emphasized that she is mourning with "Israeli families who have been dealing with the pain and aftermath" of Hamas' surprise attack on October 7, along with residents of Gaza. "Regardless of the history of the land, I condemn the terrorist attacks on any civilians," she wrote. "Inflicting terror does not and should not do any good for the Free Palestine movement."
The model's statement also touched upon her family's personal history of displacement in Palestine. Her father, the real-estate developer Mohamed Hadid, was born in 1948, the year of the Nakba, or "catastrophe" that saw more than half the Palestinian population displaced en masse during the 1948 Arab-Israeli war. As Hadid explained, nine days after Mohamed's birth, the Israeli government "expelled" him and his family from their home, never allowing them to return. "My family witnessed 75 years of violence against Palestinian people — most notably, brutal settler invasions which led to the destruction of entire communities, murder in cold blood and forcible removal of families from their homes," Hadid wrote. She added that "practice of settlements on Palestinian land still continues to this day" — something the United Nations confirms — and called the pain of that legacy "unimaginable."
She also drew attention to the worsening humanitarian crisis in Gaza, which the Israeli government has bombed relentlessly after Hamas launched its violent surprise attack. More than 1,400 Israelis were killed, while some 200 people were taken hostage. In retaliation, the Israeli government has flattened Gaza in air strikes, destroying homes, houses of worship, and schools where people are sheltering; it has cut access to clean water, electricity, food, and medical supplies. More than 6,700 people have reportedly been killed in the Israeli government's brutal response so far, many of them children.
"All bloodshed, tears, and bodies should be mourned with the same respect," Hadid wrote in her post. "We need to keep pressure on our leaders, wherever we are, not to forget the urgent needs of the people of Gaza, and to ensure that innocent Palestinians are not the forgotten casualties of this war."