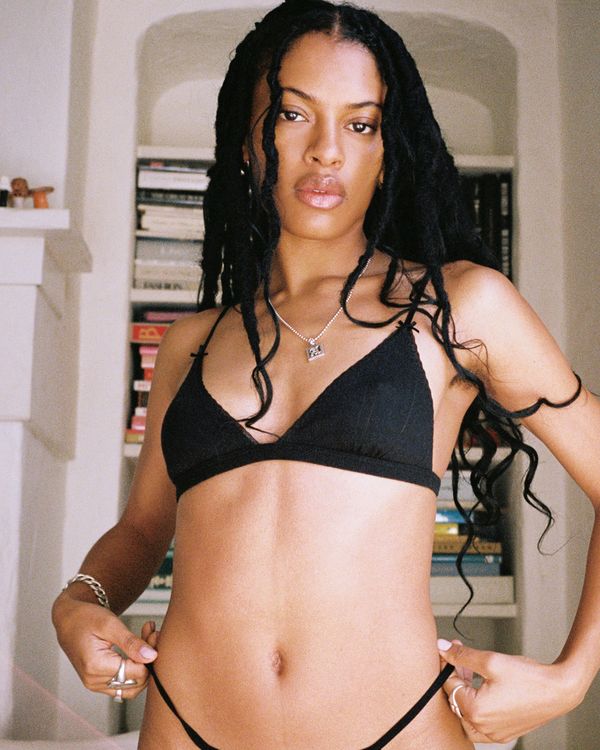 For more of the Cut's favorite fashion, beauty, and home finds, sign up for the weekly Cut Shop Newsletter.
Growing up as a Gen-Zer, I couldn't escape the feeling of underwear envy that emerged in the mid-aughts. Every time I had to make an awkward trip to the mall to shop for underwear with my mother, it happened. While buying an unexciting, yet reliable, pair of cotton boy briefs from Aerie, my gaze often shifted to the larger-than-life advertisements of ultrathin Victoria's Secret angels wearing nothing but thongs and angel wings. While passing the Victoria's Secret store, I became transfixed by the idea of the thong: risqué, somewhat grown up but seemingly uncomfortable. It was a "rite of passage" to girlhood that I had yet to experience and something that validated my insecurities of being a late bloomer.
By the time I was old enough to buy from Victoria's Secret with my own money, the brand had lost its relatability due to a lack of diversity and body inclusivity. In 2020, the New York Times published a damning report on the toxic culture of Victoria's Secret, one that was full of misogyny, harassment, and concerning comments from former brand exec Ed Razek (who once said trans models weren't of the "fantasy" that the brand was trying to promote in its famed runway shows). Until I turned 23, lingerie never crossed my mind as something worth owning.
That was until I came across Parade, a Gen-Z-founded brand that made waves back in 2019. The brand had quirky designs, an active social-media presence, and a then-revolutionary marketing strategy: recruit an army of micro-influencers to advertise products on Instagram, which is where I first encountered its undergarments. But more than Parade's practices of body inclusivity, it was the company's nuanced perspective on sexiness that intrigued me. For Parade, comfort was no longer a secondary thought, it was a priority.
Rose Colcord founded Cou Cou Intimates in 2021 because she wanted to "bridge the gap" between comfy daily underwear and fancy lingerie. "The primary thing people are looking for is comfort," Colcord tells the Cut. "But there's still a stigma that it's not possible to have comfortable and pretty underwear."
Parade, Cou Cou Intimates, and other modern underwear brands are not only cute and comfortable, but also size-inclusive and sustainable — which Gen-Zers care a lot about, too. With sizes ranging from XXS to 3XL in some cases and the use of recycled materials in addition to 100 percent organic cotton, the Gen-Z-founded brands below have successfully ushered in a new era of intimates. Keep reading to see how they're shifting the industry from sexy to quirky — all while making consumers feel included in the conversation.
Parade CEO, founder, and creative director Cami Téllez told the Cut earlier this year that she "wrote a manifesto that sort of presented a new narrative: the end of the Victoria's Secret Angels, the end of the bombshell bra, the end of this idea of one-note sexiness." She launched Parade and, before long, Gen-Z-founded intimate brands that followed this same format of prioritizing body and racial diversity, which flooded the internet and captivated the attention of social-media window-shoppers. But Parade is still the OG "It" girl intimates brand, the gold standard for seamless, smooth, and comfortable undergarments that are accessible in every sense of the word — from affordable price points to silhouettes that cater to a wide range of body shapes and sizes.
Colcord launched her brand with care and sensitivity — she recognizes that becoming comfortable in your own skin is a process, so don't expect in-your-face sexiness or ads that promote a forced sense of confidence from Cou Cou Intimates. "Cou Cou is really about the journey; not having to wait until we feel confident and beautiful," she explains. "We're all on this journey together, and we shouldn't have to wait until we feel a certain way to wear what we want." The brand specializes in classic styles, redefined for the modern woman with more flattering cuts and design details that feel soft and whimsical (like tiny bows, French lace trim, and vintage-inspired prints). Each piece is compostable and made from 100 percent organic cotton. "The one thing you can't resell on Depop is your underwear. There weren't really any conversations about the environmental impact of our daily intimates, even though they actually have the shortest life cycle of any garment because of the frequent washing," Colcord says. "So sustainability was a really important piece for me."
Considering that sisters Brenda and Clara Liang were creating their intimate brand from their college dorm room, it makes sense that Siren Basics has a youthful look. The Liang sisters created Siren Basics to elevate your everyday life through the little things, even if that is just a bow or frilled neon lining on your full-coverage underwear. Siren Basics underwear, which comes in nine styles ranging from thongs to full coverage underwear, takes a seemingly comfortable silhouette and dresses it up through colorway, material, and design. According to the older Liang sister, who grew up in the age of Limited Too, Delias, and Justice, she says that "nostalgia definitely trickled down into Siren Basics" but with a more mature and luxurious feel.
Stylists Jamie Mizrahi and Simone Harouche founded Kit Undergarments with one goal: to help simplify the process of getting dressed. Mizrahi and Harouche have a combined 20 years of fashion industry experience, so they know first-hand that what's underneath an outfit makes all the difference. Their brand (which was acquired by ThirdLove last year) features breathable bras and panties that are ideal for everyday wear because they're just as functional as they are stylish. Highlights include tag- and clasp-free pullover bras, bras that have removable, adjustable straps with J-hooks to allow for multiple styling options, and seamless briefs with laser cut edges that look (and feel!) completely invisible. Shop Kit Undergarments if you've ever felt like inadequate bras and underwear are ruining your outfits.
Fruity Booty wants to "bring the fun back into underwear." And the brand is doing that with unexpected color combinations, graphic prints, and embroidery details. In addition to playful designs, Fruity Booty is raising the bar regarding sustainability with the goal of being the "next best alternative" to vintage or second-hand underwear. The brand has a zero single-use-plastic policy throughout its supply chain, plus 80 percent of products are made from surplus fabrics and materials that would otherwise end up in a landfill.
No underwear brand is prioritizing comfort quite like Huha, whose mission is to combine underwear with undercare. Its undergarments are made from natural, tree-derived materials like tencel and smartcel, so they're better for your body and the environment. Huha's seam-free underwear, thongs, boxer briefs, bras, and bralettes are infused with soothing zinc oxide, which "possesses antibacterial and odor-reducing properties to help stop unwanted odor caused by bacteria," according to the brand's website. Whether your skin is sensitive to traditional fabrics and trims or you just want to feel comfortable and secure all day long, Huha's nontoxic, odor-fighting undergarments are worth a try.