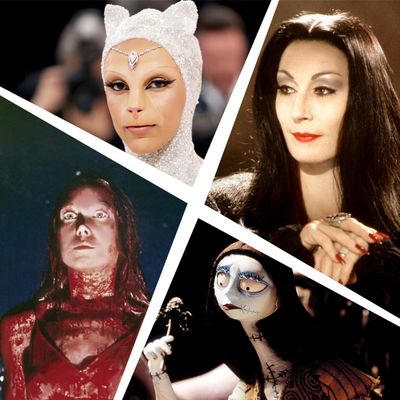 Photo-Illustration: by The Cut; Photos: Getty Images, Everett Collection
For more of the Cut's favorite fashion, beauty, and home finds, sign up for the weekly Cut Shop Newsletter.
Here's a spooky thought: Halloween is less than one month away … not sure how that happened. If you, too, are late to the costume-planning game and don't have time to put together a full outfit, choose a look that relies heavily on hair, makeup, and accessories. Beauty-centric costumes allow you to get creative while also avoiding the stress of ordering several different items and dealing with potential shipping delays. It's a win, win!
Below, I rounded up ten memorable beauty moments that will make for excellent Halloween costumes. This list has an idea for every type of aesthetic — whether you want to reference poignant pop-culture news, pay homage to a classic look from your favorite movie, or wear a clever costume that stands out from the crowd. And bringing these Halloween beauty looks to life requires very little effort, since you probably already own Halloween makeup essentials (like false lashes and liquid eyeliner) and Amazon carries hundreds of affordable wigs that are eligible for two-day shipping with a Prime membership.
Go ahead, summon your inner makeup artist. I believe in you.
Barbie
This will, without a doubt, be the most-worn Halloween costume of the year. And understandably so; Barbie was a cultural phenomenon that became the highest-grossing film in Warner Bros.' 100-year history. There are about a million outfit options on sites like Amazon and Spirit Halloween, but if you don't want to be twinning with everyone you know, lean into a doll-like beauty look. Opt for bright-pink blush and matching eyeshadow, then apply white eyeliner to your waterline to make your eyes pop. Don't forget a side braid, pink bow, and pink beret!
A Paris Fashion Week Attendee
Want a costume that's clever, timely, and instantly recognizable to a niche group of people? We got you covered. Simply throw on your most ridiculously over-the-top outfit, pile on the accessories, and glue on these fake bedbugs. The fashion girls will be shaking.
Doja Cat at the 2023 Met Gala
Who could forget Doja Cat's tribute to Karl Lagerfeld's cat Choupette at the Met Gala earlier this year? It was weird and wonderful and surprisingly fashion-forward. If that's the look you're going for this Halloween, purchase this easy-to-use prosthetic and a reliable liquid eyeliner (the Rare Beauty one is a personal favorite). Pro tip: Start with the eyes so you can clean up any mistakes with concealer or a makeup wipe. Add individual false lashes to your outer corner to amplify the cat-eye effect.
Morticia Addams in The Addams Family
You can't go wrong with witchy vibes, and no one does it better than Morticia Addams. Apply a long, black wig, cool-toned eyeshadow, red lipstick, and — if you really want to go all out — a foundation that's two to three shades lighter than your actual skin tone.
Erykah Badu
From completely barefaced looks to purple lipstick and blown-out smoky eyes, no one has more fun with makeup than Erykah Badu, which means you can take this costume in any direction your heart desires. Just add an extra-tall bowler hat and you're good to go.
Carrie White in Carrie
Inspired by the 1976 cult-classic horror film, this Halloween costume is both "It" girl- and lazy girl-approved. All you need is a slip dress, a tiara, and tons of fake blood.
Rihanna at the 2023 Met Gala
Rihanna wearing sunglasses with false eyelashes attached to them is another 2023 Met Gala moment that will forever be ingrained in my brain. And it's easy to recreate! Apply a bright red lipstick and DIY your own flower-embellished hood if you're feeling crafty.
Sally Skellington in The Nightmare Before Christmas
I promise face paint is not as intimidating as it sounds! Apply one layer or this pale-blue shade like you would with a foundation, then lightly contour your cheekbones with a dark-blue or black cream shadow. Use a gel eyeliner to create Sally Skellington's signature scars.
A Forrest Fairy
When in doubt, do not dress up as a black cat … please, I'm begging you. Instead, try the equally obvious — yet somehow much cooler — whimsical fairy costume. Whether you choose a traditional pastel color palette or a metallic one like Kendall Jenner, you can really make this look your own by experimenting with your hair, makeup, and accessories.
Toni Braxton
Toni Braxton's debut album cover is a costume idea that's creative and original, yet so easy to execute with clothing you probably already own. You can have fun with the glam by recreating Braxton's brick-red lip color and pixie haircut like Beyoncé did in 2018. Oh, and if you don't want to leave your apartment this Halloween but still want to take a cute Instagram photo (relatable), this costume is ideal — especially if you have good Photoshop skills.