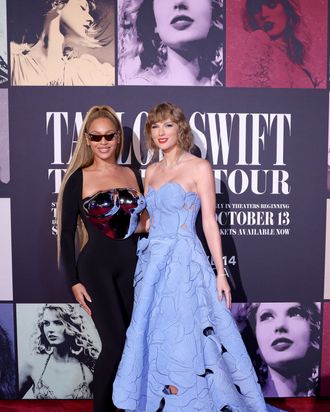 Photo: John Shearer/ Getty Images/Getty Images for TAS
Swifties and the Beyhive might have spent the summer bickering among themselves about which artist had the better stadium tour, but there is apparently zero beef between Beyoncé and Taylor Swift. On Wednesday night, Beyonce attended the Los Angeles premiere of Swift's The Eras Tour concert movie, which will be released everywhere on Friday, and by all appearances had a great time.
The singers — both credited with playing their part to lift economies across North America and Europe this year with their heavily attended, career-spanning tours — seemed happy to be together, posing for photos and videos on the red carpet and inside the theater. "I'm so glad I'll never know what my life would've been like without @beyonce's influence," Swift captioned an Instagram post of herself with Beyoncé sharing Eras-themed popcorn in the theater. "The way she's taught me and every artist out here to break rules and defy industry norms. Her generosity of spirit. Her resilience and versatility. She's been a guiding light throughout my career and the fact that she showed up tonight was like an actual fairytale."
Maybe now we will have peace between Swifties and the Beyhive (even if briefly). The outstanding question is this: Will Swift be at Beyoncé's Renaissance Tour movie release in December?